St. Vincent's New Guitar, Designed with Women in Mind
Leave it to Annie Clark to fix a problem most musicians didn't know existed.
Clark–better known to most as St. Vincent– has teamed up with Ernie Ball to design a truly stunning electric guitar that's slightly more sleek and contoured to better fit female players.
"There's room for a breast or two," she jokes.
The guitar, which will come out in March but is available for pre-order ($1,899 USD) now, allows Clark to join the company of Albert Lee, John Petrucci and Steve Morse as musicians helping to create a new line of guitars with Ernie Ball Music Man.
"Made with a body of African mahogany and a rosewood neck, the St. Vincent signature guitar will debut in one of two colors, either black or Vincent Blue–a shade that was hand-mixed by Clark herself– and comes fully equipped with three mini-humbuckers and a custom Music Man tremolo system," according to Guitar World, which has an extensive interview with Clark about her guitar. "With its slim and tapered waist, stylishly retro design and instantly playable feel, the Ernie Ball Music Man St. Vincent model is a thoroughly unique instrument."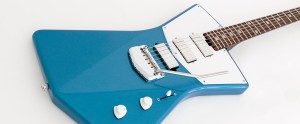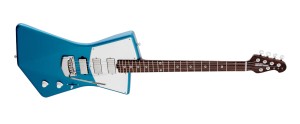 In the interview, she talks about her very involved work with Ernie Ball to design the guitar, the consideration given to its weight and size, and how she's glad to be one of the few women to have their own signature instruments– others include Nancy Wilson of Heart and Joan Jett.
"Well I'm certainly glad to be a beacon for women and for anybody who likes music and my music," she says. "I'm glad that another guitar exists that is sympathetic to the female form. I'm glad that that exists and I hope that people will enjoy…that men and women will enjoy the ergonomics. But smaller people and women especially."
Read the whole interview here, but the best part might be where she discusses the practicality of guitar design, wanting to create an instrument that wasn't too heavy but was balanced enough to carry comfortably.
"I carry my guitar pretty high so I had to make all of these costumes based on the fact that you wouldn't be able to see if I had a waist or not," she explains. "I wanted to make something that looked good and not just on a woman, but any person. And again, I consulted Klause Nomi and some of my favorite Eighties designs to accommodate that."
How many people casually drop in a Klause Nomi reference? Well done.