Your Staggering Music Industry Statistic of the Day (Maybe the Year)
People are still gobsmacked at Apple's recently quarterly report in which they unveiled the biggest quarterly profits in the history of the known galaxy. We're still trying to put everything into perspective (see this list) but the one that sticks out at me is this one.  $575,000: Apple's revenue per minute. That's $9,600 a second.
But here's an even better one: with revenue of $75 billion in the last quarter, Apple made more money in three weeks than all the record labels generate in an entire year.
Here's Apple vs. Universal, the biggest music company in the world.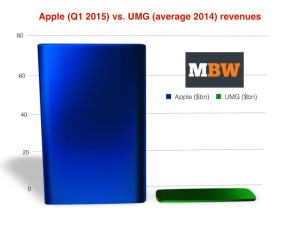 Wow, huh? Learn more at Music Business Worldwide.  Oh, and did you hear that Apple pays out more to app developers than all of Hollywood earns in a full year?