The "Stairway to Heaven" Plagiarism Case FINALLY Starts Next Week
To recap: lawyers representing the remains of the band Spirit want a judge and jury to decide if Jimmy Page and Robert Plant copied a portion of Spirit's instrumental, "Taurus," for bits of "Stairway to Heaven," a song that has earned an estimated $500 million in royalties since 1971.  Messrs Page and Plant deny being copycats and have to appear in court to defend themselves. Here's the official statement that will be read to the prospective jurors:
This is a copyright infringement case involving two musical compositions. The plaintiff is Michael Skidmore, as Trustee for the Randy Craig Wolfe Trust, who contends that the song Stairway to Heaven, recorded by the group Led Zeppelin, infringes a copyright in a composition called Taurus, by Randy Wolfe of the group Spirit. The defendants include two of the members of Led Zeppelin, Jimmy Page and Robert Plant, and three companies involved with the Led Zeppelin catalog. Those three companies are Warner/Chappell Music, Atlantic Recording Corporation and Rhino Entertainment Company.
The New York Times can take it from there.
The trial, set to start on June 14 with Mr. Page and Mr. Plant expected to be in attendance, may prove fascinating legal theater for fans. But it will also be closely watched by a music business that is grappling with a series of recent copyright decisions.
Last year, a federal jury found that Robin Thicke and Pharrell Williams had copied Marvin Gaye in Mr. Thicke's 2013 hit song "Blurred Lines," and ordered Mr. Thicke and Mr. Williams to pay $7.4 million (later reduced to $5.3 million). Industry commentators said the decision penalized elements of songs long thought of as being fair game, like the generic "feel" of a recording, and warned of a chilling effect on creativity.
That case and others like it, lawyers and music executives say, have raised new questions about songwriting and copyright — issues long a part of the background of litigation in the industry. They have also led to increased scrutiny whenever a song's credits are challenged or changed, as they were a year ago when co-writers were quietly added to Mark Ronson's retro hit "Uptown Funk."
"It used to be that melody and lyrics were the basis of all infringement claims, but now that's fuzzier," said Jay Rosenthal, a music industry lawyer and the former general counsel of the National Music Publishers' Association. "'Blurred Lines' has opened the door and made rhythm and beats and 'feel' perhaps proprietary, where before it was not the case."
The Led Zeppelin case was filed two years ago by a trustee representing the songs of Randy Wolfe, also known as Randy California, one of Spirit's main songwriters, who died in 1997. But the dispute has echoes of "Blurred Lines" and is being watched as a test of the limits of copyright.
The case focuses on the famous opening of "Stairway to Heaven," in which an acoustic guitar plays arpeggiated chords in a descending pattern. That part, the suit contends, copied Spirit's "Taurus," released in 1968. In the suit's complaint, Francis Malofiy, the lead lawyer representing the plaintiff, said that Led Zeppelin's members heard Spirit's song when the bands crossed paths on the road early in their careers.
The full article can be found here.
Think it's as simple as the jury listening to both recordings and making a decision? Not a chance. The trial exhibit list stretches over 129 pages and contains language such as this:
Example 2 above (and Ferrara's Example 1) contains 38 notes: 21 in the treble clef and 17 in the bass clef. His analysis omits more than half the notes–55.3% to be exact. No explanation is offered for this omission. Clearly, comparing less than half the notes found in the composition of "Taurus" with the full number of notes in "Stairway" will yield different results than an analysis that includes all of the compositional expression contained in the deposit copy lead sheet.
And then we have stuff like this: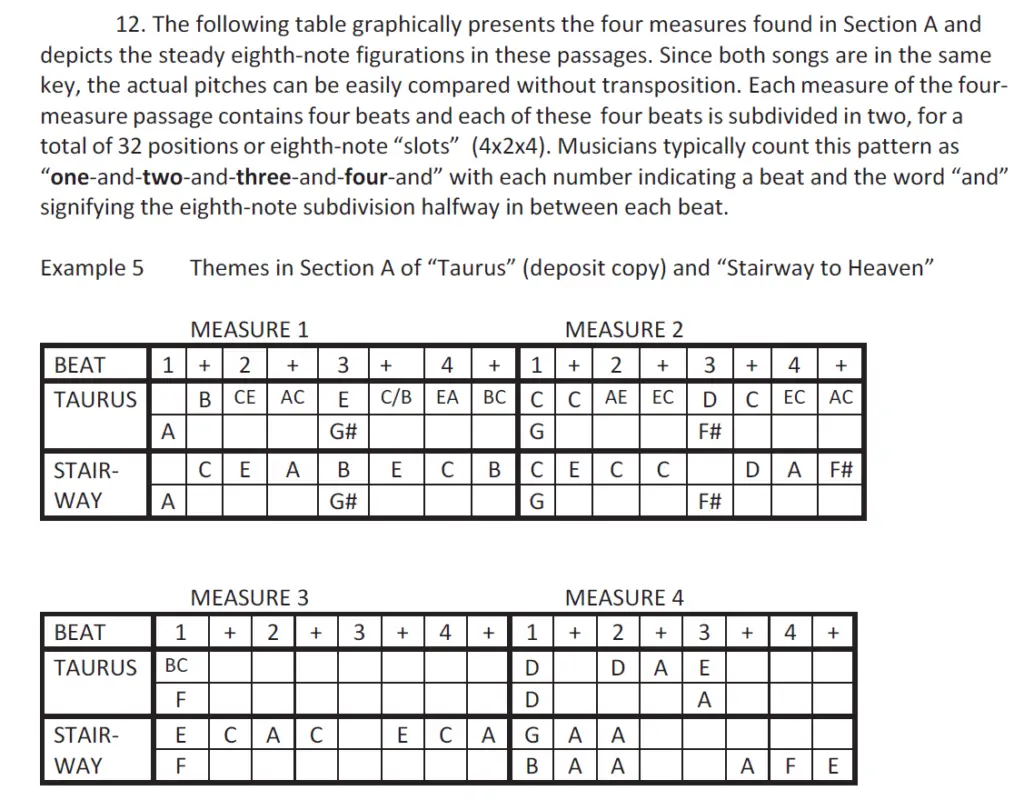 The good news is that our LA legal correspondent Pamela Chelin is cover the case. She'll interpret everything for us starting next week.