State-of-the-Art Car Audio–in 1957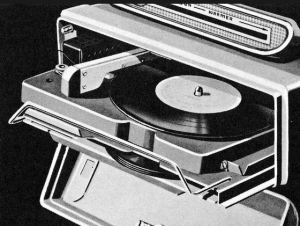 In the days before tiPod interfaces, six-pack CD changers, cassette decks and 8-track units, drivers had to make due with a radio.  They were mostly AM-only–clunky, mechanical push-button things that spewed their mono-ness through a single speaked mounted behind some perforations mounted somewhere in the dash.
You could get FM radio–Blaupunkt launched the first unit for cars in 1952–but few people bothered with that until the 1970s.
In between, though, was another innovation that allowed select drivers to customize their sounds for the road.  It was the in-dash (and sometimes under-dash) turntable.  
Yes, a record player for your car.
The New York Times has a great article on the history of automotive audio.  There are plenty of pictures, too.  My, how far we've come.