Steve Jobs Gets a Grammy–And I Think That's a Bit Weird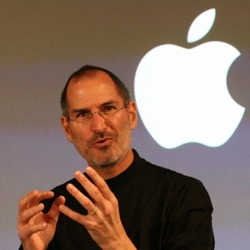 Last night's Grammys will go down as one of the strangest affairs in the event's history.
First, with the show completely in the can, rehearsed and timed with the last second, producers had 24 hours to completely retool things after word of Whitney Houston's death. As someone who has produced live events (albeit on the much smaller level), I gotta admit that I was impressed by how they pulled off. Brilliant.
And second, Whitney Houston wasn't the only dead person weighing heavy. Steve Jobs was, too.
In case you missed it, Steve won a Special Merit Award for helping "to create products and technology that transformed the way we consume music, TV, movies and books."
This is a bit odd, no? Not that Steve and Apple didn't transform the music industry, but that he'd be honoured by the people whose industries and careers have been forever changed by his products and technology. Lest we forget, Jon Bon Jovi said "Steve Jobs killed music."
Think about all the people in the audience who (a) no longer sell records in the volumes they used to; (b) have to tour harder and longer to make up for the fact that the no longer sell records the way they used to; and (c) all the industry types whose livelihoods and salaries have been affected by MP3s and a iPods. Those high price/high margin days are gone forever.
And there's more. ITunes led to the unbundling of the album, creating questions about the future of the that format. Digital downloads are helping to wipe out the entire album artwork industry. MP3s sound inferior to CDs and vinyl, creating a generation of people who have no idea what true high fidelity music sounds like. Untold millions have been thrown down a lawyer rathole as the industry battles pirates and file-sharers instead of developing and nuturing new acts.
Do Steve and Apple deserver recognition for their contributions? Absolutely. I just find it a bit strange that the people doing the honouring are the people this technology is wiping out.