Still More on the Connected Car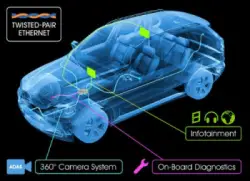 If you've gone shopping for a vehicle recently, you'll know that a big selling point in virtually every new model is the infotainment system in the dashboard. As we become more connected to our smart phones, we're expecting to connect our smart phones to our cars.
The frustrating thing is that no two systems work alike. The system in my car has awesome navigation but won't stream Bluetooth audio (it'll Bluetooth the phone, but I still have to physically connect it if I want to listen to music). My wife's CR-V has Bluetooth streaming but her nav system won't resolve below 80 metres–which isn't great when you're trying to pinpoint a very specific location.
Oh, and I hate the voice of my system. She sounds like Ilsa, She-Wolf of the SS. With a lisp. I can't get rid of her.
But these sorts of annoyances will eventually as car makers become software developers. Wired has a great story on where things are headed.
(Radio people need to read this. If you think our industry can live on just AM and FM forever, you're in for an ugly, ugly reality.)