The Story of Little Nipper, the Dog Who Was Fascinated by the Sound of a Gramophone
Both my English bull terriers seem to appreciate music. Schmooze, the elder, will fall asleep in seconds to any sort of ambient music (Brian Eno's Music for Airports works best) while Squirt, will start spinning joyfully to anything by the Happy Mondays.
However, the most famous canine music aficionado is this guy.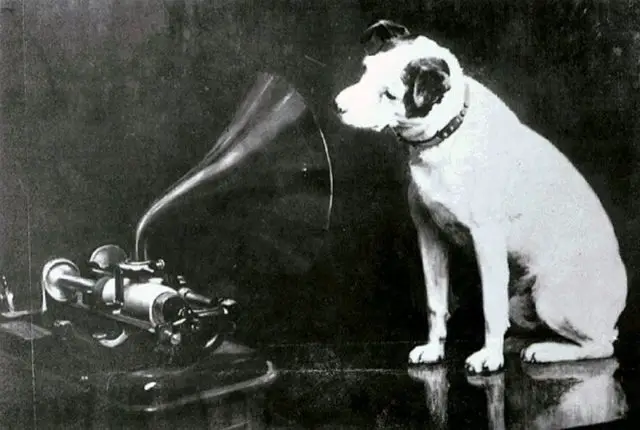 That's Little Nipper (1884-1895), a Jack Russell terrier mix from Bristol, England, portrayed in a painting by Francis Barraud who was fascinated by the sound of his human's voice coming out of an Edison cylinder-based talking machine. Normally, he'd spent his days biting at the legs of visitors (hence his name) but on this occasion, he's too busy trying to figure how his master's voice is coming from this machine.
Originally called "Dog looking at and listening to a phonograph," Barraud chanced it to, yes, His Master's Voice. The painting was offered to Edison's people, but they didn't get it. "Dogs don't listen to phonographs," they said.
Later, though, the Gramophone Company chanced upon it and seized the opportunity. The image was changed to have Nipper listening to a Berliner Gramophone (sorry, Edison) and over the years, the images in the painting were used in advertising, branding and logos for HMV, EMI, RCA, Victor Talking Machine Company and others.
Read the whole story of Nipper here. By the way, Nipper is buried in a leafy garden filled with magnolia trees near the Thames.