Strange Guest Appearances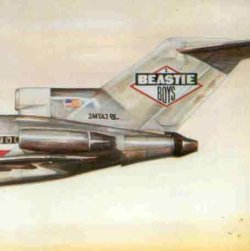 Sometimes, the weirdest people show up on the weirdest records.  It was shocking to learn that it was Eddie Van Halen playing guitar on Michael Jackson's "Beat It."  It was weird seeing Steven Tyler and Joe Perry perform with Run-DMC on "Walk This Way." 
And here's another one. Who plays guitar on "No Sleep Till Brooklyn" on the Beastie Boys Licensed to Ill album?  It's Kerry King of Slayer.  How did he end up on a rap album by three snotty white guys from New York? 
Rick Rubin, the former DJ for the Beaties and the producer of the album, had also produced a record for Slayer in 1986, the infamous Reign in Blood.  When Rick told Kerry about this new Beastie Boys thing, he was happy to lend some licks to the song.  
Any other strange guest appearances you'd like to list?