Stream (and Download!) a Super-Early REM Demo Cassette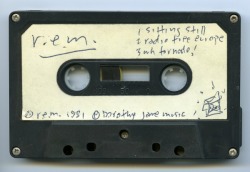 Before anyone knew (or cared) who REM was, they recorded a demo on April 15, 1981. On the 400 cassettes copies they made up were six tracks, including the earliest version of "Radio Free Europe."  The tapes made their way to various record labels, college radio stations, music writers and clubs.  
A copy of that tape has surfaced.  It's also been cleaned up and made available for streaming and for downloading.  There's more to be found here, too.
SIDE A — Auto Reverse: Slicing Up Eyeballs Mixtape (October 2011) by Slicing Up Eyeballs