The Streaming Effect Continues: Survey Says More People Prefer ACCESS to POSSESSION of Music
I never understood the appeal of streaming until one Sunday morning at Starbucks. English Bull Terrier #1 and I sat outside, enjoying a tall bold (she likes hers with two creams) as I went through my emails. One message raved about a song from a band of whom I'd never heard, so I made a mental note to check them out the next time I–wait a second. I had Rdio on my phone. Thirty seconds later, I was listening to the song. It was magic.
I was still burdened with the mental baggage of someone who grew up in the age of bricks-and-mortar record stores. If I wanted a certain song that I could listen to whenever I wanted, I had it in my head that I had to physically possess it as a CD, a vinyl record or a file I'd downloaded. But this one search for an obscure song converted me. Why go through the hassle and expense of possessing a song–a song that I'd might not like or listen to again–why not just be able to access it?
It was a complete epiphany. Access to (and the convenience that it provided) rather than physical possession makes more sense 95% of the time.
Despite the financial and licensing issues still facing the industry, streaming is the future. With more than 50 million paying subscribers on Spotify and another 32 million on Apple Music, the whole concept is now too big to fail. Music fans are speaking very, very loudly. Forbes published this graph showing record industry revenue derived from "access" and "possession."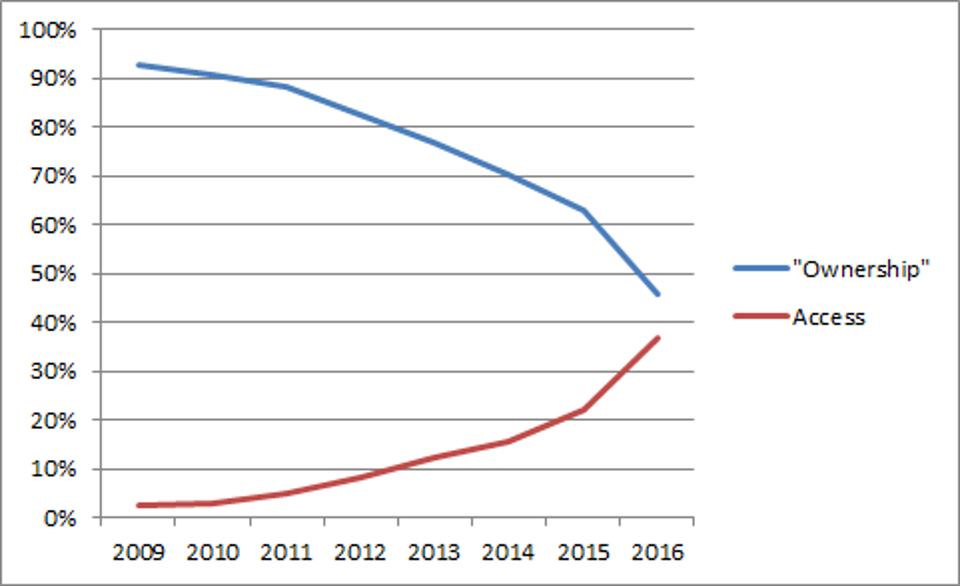 Forbes continues:
The tipping point from "ownership" to access should still occur sometime this year, even for paid models only.
But what about actual consumption of music through these models? The RIAA measures sales unit volume but not stream volume; so we turn to Nielsen for that. Nielsen Music has been tracking total on-demand music streams in the U.S. per year since 2012 by aggregating data from the on-demand services. Although Nielsen hasn't provided a way of converting radio plays to purchased music, it does use a ratio of 150 to 1 to convert on-demand streams to music purchases for purposes of its music charts. It also uses a ratio of 1 to 10 to convert albums into tracks. (The RIAA uses the same ratios to count streams towards its Gold and Platinum awards.)
Not streaming yet? You will. Trust me. Read the rest of the article here.