So How is the Streaming Music Market Divided Up? Like This.
MIDiA is a company that spends an awful lot of time monitoring and analyzing the state of the music industry in the digital era. It has just released its Streaming Services Market Shares Report, which, among other things, explains how the streaming marketplace is divided up amongst the players.
While the whole report can be found here, let's start this interesting chart showing global market for streaming subscriptions.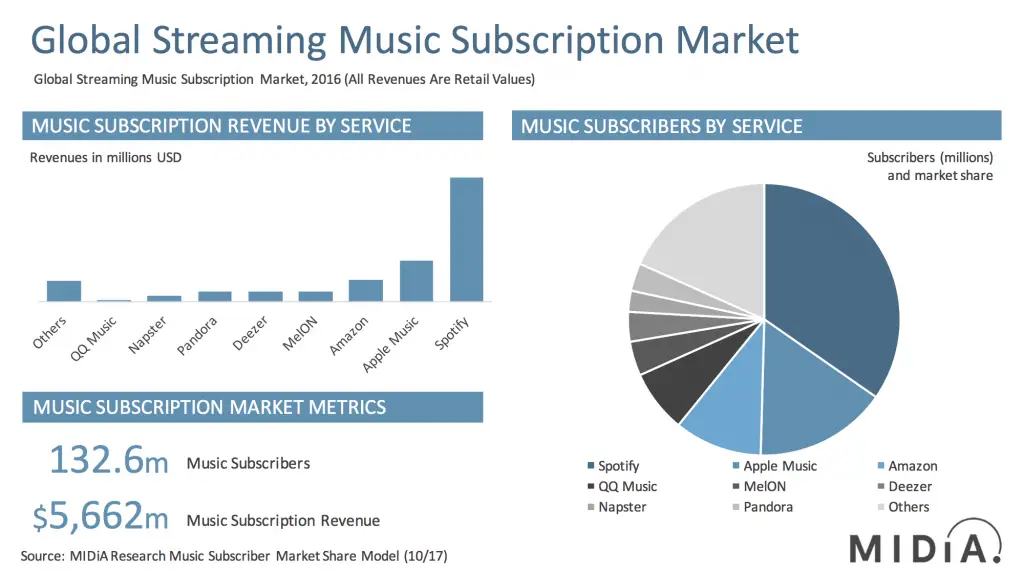 As you can see, Spotify is the clear world leader followed by Apple, which has Amazon breathing down its neck. Never heard of MelON? Me, neither, so I had to look it up. It's a South Korean streaming music service. QQ Music is a gigantic Chinese company owned by Tencent and has at least 800 million users. And that's not the Napster of old; it's the rebranded Rhapsody.
Here are some random stats from the study:
At the end of 2016 there were 132.6 million music subscribers, up from 76.8 million in 2015
In Q4 2016 Spotify's subscriber market share was 35% and it had $2,766 million in retail revenue
Apple Music was second with 21 million subscribers at the end of 2016, a 15.6% market share and it had $912 million in retail revenue
In 2016 Apple was the largest driver of digital music revenue across Apple Music and iTunes
The US is the largest music subscription market, which Spotify leads with 38% subscriber market share
The UK is Europe's largest streaming market, which Spotify also leads
It's fascinating stuff. Go here to learn more.