Streaming Now Makes More Money for the Music Industry Than CDs and Downloads But Vinyl Rules. Wait–What?
Wow. Really? Yes, according to Music Business Worldwide:
Driven by streaming services like Spotify and the introduction of TIDAL and Apple Music, the overall retail income of the US recorded music market increased 0.9% in 2015 to $7.02bn according to the latest RIAA stats.
The wholesale value of the US market – that's the money taken home by labels and artists – also grew, up 0.8% to $4.95bn. It was the fourth year in a row that wholesale income had grown.
Drilling down into formats, income from downloads declined 10% to $2.3bn, yet the total value of digitally distributed formats was up 6% to $4.8bn, compared to $4.5bn in 2014. That was because of another year of impressive growth for streaming services. In particular, paid-for streaming services.
Premium subscription streaming income jumped 52.3% in the year to $1.22bn. At the same time, the number of paid subscriptions grew 40% to an average of 10.8 million for the full year.
Ad-supported streaming revenue from the likes of SoundCloud, YouTube and Spotify's free tier grew slower, up 30.6% to $385.1m.
Streaming revenue from non-interactive services such as Pandora, paid through to SoundExchange, contributed $802.6m, up 3.8%.
Interesting. But look at this story about vinyl from Medium (via Larry):
Need further proof that some fundamental market distortions are at play?Last year, 17 million vinyl albums, a legacy format enjoying a bit of a resurgence, generated more revenues than billions and billions of on-demand free streams: $416 million compared to $385 million for on-demand free streams.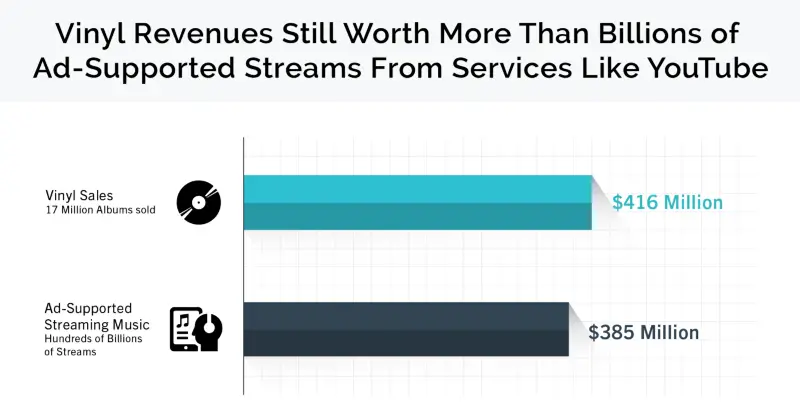 Finally, Music Industry Blog takes a look at the growth of streaming.
The internet, smartphones, app stores, open source software, all have accelerated innovation at a rate that makes Moore's law look positively pedestrian. What defines digital technology markets is disruptive innovation, the constant challenging of accepted wisdoms and of established practices. Nothing stays still long enough to give stakeholders the luxury of feeling complacent and to fall back on slower moving sustaining innovations. These are the realities of consumer technology, unless you happen to be in the digital music business, in which case the prevailing attitude is 'we have reached our destination', we have identified the model that is our future and we're sticking with it. That approach worked fine in the old days of innovation, when Consumer Electronics (CE) companies used to spend years hashing out market standards and then competing in a gentlemanly fashion on implementation. That approach brought us VHS, CDs, DVDs Compact Cassettes etc. Everyone got a bite of the cherry and technologies stuck around for decades. Now they stick around for years, at best. So why is the music industry trying to insist on the $9.99 subscription being the new CD, a 20th century approach to standards in the dramatically different 21st century? And more crucially, why is it able to?
Read on. Interesting times…