Some Streaming Numbers That Are Going to Get Some People Upset. REALLY Upset
Yes, yes, there's lots of bitching about how streaming music services don't pay out much to artists. That, however, is not the fault of Spotifys, Rdios and Deezers of the world. Their pay-out rates are set in negotiations with music publishers, performance collectives, copyright boards and record labels–the very people who are supposed to have the artists' interests front-and-centre.
Music Business Worldwide offers these statistics: of every $9.99 collected from subscribers by Spotify, the major labels get 73% of that. SEVENTY-THREE PER CENT.
SNEP, a music trade body in France, requested an audit. The chart is in French, but you'll figure it out.
Put another way…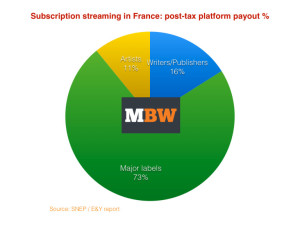 So the next time an artist complains about how little they're making from streaming, dig into the number a little more for the root causes.