StubHub Behind the Scenes: Giving and Empathetic! Or Liars.
As it turns out, StubHub is not owned by Ticketmaster.
The company started in San Francisco in 2000 by two former Stanford Business School students, Eric Baker and Jeff Fluhr. In 2007, it was acquired by eBay, not Ticketmaster, and has since expanded to offer its services in the US, Canada, the UK and Germany.
This is telling: "While the company does not currently disclose its financials, it is said to process one sports or entertainment ticket every second and, in 2015, had over 16 million unique visitors and nearly 10 million live events per month," according to StubHub's Wikipedia page. The page also notes that StubHub "has grown from the largest secondary market ticket marketplace in the United States into the world's largest ticket marketplace by a considerable margin."
The company asserts in its online postings that it is a service to help fans buy tickets for their favorite events from other fans. The seller of the ticket—which is NOT StubHub, one customer service representative asserted repeatedly Monday night—sets the price, but StubHub does get a commission after each transaction is completed. The company also has "more than 120 partners, mostly entertainment venues and sports teams."
(Ticketmaster's reseller, by the way, is TicketsNow.)
Thousands and thousands of fans in Canada and sprinkled through the US probably don't care about this distinction. What they care about is the near impossibility they faced in trying to buy tickets to see The Tragically Hip on what's probably their final run of shows.
When The Hip sent out an email to its fan club members Sunday night, there was a simple plea attached to the end of the note. "Lastly, please be considerate and do not share this pre-sale password as this privilege is meant to reward only those who have become registered users of thehip.com."
Pretty sure it's not members of the fan club who mucked it up for everyone else.
Then again, according to StubHub Customer Service Rep Renaye S., it's entirely possible it's the fault of other fans.
Or the venue.
Probably it's the fault of StubHub's partners. But, um, no, the fans. Yeah, that's it.
Either way, something was off. A quick check of StubHub's offerings for The Hip's tour at 9 p.m. Monday evening showed that there were "only" 18 tickets left for the show at Toronto's Air Canada Centre on Sunday, August 14—a show that had been announced earlier Monday afternoon in light of the fan club presale selling out almost instantly.
How could StubHub have tickets to sell 13 hours before they were available?
Here's a considerably truncated excerpt of my chat with Renaye, with whom I chatted for about 30 minutes, just a disappointed fan talking to a company representative.
Amber: I see there are already some tickets for the August 14 show available?
Renaye S.: Correct!  StubHub is a marketplace where fans buy and sell tickets from one another, so       when you buy with StubHub you are actually buying tickets from another fan like yourself.
Amber: But if the tickets haven't gone on sale yet…
Renaye S.: Because persons buy from other sources to sell on StubHub. Sellers may have put their         orders in for these tickets as when they list for sale on StubHub, they provide us with the latest possible date that they will receive it by.All orders made on StubHub are backed by our FanProtect Guarantee, which guarantees that you will receive the tickets you ordered in time for the event, and they will be valid for entry.(…)They may not have these tickets physically in hand but they have placed their order with their ticket primary, that when these tickets are available for sale, they will receive them…Most of the sellers that sell on StubHub are reputable secondary ticket companies, who have used this practice for years and we are yet to have an issue with them fulfilling their orders. This really happens for tickets for events that are in high demand.
Renaye then spent several minutes stressing that, whatever cost I paid for the tickets, even if it were double or triple face value, would be refunded if the tour is cancelled, in whole or in part. StubHub will fully refund every dime.  When asked, in a roundabout but kind of direct way, if there was something "underhanded going on with StubHub that gave them access to tickets before fan-club presales went live, Renaye again stressed that everything was on the up-and-up. These seller companies get their tickets thanks to "venue package holders." It seems those package holders have their own presale options, as Renaye explained.
Still unhappy with this answer, I tried again. Shouldn't it be impossible for anyone to stake any claim to tickets before they go on sale, even to fan club members who, presumably, had to do something or pay some amount for the privilege?
Renaye S.: For sure, there are a lot of mediums that allows this to happen. Fan Clubs for example gives sellers this benefit
Amber: So the rapid selling out of multiple venues today might be a result of the fan club itself?
Renaye S.: Correct. The tickets for sale may be a member of the Fan Club or members of the Fan Club     selling on Stubhub at the same time.  Either way though you are always protected by our FanProtect Guarantee, which guarantees that you will receive the tickets you ordered in time for the event, and they will be valid for entry. (…) All in all we are an open marketplace though so all the tickets from these sellers will be available to fans like yourself
Amber: It's just incredible that the moment the presale opened this morning, some venues were sold     out. Like the exact moment.
Renaye S.: I definitely understand. As you know though this is a very popular event and the demand is totally high. Stubhub is the world's largest secondary marketplace, we have millions of users worldwide. So it can be a case of 100 thousand fans trying to get into a venue of 50 thousand capacity.
Amber: Some of us have been thinking it was kind of unfair– it was supposed to be open to fans first   and foremost. And it seems like the vast majority of us weren't able to buy tickets directly.
Renaye S.: I understand your opinion, but as you know we don't own the tickets personally so the listing of them would be up to fans like yourself. And being a member of the Fan club comes with perks like getting tickets before the general public.
But fans like myself –I tried for 90 minutes before giving up—couldn't get through to get tickets, I protested. Many who did ended up going through a service like StubHub and paying several times more than expected.
It's at this point Renaye tells me to take it to the venue and complain to them. "They would be better able to inform you as to why the tickets weren't available for purchase to the general public first," she said. But, for what it's worth, "I really do understand how you must be feeling Amber. I would be heartbroken too If I am not able to see my favorite artist before he goes. I really wish I could make this right for you. I feel uncomfortable to be in this situation and also to have you in this situation."
Maybe we should go back to waiting in line overnight, I suggested.
"Especially for in-demand events like this, I concur!," my friend Renaye said.
Well, thanks for concurring Renaye.
Someone else concurs, too, but not in the same way. He's not alone either.
Kris Sample has been trying to get someone, anyone to look into the practices of StubHub and other ticket resellers for years. In January, he sent a letter to CBC Marketplace, lamenting not only increasing service fees for purchasing tickets, but listing tickets in US Dollars (a terrible conversion rate, given the current state of the Canadian dollar) and the dreaded waiting room hell most fans have to endure when eagerly awaiting their chance to buy tickets the moment they go on sale.
"But lately (the past 5 years or so), purchasing tickets has become a nightmare, especially dealing through Ticketmaster," Sample wrote in the letter, to which CBC has not yet responded. "Some bands have chosen to use alternative methods, members-only presale options, TicketFly or other ticketing outlets besides TM. Most of the time, these alternative methods go off without a hitch. How is Ticketmaster able to get away with their bs?… Taking into consideration how much money I've spent on ticketing fees through this organization, and how they turn around and treat their customers by extorting them through their sister site makes me sick."
Toronto seems to be particularly awful when it comes to "StubHub gouging," he continues, but it's not alone. "You head over to StubHub minutes after the show sells out and THOUSANDS of tickets are available, all at USD prices, with the cheapest tickets usually starting at double the Canadian price. How do we put an end to this monopoly that Ticketmaster has had for far too long now? It seems as though there are individuals out there who have made a business out of purchasing tickets, simply for the sake of reselling them through these other websites at ridiculously inflated prices."
But let's also remember that StubHub isn't all evil. At some point Monday afternoon, StubHub posted, then deleted, then reposted, the following message: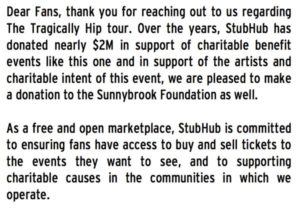 See? StubHub totally cares and wants to do right by everyone and they love music and fans and aren't they just the greatest?
Pearl Jam was right.