Sunday Guest Editorial: More on the Fears for Rock Radio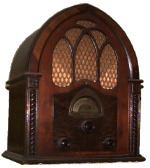 Do You Remember Rock 'n' Roll Radio?
by Felipe on Aug.20, 2011, under Uncategorized
Just a few days back Alan Cross wrote about his Worries About Rock Radio and I must say I wholeheartedly agree with him. I'm not just saying this to sound cool or because he's Alan fuckin' Cross but because I think he's one of the few on-air voices that still 'gets it,' and presents a well balanced perspective on how things look from behind the console. Part of this post is copied straight from exchanged emails however I've chosen to expand a little more on the topic to fully explain my take on things.
As I just mentioned, I share his worries about the current state of Rock radio and where it seems to be heading, however I feel only a handful of us are seriously worried about what is to come next time we venture to the dial. It seems to me that despite the ominous signs about the dark future of radio, not very many people seem to be really doing something to help the cause (on air hosts and execs included). To be honest, I hardly listen to my local rock radio station (CFPL-FM FM96 London) because of its highly commercial content. If I can follow up on one of Alan's earlier posts, the lack of story telling and fact finding (let alone fact-checking!) by the DJ's is rather discouraging if not alarming. It's sad and I don't feel very proud admitting I don't turn my radio on very often as programming seems to be turning to 'shock-value' hosts and ridiculous – if not wholly uninformative – and fully annoying content. Even the so-called indie shows, supposed to showcase local talent are failing hard—often cliquey and seemingly not too worried about correcting their ways. Don't get me wrong, I'm aware of CanCon rules and whatnot, however (music geeks back me on this one) – how many DIY bands are out there with a measurable following and still don't make it to radio? Where's CanCon then?
Whenever the topic of dying Rock radio comes up I immediately think of Joey Ramone – he's right you know… if Rock radio wants to survive it needs to change. However, like Alan says, the advent of technology and the 'greenness' of on-air personalities is aiding the decline of radio by leaps and bounds. Seems like a vicious circle, doesn't it?
As with all big changes, I highly doubt this one would be effective from the top down. I think that in order to resuscitate Rock radio we need to start at the grass roots level, we need to get kids involved and interested on what radio has to offer. It would certainly be worth looking at radio abroad. I remember that when I was growing up in Colombia, the local Metal radio station in Bogotá was heavily involved in promoting local events and bands…This might sound a little silly, but I'm talking about the Battle of the Bands, local 'school aged' bands shows at recognized city bars and the like, they would hold contests and give out prizes from CDs and meet 'n' greets to trips to see shows abroad… you bet everyone listened then! I realize that some stations (my local one included) do give away tickets and prizes but what good is it to win tickets on the radio when you can go out and buy better ones on the web or on the street? Why would I bother blistering my fingers madly dialling the drive-home show to score nosebleed or mid-crowd tickets for a show supposedly sponsored by the station itself? Makes no sense to me. I'm also aware that some stations (again including my local boyz) give away trips abroad to see cool shows (not that I would go, but Lollapalooza comes to recent memory) but then again, I too could make the investment and go on my own — likely getting a better experience out of it. Again, don't get me wrong, I'm not trying to come off as an ungrateful brat but if I go see a live show I wanna see my band up close…if I win my tickets I'm expecting something at least vaguely resembling VIP, not just spending money and bragging rights in exchange for a lousy spot in the middle of the General Admission section*
I guess what I'm trying to say is that if we're aiming to catch the ever-decreasing attention span of my demographic, we need to talk the language of my demographic… Today's radio is done by a cliché-ridden, select group of 1.0 people trying to reach a 2.0 audience and clearly the model just doesn't work.
Before anyone calls me out as an antiquated mook I'd like to point out that I'm all for Web 2.0 music services like Spotify and the sort – believe you me, no one would benefit more from a service that would allow me to show new music to my buddies! ("DUDEE you ought'a listen to THIS!" – sound familiar?) but as Mr. Cross kindly points out, the emerging on-demand services are robbing us of the storytelling experience. Don't deny it, we all like to have a music geek host telling us the neat factoids about every other track, new concert listings and (actual fact-checked) news – not gossip — about the rock world. This is what the new music services still fail to provide. Regardless of how much we automate things, the human touch is something that algorithms won't be replicating anytime soon.
I'm clearly interested on finding ways to help bring back our beloved yet ailing Rock radio, if only because "We need change, we need it fast/Before rock's just part of the past/'Cause lately it all sounds the same to me." I'd love to talk more about it with you and others genuinely interested on doing something to help the survival of Rock radio.