A Sunday Wrap-Up of Gord Downie Coverage
As the country continues to process the death of Gord Downie, the coverage, tributes and analysis continues. Here are some samples of what has been said and written.
From Macleans:
Canadians are lucky to have the creative contributions of Gord Downie, frontman for the Tragically Hip, who passed away this week at the age of 53. He embodied a beautiful paradox in our conversation about Canadian culture. He wrote poetry about hockey and our complicated history, quoting both news and literature, and singing those poems to diverse audiences in hockey arenas.
Where America's poet, Walt Whitman, spoke of "containing multitudes," Downie connected multitudes. Like Downie, the country he loved resists summation. What is Canada? What is Canadian culture? Who is a Canadian?
Canadians do not agree on what it means to be Canadian. Our conversations on the subject end with more questions than we had when they began. Two approaches are often used when trying to capture the essence of Canada. The negative, "I don't know what it means to be Canadian, but I am not American," is countered with positive summaries like, "We are a cultural mosaic." Downie's work avoids such shortcuts. And somehow, that works. We like the questions.
Bootlegs
Some fans are posting pictures of their old-school Hip bootlegs. I have a couple of these.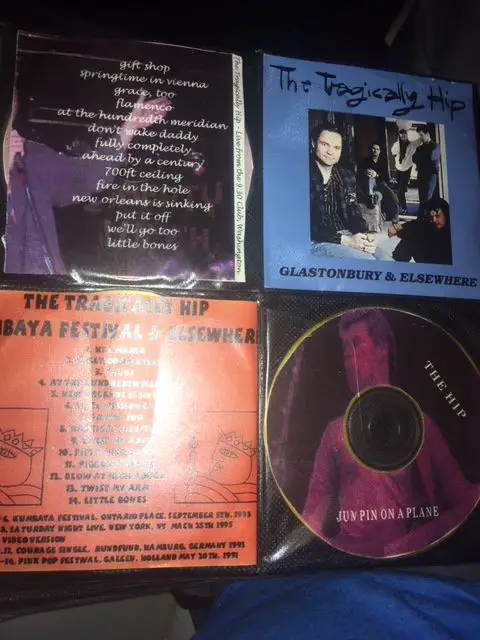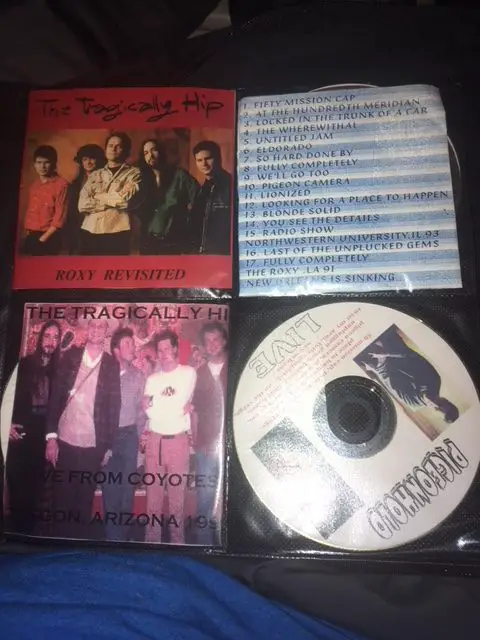 #CourageForGord
The CourageForGord people, who did a lot in the way of fundraising while Gord was alive, sent out this email to supporters.
Hello, Friends!
As you may know, Courage For Gord (CFG) Foundation started as a campaign to support Gord Downie and Brain Cancer Research. It evolved to also support Gord's Secret Path project and the movement to jumpstart reconciliation between Indigenous and non-Indigenous Peoples. It was time to "Do Something." With your support, CFG raised over $175,000 for the Gord Downie Fund for Brain Cancer Research and the Gord Downie & Chanie Wenjack Fund.
The support from this community started with fundraiser events ahead of the Man Machine Poem concerts last summer. Our new website was later launched to provide a safe and legitimate source for merchandise designed by Hip fans and to facilitate online auctions. We partnered with the incredibly talented Izzy Camilleri, Karyn Ruiz, Jeff Churchill, Joel Clements, Chris Chapman and Richard Beland, who brought their craft to us Hip fans to cherish. We organized Secret Path fundraiser events in Ottawa, Toronto and Halifax. We organized the Walk for Wenjack journey in Kenora and travelled to Syracuse and St. Catharines to support their local communities. We hosted a Birthday Celebration for Gord in Toronto and offered memorable and unique keepsakes we hope you treasure for life. Many events were supported by The Strictly Hip and The C&S UNION, and we thank them for respectfully recreating the music of our beloved band. We are also grateful for the support of Kasador, who headlined an event last fall in Toronto.
To the loyal and passionate Tragically Hip Fan community who have supported our effort, to all the folks who generously offered their treasured memorabilia and craft for raffle and auction, and to all the volunteers who helped make those events and campaigns a reality, we couldn't have done all this without you. THANK YOU! We make a living by what we do, but we make a life by what we give.
Along with Rod Nolan, I am humbled and honoured to have represented CFG. This experience has been incredible and life-changing in so many ways; however, all good things must come to an end. It's time to reflect on so many memorable moments shared with this community. It's also time to shift my focus to a cause that needs our help – The Gord Downie & Chanie Wenjack Fund, which is part of Gord Downie's legacy and embodies his commitment, and that of his family, to improving the lives of First Peoples. In collaboration with the Wenjack family, the goal of the fund is to continue the conversation that began with Chanie Wenjack's residential school story and to aid our collective reconciliation journey through a combination of awareness, education and action.
I have now joined the Downie Wenjack Fund as a volunteer, focusing on community engagement and a newly launched online store and merchandise. I'm excited about this new challenge and invite you to learn more about this initiative and join me on my reconciliation journey. Please follow along on Facebook, Instagram and Twitter for the latest news and announcements, and be sure to check out our new website and store at www.downiewenjack.ca.
Together we can make a difference. Besides, no one's interested in something you didn't do.
Thank you again for all your support.
Rob Ferreira
Courage For Gord Foundation
And speaking of the Downie Wenjack Fund…
And some people can't help but feel that we're at the end of something. From Geeks and Beats:
The last two years have been rough.
There's no other way to look at things if you're a music fan. The amount of talent that we've lost has been staggering.
David Bowie. Glenn Frey. Prince. George Michael. Chris Cornell. Chester Bennington. Walter Becker. Glen Campbell. Tom Petty. And now, Gord Downie.
It's unprecedented to see so many giants of music being lost in such a relatively short period of time. No matter what type of music you enjoyed, you have lost someone that you loved.
Music is generally associated with happiness and joy. It's a unifying force that brings people from all walks of life together.
Go to any concert and you'll see thousands of people with thousands of different stories come together in ways that they otherwise wouldn't.
Music simply creates a bond between people. Parents, children, siblings, best friends, boyfriends, and girlfriends are all brought together with the joyous bonds of music.
Sadly, over the last couple years, these bonds are being brought together in acts of mourning as opposed to acts of celebration.
As much as we expect to experience some loss due to the passage of time, it's still shocking just how much has happened so quickly. It seems like we just get over the death of one musician when another one comes along.
Keep reading.
Buy Zovirax online
Fluoxetine no prescription
buy Bactroban cream online