Take This Music Quiz and Learn Something About Your Capacity for Empathy and Caring
The University of Cambridge is conducting a study involving the capacity people have for empathy and their willingness (or stubbornness) when it comes to rules and regulations. Their method is to extrapolate psychological data from a person's musical preferences.
In other words, what are the links between musical taste and your personality and social behaviour? Click on the graphic below to be taken to the test which includes listening to and rating twenty-five different music clips.  Once you're done, you'll get an instant personality score as well as a "satisfaction with life" rating.
Take the test. You want the "Musical Taste" option. (A lot of people are apparently taking the test, so if the page crashes, just reload.) I did and my results are below.
I took the test and here are my results.
Okay, fine. But what do these scores mean? That takes us to the next chart which compares the test-taker to the general population.
Yeah, so what? Which brings us to the final analysis of my personality.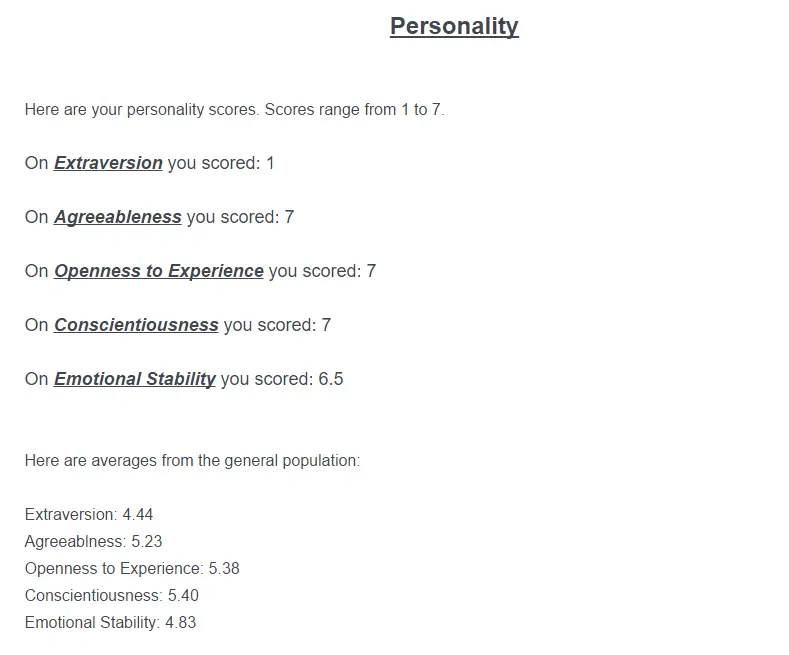 In other words, don't expect me to be the life of the party.
(Via The Daily Mail)