Starting today and running until Friday, Techweek will be celebrating the best of the Toronto tech scene with events throughout the city. Check out the schedule ;­ for more information on the week's events, and if you'd like to join in the festivities.
Tech Week holds events across North America with conferences in:
DETROIT
CHICAGO
TORONTO
KANSAS CITY
WASHINGTON, D.C.
NEW YORK
DALLAS
LOS ANGELES
MIAMI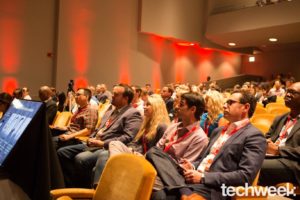 Some of this years notable speakers are Ben Zifkin Founder & CEO, Hubba, Andrew Sider CEO, VarageSale, Cameron Gordon Head of Communications, Canada, Twitter and David Lennie Senior Vice President of Data & Analytics, Shopify. They will cover a wide range of topics from Machine learning to Marketing, Data intelligence to the Path to Scaling.