Ten Chart Battles That Changed Music
Back when the music charts were less confusing (see John Sakamoto's Toronto Star column from August 15; no link available yet), fans tracked rabidly tracked the progress of their favourite songs, albums and performers.
When I was a kid, I couldn't wait for the Saturday Winnipeg Free Press because the entertainment section published the weekly Top 30 chart from CFRW, by my AM radio station of choice (it took Winnipeg until the late 70s to get an FM rock station). My friends and I would study the chart positions as if we were looking for evidence of the Higgs boson in the tracks of proton decay.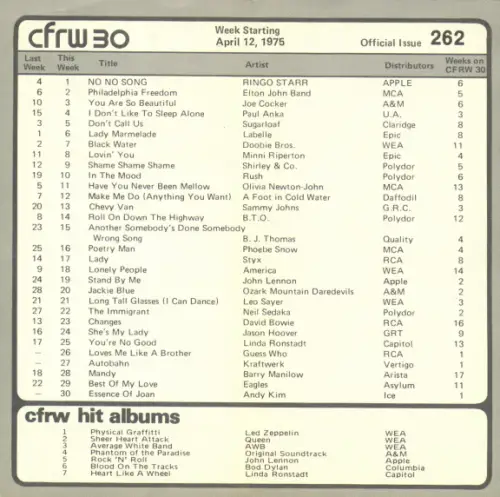 Charts still matter, but mostly to the music industry as a way of keeping score. But back in the day–well, chart battles were war. The Telegraph looks at 10 instances where such battles actually changed the course of music.
Al Martino vs Jo Stafford – November 1952
Up until 1952, music's popularity was determined by sales of sheet music. But on 14 November 1952, the UK's first ever singles chart was published in the New Musical Express after co-founder Percy Dickens rang 20 record shops and collated their best-selling singles. The opening tussle saw Here In My Heart, an overwrought big band number by 25-year-old Italian-American Al Martino, pip mournful ballad You Belong To Me, by his compatriot Jo Stafford, to number one. Martino held the spot for nine weeks, which remains among the longest ever stints. In 1972 Martino appeared in The Godfather as Johnny Fontane, the struggling crooner on whose behalf mafia boss Vito Corleone orders a horse's head to be deposited between an unsuspecting film producer's sheets.
The Beatles vs Engelbert Humperdinck – March 1967
While time has canonised The Beatles, it has mocked Engelbert Humperdinck.
Even so, almost 50 years on, this remains the most egregious upset in chart history. In early 1967, 'The Hump's' unremarkable cover of Release Me beat The Beatles' double A-side of Strawberry Fields Forever/ Penny Lane to number one, breaking a four-year run of chart-toppers for the group.