Ten Writers Explain What Music Helps Them Write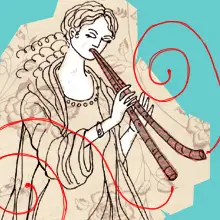 Euterpe, the muse of musicThis is from PLOS Blogs:
Writing is a hell of a way to make a living. It only seems easy to those who haven't tried it. I've somehow managed to survive that way for the past 20 years or so — for richer and for poorer — and still don't know how my favorite authors, journalists, and bloggers manage to pull it off with such verve and panache. Sometimes, being a writer feels like getting paid to pull a rabbit out of a hat over and over again — but each time it has to be a new breed of rabbit, "miraculously" emerging from a different style of hat.
Days under the spotlight that I reach into the fraying dark with sweaty fingers, and feel warm fur, are good days. Other days, it's nothing but hat in there; but I say "Voilà!" with a practiced flourish anyway and hope the audience doesn't notice that the alleged rabbit is just a tattered old stuffed thing, a patchwork made to twitch by sleight-of-hand.
But writers have their secrets and rituals for courting the fickle favor of the Muse. For some, it's sitting in a certain chair at the right time of day — or getting out of familiar surroundings to type busily away in a café filled with people that might someday be readers. For others, it's a brisk walk in the open air. Or it's potions; woe to the poet who finally decides to undertake her epic sestina sequence only to discover that her cupboard is bare of aged Sumatra.
And for many writers, one way to evoke that elusive flow-state of inspiration is music.