Terra Lightfoot: One to Watch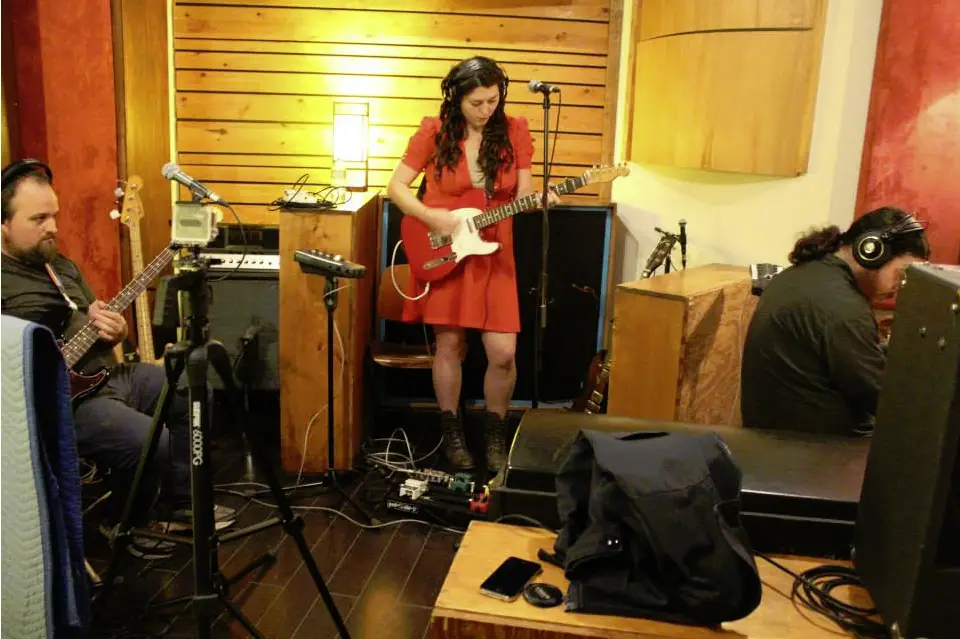 By Julia Wallace
It's hard to believe that Terra Lightfoot could be intimidated by anyone or anything. Barefoot with bright red lips and bold eyes, she comes across as fearless, free, and a hell of a lot of fun.
"If this is for Alan Cross, I don't know what to say. He's so cool… What do you say?" Lightfoot laughs while sipping whisky backstage.
Lightfoot doesn't normally shy away from attention. Open three nights for the legendary Daniel Lanois? Easy. Become the poster child for Hamilton's thriving music scene? Sure thing.
She doesn't even appear to be the least bit phased by the attention she's been receiving, and quite content to be the only woman on top of the Canadian music who can do it all.
"A lot of women aren't pursuing instruments. They're not. It's not that they aren't good at playing instruments, it's that they're not pursuing them," she explains.
"I had a lot of walls put up, to be honest. My first guitar teacher – my only guitar teacher – told me that I didn't need to play solos. That I should stick to rhythm. So I did. I listened to him and I didn't start playing solos until this record."
Working with her folk-country outfit Dinner Belles – which is taking a backseat at the moment – helped her get there. Seeing the guys do it night after night pushed Lightfoot to take the next step.
"I was kind of jealous," she states in a matter-of-fact way, before going on to give credit to the superhero of female guitar playing, Bonnie Raitt, "I saw her and I thought 'I need to do that!' She is amazing and controls the entire crowd."
If you've ever seen Lightfoot on stage with her '72 Gibson SG, Veronica, it's clear to see why an artist like Raitt resonates with her. They share that magnetic 'anything you can do, I can do better' attitude. "We're both confident." says Lightfoot.
"I worked at a music store when I was a teenager, and I worked with a bunch of guys, and the things that I heard and the things that I learned… I was at once a 15-year-old innocent little girl, and then I became an asshole."
Thank god for that. In addition to learning how to solo, Lightfoot united a group of talented musicians and became a bandleader, allowing them to help her break down barriers and go wherever she wanted to as a songwriter. She even played piano for the first time on 'Splinter', the closing track of her latest album Every Time My Mind Runs Wild. It's a role some people assumed was filled by someone else – a male someone else, to be exact. One thing no one has failed to notice is the fact that she is the one playing guitar.
"It's important. It's so important because so many records, you look through the liner notes and often it's not the person you think it is. If it's a singer-songwriter, they're not often playing guitar. So it was super important for me to play guitar on the entire record."
Believe it or not, nobody else touched a guitar on Every Time My Mind Runs Wild. It was all Lightfoot and her guitar, Veronica – as it has been since she was 17.
"There were a lot of nice guitars in that studio, and mine kicked all their asses," she states proudly. "It's on 75 per cent of the album."
Lightfoot's guitar is actually kicking ass in a lot of places these days. Opening for Lanois, a moment that could define a career, was just the start for her.
"I joked the last night that we were gonna quit music after that. It just felt so surreal to be playing on the same stage as him."
She's now collaborating classical conductor Boris Brott for the Pan Am Closing Ceremonies in Hamilton at Pier 4 Park, and will also be part of the Women's Blues Revue at Massey Hall, an opportunity that is "pretty much a dream." Even her show at the Horseshoe on Wednesday is likely to fill the HOV lanes with fans driving from the Hammer.
Amidst all the opportunities and accolades, Lightfoot remains focused on what has gotten her there – writing music. "I'd like to start writing the next record as soon as I can, and I'm looking forward to more songwriting collaborations with friends."
Actually, we should all be looking forward to what comes next. She writes brilliantly about love and the relationships we've all had or find ourselves tangled up in: the one where he leaves you; the one where you leave; the one where you're the other woman; the one where you know it's wrong but stay; the one where you know it's right and you stay.
It's obvious that Lightfoot knows relationships. She knows that they are up and down and sideways and full of setbacks and false starts – not unlike anything else in life. She also knows that sometimes they're just wrong.
The truth is that Lightfoot doesn't seem intimidated by anything: relationships, the pressures that come with success or how cool anyone else might be right now. And if she is, she hides it well. When I was younger I always imagined Bonnie Raitt would make the perfect action figure – part of it the bottleneck guitar playing, and part of it the fire engine red hair with the shameless white streak. As an adult, I still think that, although now I picture Lightfoot with her red lips, red dresses and Veronica right there beside her.
Terra Lightfoot's bare feet will hit the stage at the legendary Horseshoe Tavern sometime after 10pm Wednesday night (July 15).