That Mystery Buyer Who Snapped Up Elvis Presley's First Recording for $300,000? Yep. It was Jack.
Back in January, Elvis Presley's first-ever recording–an acetate made at Sun Recording Studios as a birthday present for his mom–went up for auction. At the time, he was just an 18 year-old truck driver who liked R&B.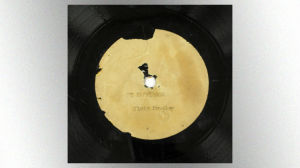 But after hearing what Elvis had done (it was almost a year later), Sun Records owner Sam Phillips tracked him down, signed Elvis to a record deal and the result was rock'n'roll.
There is exactly one of these acetates in existence. One.  In other words, not only this is the rarest record in the history of rock, this recording the Ur-record of all rock'n'roll.
Here's one of the sides of that recording from July 18, 1953.
Now here's side two.
When the auction finished, the winning bid of $300,000 USD was from a mystery buyer. But thanks to an interview in Billboard, we know that it was Jack White who shelled out the big dollars.
And Jack's just not going to store the thing in a vault somewhere, either. On April 18–Record Store Day 2015–Jack is going to reissue the recordings on Third Man Records. On vinyl, of course.