That Time When Toronto Was Hardcore
When you think of cities associated with hardcore punk, Toronto probably isn't the first one that comes to mind.
Diehard music historians are more likely to point towards places like hot and bothered California and politically charged Washington, D.C., although a new book from UXB Press hopes to shine some light on how T.O. before the 6ix had quite the influential scene, however short-lived.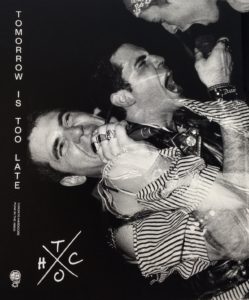 Tomorrow is Too Late – Toronto Hardcore Punk in the 1980s is over 300 pages reminiscing about bands with names meant to offend, DIY artwork that shocked as well as informed, and eschewing commercialism while addressing radical issues for the time like gender and animal rights, from people who lived and breathed the punk ideologies.
Toronto may have a literal neo-Nazi running for mayor in 2018, but something tells me the TOHC community would never have taken this sitting down whenever they congregated at regular haunts such as Larry's Hideaway. Not that today's punks and outsiders aren't just as pissed towards the government, or how their safe spaces are being gentrified to make way for another condo development.
Thank goodness for Not Dead Yet, a music festival that keeps this defiantly independent spirit alive and who just happen to be hosting a book launch for Tomorrow is Too Late on October 13th at a venue TBD – Keep your eyes on the book's Facebook and Instagram accounts for more deets and more vintage photos (the one of the old school mohawk-sporters above is courtesy of Pete Ford). For you sentimental record collectors, a 7″ is also being released featuring songs from five bands from the original TOHC era specifically reuniting for this event. Have a listen to the less-than-a-minute "Second Last" by Micro Edge to hype yourself up for some circle pit action!
*UPDATE* The book release show in question is now sold out, but don't ever call the artists playing sell outs. Hard Luck Bar will be the place to be to see Negative Gain, Sudden Impact, Chronic Submission, Creative Zero and the aforementioned Microedge performing for the first time together since 1984! Is their name one word or two? And just to clarify, the 7″ EP will have 11 short and punchy songs that have never been on vinyl before from 10, count 'em 10 TOHC bands. Talk about a must-have!