The 10 Worst Live Albums of All Time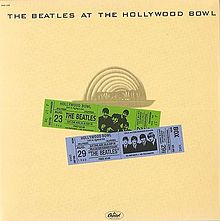 [Another tidy list provided by special correspondent, Brent Chittenden. – AC]
Last week, I listed the Top Ten Live Albums Of All Time (well, so far, at any rate. There is the possibility of another good live album coming out) but what about the WORST live albums of all time?
While we don't really like to crap on anyone at this site, sometimes there are things so bad they should be listed if for nothing else but safety. Unlike our first list, this list will contain some bootlegs and unofficial releases that have made it into the larger public consciousness (ie a ton of people have heard of them as opposed to just a few music geeks).
So really, think of this as more a public safety message than a list.
Ready? Let us begin.
10) The Beatles – At The Hollywood Bowl
Like another album on this list, At The Hollywood Bowl does capture the energy and hysteria that surround The Beatles during this period. The problem? The sound mix (probably due to the limited live recording technology of the time) has the crowd mixed so loud that much like in real life, the band is pretty much over-powered for a majority of it.
9) The Rolling Stones – Got Live If You Want It!
Very similar issues to the previous listing of The Beatles except worse. Crowd noise cranked way to high on an already murky recording of the band. Probably the worst of Stone's live recordings.
8) Led Zeppelin – The Song Remains The Same
Last week I had Zeppelin's How The West Was Won as one of the best live albums ever. The Song Remains The Same is kind of the opposite of that album. Sure, the band is still good but the energy doesn't seem to be there and the recording itself isn't that good. Where How The West felt like Zeppelin proving why they should be the kings of rock, Song feels like the kings have gotten bloated and bored.
7) The Who – Who's Last
Recorded during The Who's "farewell" tour in 1982, it's very much like The Song Remains The Same. Yes, it's The Who but it feels more like a half-inflated balloon then a full one. Sound quality is just ok, the band itself is just okay, it's pretty drab especially when compared to Live at Leeds.
6) Vanilla Ice – Extremely Live
I know what you're thinking. That I just chose a crappy artist and slugged his live album on the list because he's crap so obviously the live album would be. Not true.
While I'm not a big fan of Ice's heyday, this album is bad for a few reasons. It's a cash grab. Vanilla Ice had only released one major release album at this point (two albums total including an indy album) so the record company struck while the iron was hot and the result is a terrible sounding live album that is pretty much the same as To The Extreme (his major release) but with terrible stage banter, badly produced (the crowd noise is unbearable in spots) and segments where it's just backing music tracks while the band is presumably dancing or something. And to top it off, we got this terrible version of "Satisfaction."
5) Iggy and The Stooges – Metallic KO
This semi-official live album might be the one on the list that a lot of people will take exception with. Recorded at the Stooges last show (before reuniting) it does a great job of show who Iggy was at the time. An Iggy who'd fight with bikers and yell at the crowd. But if you take that away, what do you have? A terrible sounding recording of a band who wasn't particularly playing well that night. In the track above, Iggy has to try on two occasions to get the band playing in any semblance of time. Sure it's kind of neat hearing beer bottles smashing into a band but really, that's only interesting once or twice. Then it just sort starts sounding like your friend's band Stooges cover band recording off a walkman in the basement.
4) Sex Pistols – Anarchy in The UK Live at The 76 Club
There is something to be said for capturing a live performance of a historic band, but that doesn't mean you have to release it if it sounds like crap. The Sex Pistols are incredibly important to music history and this live album is not a way to relive or remember that. While the band at the time was limited by their actual playing, there was always something to them. This album (and to be fair pretty much every other Sex Pistols live release taken from this period) doesn't capture that because the sound quality is terrible at best, atrocious at its worst. Speaking of which…
3) Sid Vicious – Sid Lives
Sid Vicious is pretty much known for being a part of The Sex Pistols, being a heroin addict and killing his girlfriend, Nancy. Please note that I did not write the words "being a bass player" or "vocalist" in there. That's because as a musician… Sid was pretty terrible. And so is this album. A double disc live set of Sid Vicious performing covers. But wait, there's more! Not only is it a double disc live set of Sid doing terrible versions of classic rock and punk songs, it also sounds like it was recorded on a Radio Shack cassette player and then had the tapes propping open the door to the men's room for 20 years.
2) Plastic Ono Band – Live Peace In Toronto 1969 (Side 2)
Yoko Ono's musical… er… um… prowess is often become a target of disdain and for good reason, but Side 2 of Live Peace makes the list on two major points. As bad as this was on a studio recording, it's even worse live. Secondly, Side One isn't bad. It's not the best thing I've ever heard, especially from the Lennon catalogue but it's decent. So imagine you didn't know what was on this album when you bought it. You listen to Lennon, Eric Clapton on guitar and Alan White on drums performing Money and Blue Suede Shoes and Give Peace A Chance and then you flip it over to side two and get Yoko Ono wailing. I assumed one out of every three listens of Side Two ends the a "sploosh" like sound when the brains of the listener liquefy.
1) Elvis Presley – Having Fun With Elvis On Stage
You know those live albums that are recorded at multiple concerts and they sound a little disjointed? Take that album and then take away all of the music and just leave behind the stage banter. That is what Having Fun With Elvis On Stage is. It's a live album of Elvis's stage banter for numerous concerts. Developed by Elvis's manager as an album that RCA would not own any of the rights to and released on the Colonel's own record label. It's got a lot of humming, a lot of "Well…" and a lot of sort of jokes that probably went fine for the audience who knew it was going to be followed up by something like Blue Suede Shoes but for the listener of the album.. Blue Suede shoes never comes! It's almost like one of those twist endings from the Twilight Zone
There you have it, I have suffered so you don't have to. But are there other albums to be listed that the public should be steered clear of? Let's us now what you think.