The Alzheimer Society's iPod Project and Why You Should Help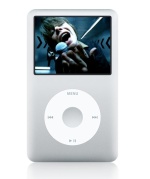 Before my grandfather passed away at the age of 102 back in April, time poked many holes in his senses and memories. Tiny strokes called TIAs came in clusters that sometimes rendered him speechless and helpless or prompted vivid hallucinations.
The old guy always bounced back, but there was something more missing each time. Sometimes he'd recognize the people around him, sometimes not. But if you wanted to get him talking, all you had to do was to get him to reminisce about the old days. He couldn't remember what he had for breakfast, but by golly, he remembered that construction job he did for Izzy Asper at Falcon Lake back in the 1950s.
The other thing that he didn't seem to have trouble with was music. He always had a radio in his room and liked to listen to the Ukranian music programs on a couple of old-time AM stations. He knew the songs and the songs relaxed him–especially on those days when he knew his mind was going.
In other words, I've seen first-hand how music can ease lives for people suffering from Alzheimer's. That's why I love this new initiative by the Alzheimer Society of Toronto that aims to collect and distribute 10,000 iPods to patients.
You may have heard me say or write about how we all have a sweet spot for music. It's almost always the stuff we discovered between 14 and 24–high school to college. It's when we came of age musically, and used music to find out who we were and how we wanted to project that identity to the rest of the world.
Here's more proof: in the study of the effects of music on Alzheimer's patients, the music that worked the best–i.e. provided the most calming effects, thereby often removing the need for medication–is material culled from the patient's teenage years. Hey, it's what worked on Grandpa.
Read more about what the Society is trying to do in the Toronto Star. Meanwhile, if you have an iPod you're not using anymore, why not donate it?