The baby on the front of Nirvana's Nevermind album has sued, alleging child pornography [UPDATED WITH PLENTY OF NEW INFORMATION]
Almost thirty years to the day since the world was introduced to the swimming baby on the cover of Nirvana's Nevermind album, that baby, the new 30-something Spencer Eldon, is suing the band for child pornography. (See the document here.)
Yeah, I know. Let's go through the details.
Elden claims that Nirvana violated child pornography statutes and says he was the victim of child exploitation. Also named in the lawsuit is Kirk Weddle, the photographer responsible for this iconic album cover.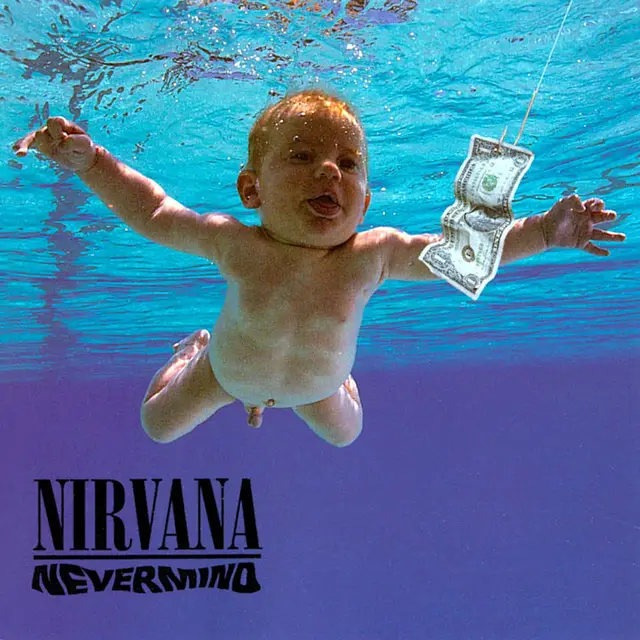 Forgetting that Elden's parents brought him to the photo shoot, he now contends that he's suffered "lifelong damages" and that his legal guardians never signed off on the use of any photos ("authorizing the use of any images of Spencer or of his likeness, and certainly not of commercial child pornography depicting him.")
There's more, too. The lawsuit for the distribution of private sexually explicit materials, various types of negligence, and what the suit describes as a "sex trafficking venue" where he was "was forced to engage in commercial sexual acts while under the age of 18 years old."
I quote further:
"The permanent harm he has proximately suffered includes but is not limited to extreme and permanent emotional distress with physical manifestations, interference with his normal development and educational progress, lifelong loss of income earning capacity, loss of past and future wages, past and future expenses for medical and psychological treatment, loss of enjoyment of life, and other losses to be described and proven at trial of this matter.
[…]
"Weddle took a series of sexually graphic nude photographs of Spencer. To ensure the album cover would trigger a visceral sexual response from the viewer, Weddle activated Spencer's 'gag reflex' before throwing him underwater in poses highlighting and emphasizing Spencer's exposed genitals. Fisher purchased fishhooks from a bait and tackle shop to add to the scene. At least one or more film cartridges were exposed in a short period of time which included at least 40 or 50 different image shots of Spencer. Cobain chose the image depicting Spencer — like a sex worker — grabbing for a dollar bill that is positioned dangling from a fishhook in front of his nude body with his penis explicitly displayed."
Hold on. Back up.
Rick Elden, Spencer's father, was a friend of Kirk Weddle. When Weddle got the Nirvana gig, he asked Rick if Spencer would like to participate. The fee was US$200. Dad agreed, Spencer was tossed into the pool, and history was made.
Over the years, Spencer dined out on the fact that he was the baby on the front of one of the most important albums in rock. He recreated that image a number of times (2001, 2008, 2011, and this shot from 2016). Note, too, that he has "Nevermind" tattooed across his chest.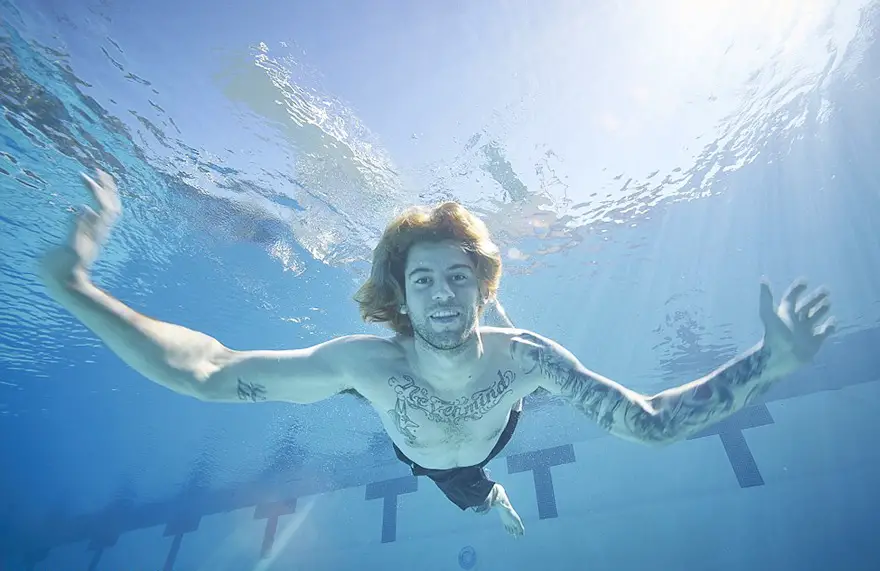 In recent years, he apparently was ambivalent about the whole thing. Until this week.
Let's unpack this a little further. Under the law, non-sexualized photos of naked children are almost always not considered child porn. Kurt Cobain and Weddle conceived the photo as a statement on capitalism. However, Elden's lawyer, one Robert Y. Lewis, says that because the baby is swimming towards that dollar bill, it makes the kid appear "like a sex worker."
Wow. If that's what you see, then maybe the problem lies with you. But that's just me.
Elden wants US$150,000 each from Dave Grohl, Krist Novoselic, Courtney Love, Guy Oseary and Heather Parry (they manage Kurt's estate), Kirk Weddle, art director Robert Fisher, and a series of record companies that released or distributed the album over the last three decades. Some of those labels don't even exist anymore (DGC and Geffen).
Oh, and Chad Channing, the drummer replaced by Dave Grohl and who wasn't a member of the band at the time of the recording of Nevermind, is also named in the suit for some reason.
This has nothing to do with Nevermind coming up on its 30th anniversary on September 24. Nope. I'm sure of it. Total coincidence.
(More at Variety)
UPDATE at 7:47 pm EDT August 25
If you're still asking "Why is Elden doing this after 30 years, especially since he really seemed to dig his fame?" For that, we go to an Australian site called Artnet. I quote:
"In a 2016 interview with GQ Australia, Elden said his stance on the photograph changed after he reached out to Nirvana to see if the band would participate in an art show he was putting on.
"'I was asking if they wanted to put a piece of art in the fucking thing,' he said. 'I was getting referred to their managers and their lawyers. Why am I still on their cover if I'm not that big of a deal?'"
So…you turned on the band because they wouldn't go to your art show? Or is it the problems with girls? From that GQ article:
Everyone thinks you're making money from it."
"'You'll hook up with a hot chick, and then they figure out you're not making any money from it and they'll dump you.'"
Ah, well then.
UPDATE at 7:49 am EDT August 26
This opens up a discussion on what, exactly, constitutes child pornography–and the discussion is seriously complicated. This is from Law360.com.
"The image was shocking at the time — Nirvana's record label tried to force the band to censor part of it with a sticker — but did it cross the line into the realm of child pornography? Experts say that's a complex question.
"The federal statute at issue defines 'child pornography' as visual depictions of 'sexual conduct involving a minor.' Although the law includes other examples of "sexual conduct," Elden's case invokes the law's ban on images that make a "lascivious exhibition of the genitals."
"'What constitutes 'lascivious exhibition of the genitals'?" said Amy Adler, a professor at New York University School of Law who focuses on the legal regulation of pornography. 'How does it differ from an innocent photograph of a naked child, such as a family photograph of a child in the bathtub, which should be protected?'
"Historically, courts have answered that question with a six-part test, asking: whether the focal point is on the child's genitalia; whether the setting is sexually suggestive; whether the child is depicted in an unnatural pose or in inappropriate attire; the extent to which the child is nude; whether the image suggests coyness or willingness to engage in sexual activity; and whether it is intended or designed to elicit a sexual response in the viewer.
"Complicating matters further, the various factors don't all need to be satisfied for a finding that an image meets the definition of 'lascivious,' and other, additional factors can also be considered in the analysis."
Bottom line? This case will be watched very closely. Meanwhile, here are some updates on other children who have appeared on the covers of albums.