The Battle Between Spotify, Rdio and Deezer for Global Domination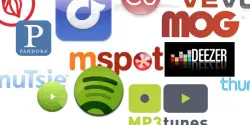 Twenty years from now when all is said and done, we'll look back on the period from 2013-15 as time when streaming music services fought to become the Google of their space.  
At this point in the race, it seems to be a three-way fight:  Rdio (available in 51 counties, including Canada), Spotify (55 countries, no Canada) and Pandora (US, Australia, New Zealand).  The company with the biggest footprint in terms of country is Deezer (182 countries, including Canada). From RAIN:
The international race is all about distribution and size-of-audience, of course, just as with the race to the digital car dashboard. To operate in any country, a music service must be compliant with national compulsory licensing regulations, or hammer out proprietary agreements with music owners for the right to play music to different national audiences. In observing the international footprint of each music service, you can get an idea of the strategy which governs cost and revenue equations.
Who will win? Stay tuned.