The BBC Is Going to Open a North Korea Radio Service. What Should They Play?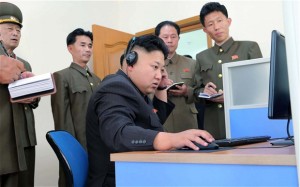 A couple of years ago, I ventured 3 metres inside North Korea. I was at the DMZ in the conference room that's built right along the border. In fact, the border goes right through the middle of the conference table that's carefully placed in the exact centre of the space. I could walk around to the DPRK side as much as a liked so long as I stayed in that room.
Later, we moved to a vantage point that overlooked another part of the border. In the distance was a fake village with an enormously tall flagpole. The whole thing was build as a charade to show people in the south that the north was a happy and prosperous place. Yet no one lives in that village. Many of the buildings are just fronts like Hollywood sets.
The North used to maintain a series of loudspeakers that blared DPRK propaganda across the border, but those fell silent a few years back. Good thing, too, because it was driving the American soldiers stationed on the DMZ nuts.
Details from the North are sketchy, but it's said that every dwelling has a loudspeaker that cannot be turned off. That way Dear Leader and his minions can alert, frightened, intimidate and offer "guidance" unhindered 24/7. I've also been told that the only radios available in the North have no tuning function. When you turn them on, they're automatically (and only) tuned to state radio.
Meanwhile, the south does their best to send messages to the people of the north, often in the form of balloons carrying everything from books and leaflets to videotapes and DVDs of South Korean and Western TV shows.  Tuneable radios are smuggled in, but the North also works very, very hard to jam external signals with massive transmitters throughout the country.  All foreign media broadcasts on radio and TV are banned. Get caught listening or watching something unauthorized and you'll quickly find yourself at new accommodations in Camp 51.
Into all this jumps the BBC. They plan a brand new North Korean service which will offer official Beeb program as an antidote to all the Dear Leader junk. It'll be mostly news from the World Service, but here's hoping that they'll sneak in some subversive music, too.
The downside? Maybe a cyber attack against the BBC or the UK.  Dear Leader does not like his programming pre-empted. Read the full story here.