The Beastie Boys Ad-Rock Now Has a Sandwich Named After Him
Larry draws our attention to the NYC Zagat guide's profile of the ten hottest new sandwiches in the city. On their list is this: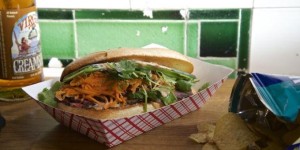 Num Pang, a Cambodian sandwich shop, teamed up with Adam Horowitz of the Beastie Boys to create a variation on the pastrami on rye.  It's smoked meat from a local deli "topped with pickled carrots, cucumbers, cilantro, dill and a chile Russian dressing, served with a housemade spicy garlic dill pickle spear, along with a bag of Wise potato chips & Virgil's cream soda (Ad-Rock's favorites)."
It costs $16 USD.  Unfortunately, it'll only be on the menu until April 16.