The Beatles: Still Profitable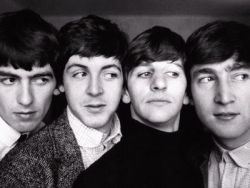 Back when the Beatles set up Apple Corps in 1967, it was a financial disaster. However, the descendent of that ill-conceived venture is doing very well, thank you.
According to the latest figures, Paul McCartney, Ringo Starr, Yoko Ono and Olivia Harrison each received $3.3 million CAD in dividents, $3.1 million in promotional activity fees and $1.9 million in name and likeness payments. And this has nothing to do with music sales or music licensing.
Expect these numbers to go up because Apple Corps has a new licensing deal with Universal Music Group that will see a new line of Beatles merch introduced very soon. That brings in up to $20 million a year.
It must gall the Beatles people that Elvis Presley's estate brought in $55 million last year. Surely they should be able to do better…
(Via Music Week)