The Canadian music industry wants us to pay more for our electronics. The iPod tax returns
[This is my weekly column on music for GlobalNews.ca. – AC]
If you're of a certain vintage, you may remember the hysteria manifested in the Home Taping is Killing Music campaign launched in the U.K. in 1981 that came complete with a half-million-dollar TV ad campaign. The industry blamed weak sales on people who were wantonly recording albums onto blank cassettes and making mixtapes for the car or this new thing called the Sony Walkman. It even came with a cute punky logo.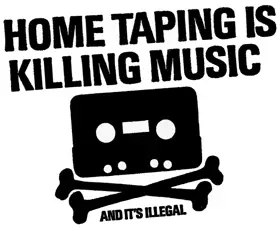 Both artists and executives tried to convince the public that if we wanted music on cassette, then we'd better bloody well go out and buy a legal copy from the record shop. Even making a copy for personal use was portrayed as evil and immoral.
A decade later, pressure from the industry killed consumer use of Digital Audio Tape and the Digital Compact Cassette, two technologies that allowed for perfect duplication of copyrighted material. A copy protection scheme called the Serial Copy Management System was created especially to hobble the abilities of the new machines.
Meanwhile, the full-court press against the old-school cassette continued. In 1997, "private copying" was added to the Canadian Copyright Act, allowing for a levy to be assessed against blank cassettes and hidden by the manufacturer or importer in the retail cost of the tape. The idea was for this money to be redistributed to artists as compensation for music that was illegally copied and thus deprived artists of sales income. Within two years, Canadians were paying 23 cents on each blank cassette and 60 cents on each MiniDisc.
Keep reading. Something important is coming up this week.