The Canadian Music Week Hackathon, co-sponsored by my Music Technology Meetup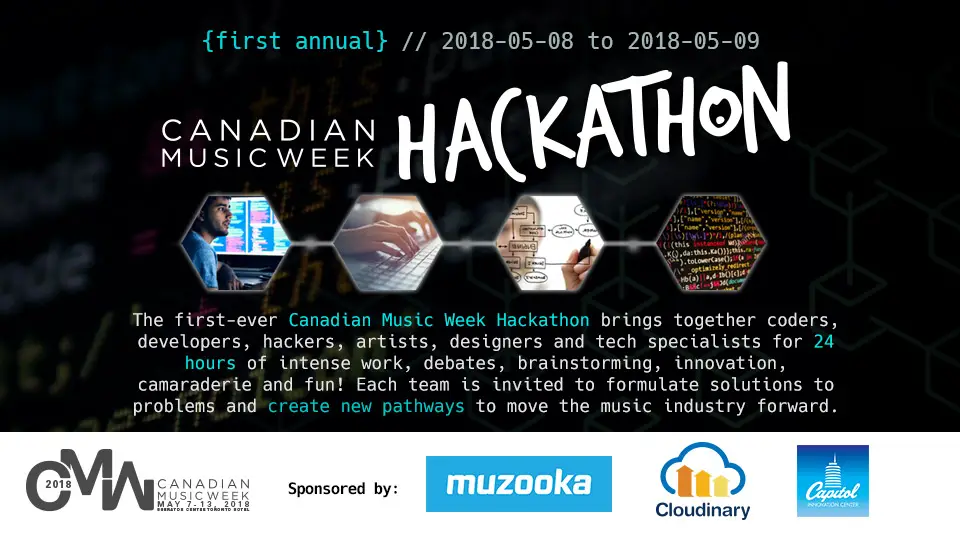 Okay, this press release doesn't actually list the Music Technology Meetup as a sponsor, but trust us. We're part of this.
Canadian Music Week (CMW), jointly presented by San Rafael '71 and Amsterdam Brewing, is pleased to announce its first round of prizes for the first annual Canadian Music Week Hackathon taking place May 8 – 9, 2018 in Toronto.
Worth over $5,000, the prizes will include a Universal Music Canada Vinyl and Merch Prize Pack, dinner for winning team at the Thompson Hotel, passes for Ottawa Bluesfest, Moogfest, The INDIE Awards, Canadian Music Week Conference, and O'Cannabiz Expo, Rebelution VIP tickets and autographed merch package, Beyerdynamic headphones, a five year subscription and music book certificate from Canadian Musician and much more.
Winners' presentations and awards will take place at 4:10 pm on Wednesday, May 9 at the Sheraton Centre Hotel.
As part of the Tech and Innovation Summit, the CMW Hackathon will feature the best engineering minds competing to create innovative tech solutions to help Canadian musicians monetize their every career move.
"Our Hackathon has been created to help artists financially benefit from the proliferation in new technologies and the abundance of data that can be successfully leveraged to help artists grow their revenues and fan base," says David Hazan, Head of International Partnerships, CMW.
Travis Laurendine, who has hosted multiple Hackathons for SXSW, Outside Lands, Bonnaroo, The White House, The Super Bowl and others, will be the facilitator.
Competitors will be judged by Jay Rosenzweig, CEO of Rosensweig & Co, Jodi Kovitz, Founder & CEO of #MoveTheDial, David Dufresne, Partner at Panache Ventures, Ralph Simon, Founder & Chief Executive, Mobilium Global, Shawn Wilson, CEO of Muzooka Greg Nisbet, CEO of RadioMogul by MEDIAZOIC, Roger Chabra, CIO of TribalScale, and Olivia Diamond of Shed Creative Agency.
The Canadian Music Week Hackathon is powered by Muzooka and presented by Universal Music Canada, who are opening their APIs for the event. The CMW Hackathon is also presented in partnership with Capitol Innovation Center and Cloudinary.
Everything goes down at a venue called Brainsights at 70 Peter Street on May 8 and 9. If you're a hacker and you want to sign up go here.