The Challenges of Becoming a Streaming Music Service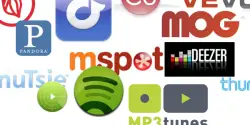 One of the themes that keeps popping up during Canadian Music Week here in Toronto is that streaming is the future.  But the transition from possession of music to ubiquitous access is bumpy.  Music Industry Blog looks at some of the issues faced by the big players like Apple and Google.
Subscriptions are still only a small share of the music market but their time is coming. That time is long over due (I and my former Jupiter colleagues David Card and Aram Sinnreichfirst started making the case for subscriptions back in 2000) and a slew of big players are getting ready to play ball now that subscription look ready for primetime.  But they will find it far from clear sailing.
Spotify, Deezer, Rhapsody, Muve, Rdio, WiMP etc. have done much get the market moving and although there are still major challenges ahead (e.g. 9.99 not being a mass market price point) a host of new entrants are poised to make their moves.  The much mooted / touted (delete as appropriate) Daisy is one of the more eagerly anticipated ones (see my take here) but focus has recently turned to potential moves from big players like Amazon and Google, while Apple's arrival in the subscription market is becoming Godot-esque.
All of these companies bring fantastic assets to the subscription market –scale being the most important – but they will all find the subscription transition difficult.  However good their technology assets, however big their marketing spend, however big their customer base, none of these companies have subscriptions running through the DNA of their products nor, most importantly, their customer.  Here are the key challenges each will face: