The Coming Battle Over All Things That Are Vaguely "Radio"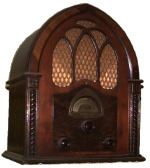 Michael Robertson, founder of MP3.com and a guy who likes to poke traditional media with a pointed stick, makes a great observation about the upcoming confligaration between all the different services that provide us with music.  From Audio4Cast:
It's going to be fascinating to see what happens in the radio business over the next three to five years," Robertson said last week in an interview with CNET. "This is a car accident waiting to happen. You have traditional broadcast radio, Sirius XM (satellite radio), and the Internet start-ups such as Pandora.
"They are all approaching the audio business with different assets, different royalty structures, and they're going to realize that they're all in the same business. They think of themselves as separate right now but everything is going IP."
This is exactly what I've been preaching over the last three or four years.  In my experience, there are far too many traditional broadcasters–including those in radio–who think that they're going to be able to do business as usual for decades to come.  They're doomed.