The Coming Streaming Music Service Die-Off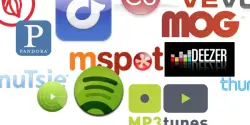 With so many streaming music services out there–and with more to come early in 2014–consumers have plenty to choice from when it comes to accessing music from anywhere. (Okay, so Canadians still don't have access to Spotify and Pandora, but we're not completely barred from the party.)
This cornucopia of companies has many people (including me) asking how long can this can go on? The Next Web thinks we're heading for a great die-off in this arena.
Streaming music gets one thing right. Services like Pandora, Rdio and Spotify are amazing for the consumer, and in that singular way, the music industry hasn't been better in … probably ever.
At long last, we have the celestial jukebox we dreamed of a decade and a half ago. Nearly any song is at our fingertips in seconds and that privilege costs far less than what an album used to, if it costs anything at all.
This bubble of end-user bliss comes at the expense of almost everyone else, from artists right down to the people who pioneered the idea of renting music over the Web to begin with. How long can it last?
Continue reading. This is good.