The Coming Tsunami of Connected Cars and What It Means for Radio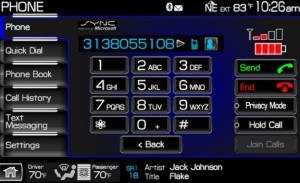 [This is a guest blog I was invited to write for the Audio Blood blog for Canadian Music Week. – AC]
Canadian radio broadcaster and long time CMW panelist Alan Cross wrote a guest blog for us about the future of Radio on your drive home.
The radio has been a fixture in the car since 1931. The trusty AM/FM receiver has survived competition from 8-tracks (1965), cassette players (c.1975) and CD players (1984). I didn't mention Chrysler's in-dash turntable from the middle 50s because, well, you can imagine how well that worked out.
The idea of having a car without a radio was just lunacy. Where else would you get your news, sports, traffic and weather? And the radio is excellent for listening to all kinds of music. A radio station's biggest concern was convincing drivers to include it at the top of the car stereo's list of presets.
However, over the last decade or so, standard terrestrial radio has found itself increasingly marginalized. If you've been shopping for a vehicle recently, you'll know that dashboards are a whole lot more interesting than they used to be. In addition to AM, FM and CD, there's satellite radio and navigation. Some vehicles offer video screens that play DVDs for the kids in the back seat. And the biggest innovations surround your smart phone.
It used to be a real pain to connect your iPod or smart phone to your car's stereo system: FM transmitters, cassette adapters and awkward cabling. But now, thanks to properly integrated connections, better interfaces, voice-activated commands and Bluetooth, connecting a smart phone can be almost seamless.