The Command Sisters at City Folk in Ottawa: The interview
[Another report from Ottawa correspondent Ross Macdonald. – AC]
The Command Sisters are an indie/alt-rock duo originally from western Canada and now hailing from Toronto. As the name implies, the band consists of sisters Charlotte and Sarah Command; Charlotte writes most of the songs and Sarah is the queen of the riffs. Before they opened up for Moist and Our Lady Peace, we had a chance to catch up with Charlotte and Sarah.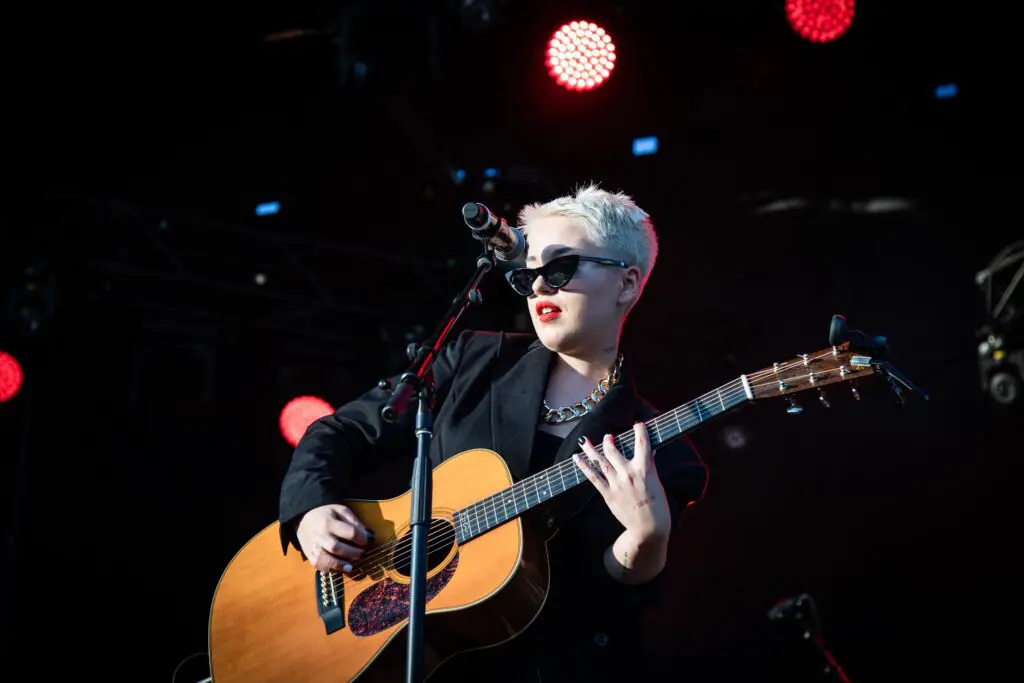 You started out at a young age playing folk and country and have progressed to indie/alt-rock. Is this a natural place for you?
Sarah: Growing up, playing country music and writing country and folk music gave us our roots when it came to our songwriting and instrumentation, also soloing in country music and bluegrass gave us our chops. 
Charlotte: Opening for Moist and OLP feels like it will be a great show to get back into things after sitting on our couch the past couple of years.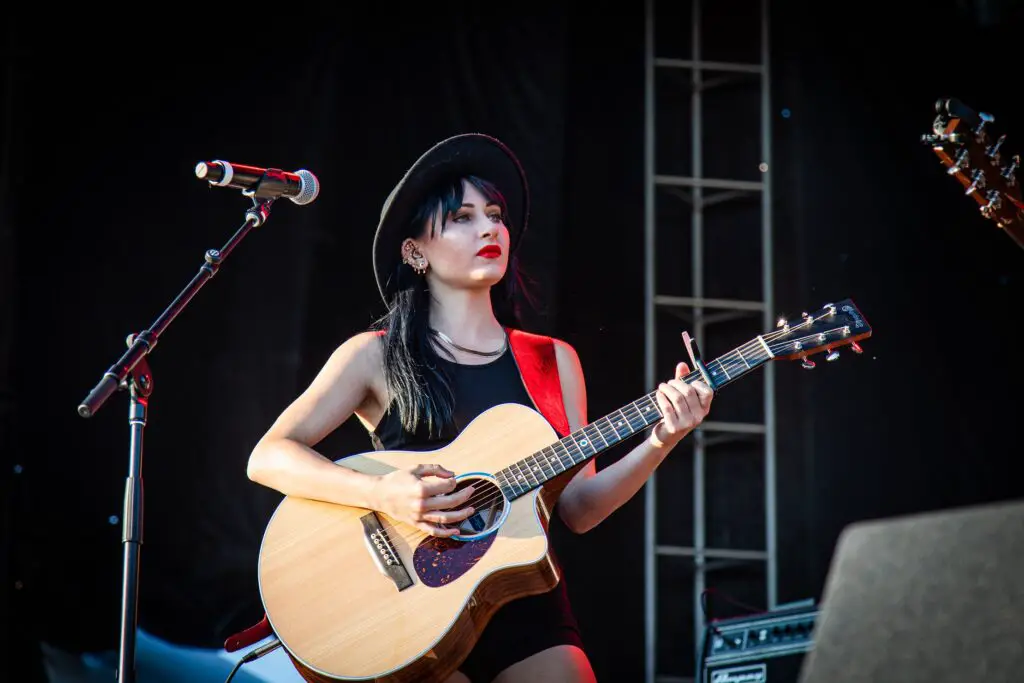 Your lyrics have depth and maturity, they seem mature for relatively young artists.
Charlotte: As a writer, I get inspired by the news and friends' perspectives on experiences, also cultural and life events, and politics. It's not necessarily something I've experienced, I'll write about Sarah's dating life (laughs).
Sarah: When Charlotte writes about world events, it will have more of a deeper meaning; I will hear her song and relate to a relationship that I've experienced.Charlotte: I like hidden meanings in my lyrics.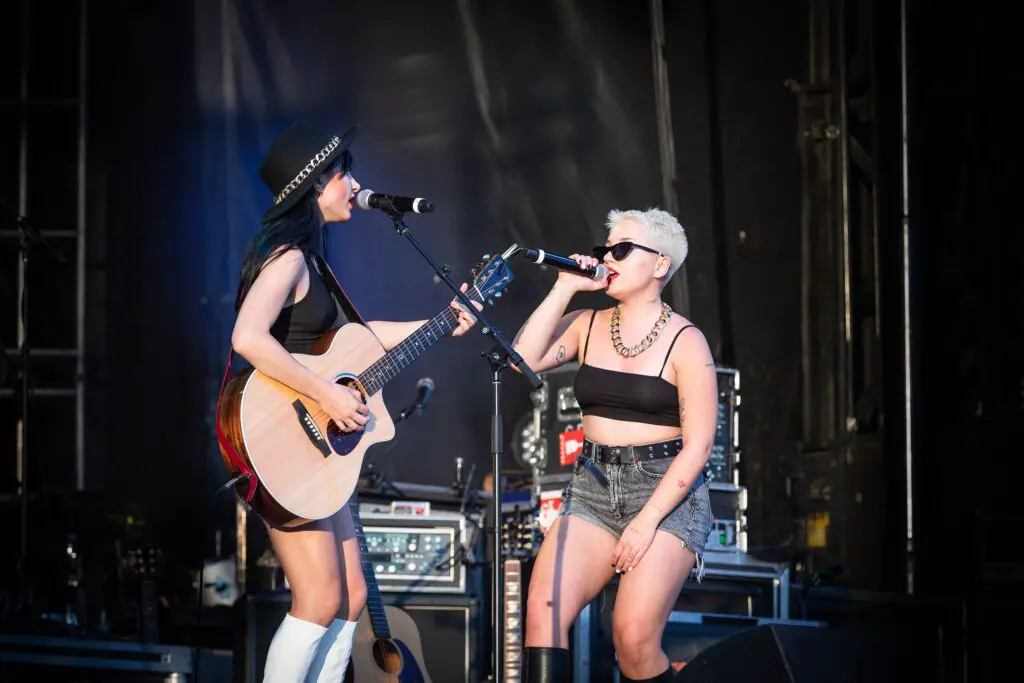 You seem to be attacking on all fronts, not just musically, but also style looks to be a big part of your persona. Is that an intentional vibe?
Sarah: We use social media as an extension of our creative expression. When Charlotte is writing songs we are very much yin and yang in every sense, she is creative musically and I am more creative visually in our music videos. We asked ourselves how do we make our presence feel like our music sounds? It is a creative realm, it is very much a fun creative extension of our music.
Charlotte: You should have seen what we looked like when I was picking the outfits (laughs), it was pretty tragic.Sarah: A friend of ours was the guitarist for David Byrne (of Talking Heads) who took us backstage to meet him. He said to us if you wear one thing, people remember you for it. The red, black, and white became that thing for us.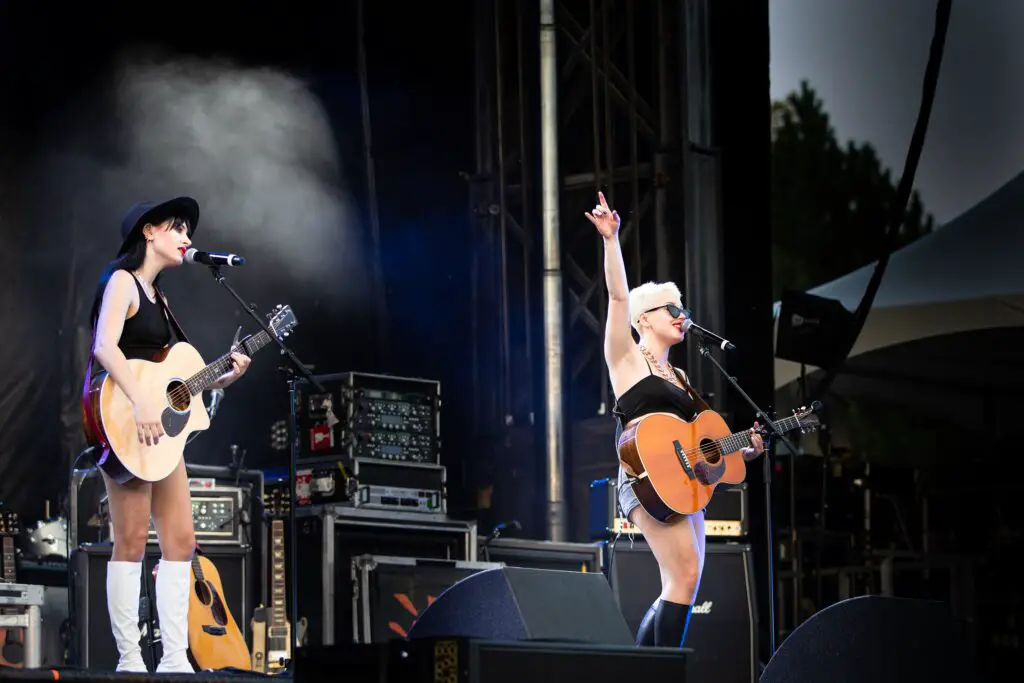 Do you have any upcoming collaborations?
Charlotte: Before COVID we didn't write with other artists. But when COVID hit we thought we should write with fellow bands in the area. We recently wrote a song with Zach Zanardo of the Monowhales 
Sarah: Sally (Shaar of the Monowhales) is a friend, and we haven't written with her yet. We reached out to BRKN Love and wrote a killer song with them!
Charlotte: We have done some collabs and we have another record in the works after the upcoming EP gets released.
Sarah: We would like to do more collabs with other artists in Canada, there are so many incredible artists.
What is next for the Command Sisters?
Charlotte: Pre-COVID we were set to release our debut single in New York on 30 April 2020, but that got canceled and the EP was pushed back. We are releasing our EP next month. We are writing and will be putting out some new material in the new year. When gigs start coming back we will be hosting more live shows.
Sarah: As much as we love social media, we don't want to be known as only a social media band, we don't want to be pigeon-holed that way. We want to be known as a live band, that is what we love to do, that is where we get our most passion. Our live show is so much fun and we can't wait for the day when we can hit the road and show it off and play some guitar solos!
The crowd was still building as Command Sisters took the stage at Ottawa's CityFolk festival. Charlotte and Sarah played an acoustic set opening for two of Canada's preeminent established alt-rock bands: Moist and Our Lady Peace.
The sisters were obviously excited to be playing at a music festival after months of virtual performances. They exchanged lead and harmonic vocals back and forth effortlessly highlighting their years of experience.
The Command Sisters played their hit singles "I Like It," "I Can Do What I Want To," and "Feel Good," as well as songs like "Good Hands" that will be released soon on their upcoming EP. Sarah even had the opportunity to break out her slide in a couple of her riffs.
The set closed with "The Ballad of John and Yoko, "a song they played live in Central Park NY for the celebration of what would have been John Lennon's 75th birthday. The crowd was very impressed and knows that they will be seeing more of this talented up-and-coming band.