The Company That Wants to Turn Radio into Music Television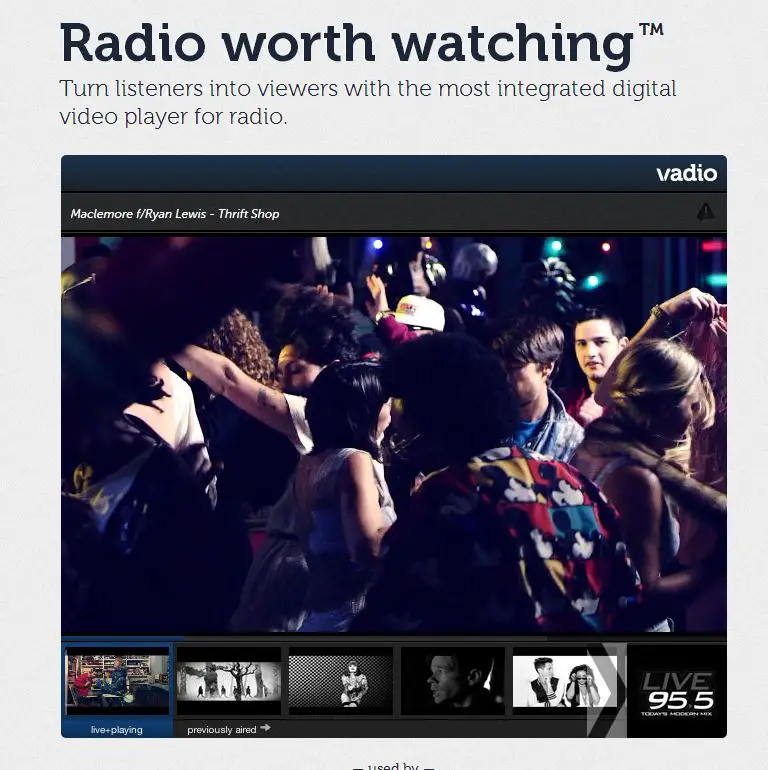 I'd never heard of Portland-based Vadio until yesterday. They have an ambitious plan to take the world's radio stations and somehow turn them into a modern form of music television.
Maybe video will save the radio star.
From GigaOm:
Video may end up saving the radio star, after all: Portland-based digital music startupVadio has come up with a way to turn any radio station into a MTV-like feed of music videos, complete with DVR-like catch-up functionality. Radio stations across the globe love it, and are lining up to partner with Vadio. The latest one to join: Virgin Radio Italy.
Vadio's idea is actually pretty simple: The company is partnering with radio stations to get real-time access to song titles as they air. Vadio's player, which is embedded on the station's website or made available through mobile apps, then pulls in the music video for the song in question on the fly from Vevo or YouTube by using the YouTube API.
The result is a curated list of music videos that mirrors what's playing on air, with the added benefit that Vadio keeps a list of videos that previously aired, allowing users to go back and watch songs that played half an hour ago. It's kind of a neat experience, and Vadio co-founder Bryce Clemmer told me during an interview this week that music fans seem to like it: Radio stations that have started to use Vadio are seeing users tune in from 1.5 to 4 hours, he told me.