The Dark Knight Rises "Augmented Soundtrack Experience"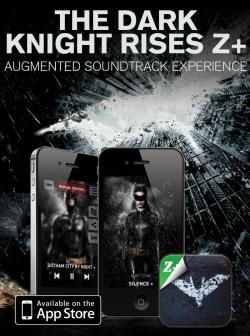 I can't imagine a worse day to release an app like this. I'll just quote from the press release:
Academy Award® winning composer Hans Zimmer and leading music app developer RjDj have created a groundbreaking new app: The Dark Knight Rises Z+ for iPhone and iPod touch, available now on the App Store.

The app immerses fans in a one-of-a-kind sonic experience that syncs daily life with the sonic world of Gotham City.

Through the use of proprietary audio technology, The Dark Knight Rises Z+ blends Zimmer's evocative score for Christopher Nolan's film with the user's surroundings to create a personal augmented sound experience.

The Dark Knight Rises Z+ includes three-augmented music pieces based on the themes of the story. The Z+ technology enhances the sound; letting the user experience the soundtrack as Zimmer and Nolan intended it to be heard in the movie.

The app features two modes: Manual (where users choose what they hear) and Autopilot. In Autopilot mode, the app crafts a custom sonic world by instantly responding to a user's location, movements, time of day, and other factors to generate the ultimate real life soundtrack.

The App also includes a unique "Fly the Bat" mode. By rotating and tilting their device users can interact with the original movie sound effects created by Academy Award® winning sound designer Richard King. Users will also be able to download a special "Story Time" feature within the app to hear an exclusive behind-the-scenes discussion with Zimmer and director Christopher Nolan.

Fill yer boots at the iTunes App Store. And yes, it's free–although beware the in-app purchases.