The Difficulty of Junking an Old Piano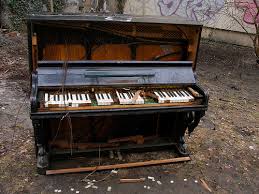 It's not like you can just haul it out to the curb on garbage day. Getting rid of a piano properly can be an ordeal. From The Ottawa Citizen:
Roger Mallette wields a wickedly happy grin and a hammer as he stands in the Wellington Street basement of Lauzon Music, where he's worked for the past 44 years.
In front of him is a Sherlock-Manning apartment-size upright piano, built in 1955 in Clinton, Ont., about an hour's drive north of London and home to the last factory in Canada to manufacture pianos. Many of the piano's keys are chipped, while the notes of its lower register are dead, the action rough and uneven. Most seriously, the piano's pin block, which holds the tuning pins in place, is cracked; this piano cannot hold its tune. It's difficult to imagine that the piano wasn't loved at some point in its life, but it was not well-maintained. It is, says store owner Ken Lauzon, "a dog", and Mallette is about to put this dog out of its misery.