The First Stereo Headphones–And the First WiFi Headphones
In 1953, John C. Koss took $200 of the money he and his wife received as wedding gifts and bought 20 broken-down TVs.  He fixed them up and then rented them to hospitals, which in turn rented them to bored patients.  He made some okay money that way.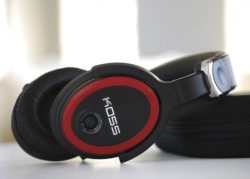 Then in the fall of 1958, he unveiled his new product:  a portable music system called the Koss 390 phonograph player.  It was pretty big and bulky and was pretty much a failure when he showed it off at an audio exposition.  Part of it was its design.  But most of the attention was sucked away by another Koss product.
The Koss 390 had been paired with a set of stereo headphones.  No one had ever seen anything like this before. 
This was the moment personal music was introduced to the public.  Those first Koss headphones were the start of a brand new segment of the audio industry.  Think about it:  how many pairs of headphones do you own?
Things have come a long way since then.  Now Koss has introduced what seems to be the first-ever WiFi headphones.  They say you can go wireless with these things up to 300 feet–and probably more.
They're not cheap–about $450–and they're a bit big (a $500 ear bud model is coming soon) but the idea of being this wireless has its appeal, no.
Read more about the Strivia Pro headphones here.