The Flaming Lips' Latest Project: A Six Hour Song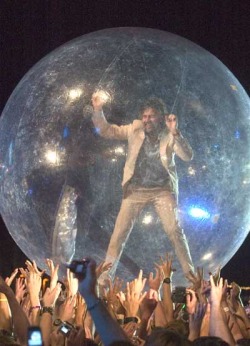 And for $100 US, you can have your name included in the lyrics. Let me explain.
The Lips have never been afraid of trying different things. I mean, how many bands would make an entrance on stage through a giant vagina ("No," Wayne Coyne told me, "It wasn't based on my wife's bits.")
Then there's the giant hamster ball (see picture at left), the Zaireeka project, the Christmas on Mars film, the Headphone Concert, putting blood in the ink for concert posters, the Boombox Experiment, their remake of Dark Side of the Moon and so many other wacky things.
The latest thing is the recording of a six-hour song.
Hardcore fans can donate a hundred bucks (proceeds go to the Okalahoma Humane Society and the University of Oklahoma's Academy of Contempory Music) and in exchange will have their name sung as part of the lyrics.
In the three decades they've been together, the total recorded output of the Lips totals about 11 hours. This will increase that by more than 50%.
If you're interested in becoming a part of this little bit of history, go here.