The Foo Fighters 25th anniversary celebrations have begun with the announcement of a 2020 tour
The first I recall hearing about this thing called "Foo Fighters" was when Dave Grohl appeared as a guest on Pearl Jam's Self-Pollution Radio special on January 8, 1995.
"Wait," I thought, "Nirvana's drummer is going to be the guy to break out on his own? Who does he think he is?"
Well, he showed us, right? And that was twenty-five frickin' years ago.
The first Foos gig–a friends and family thing–was on February 19, 1995, above a boat house in Seattle. The first public performance was at the Jambalaya Club in Arcata, California, on February 23, 1995. Since then, well…
Dave and the rest of the Foos have been teasing fans with some kind of twenty-fifth anniversary celebration for the last six months or so. The first piece of concrete news came out today with the announced of The Van Tour.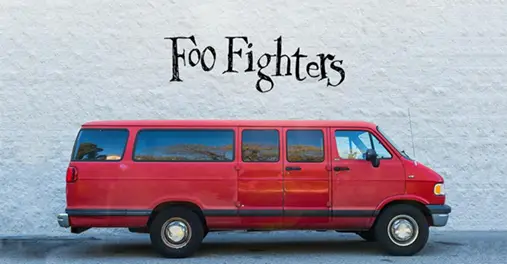 The Foos plan to revisit a number of stops they made on their first-ever tour in 1995. In the same kind of Dodge van? They've kind of left that question mysteriously open.
Each show on this tour will feature a sneak peak of a brand new Dave Grohl documentary called What Drives Us, a look at why a bunch of people would leave home to go on tour in the first place. I mean, you really must love playing rock'n'roll to spend that kind of time in a shitty van eating shitty food and keeping shitty hours all for the chance to play live for an hour a night.
All the tour dates (at least so far) can be found here.
Interestingly, there are no Toronto dates on this list, even though the band played the city twice in 1995 (Lee's Palace on May 2 and The Phoenix on August 8). Instead, they're going to Hamilton's FirstOntario Centre on May 20. There are, however, open dates around that time, so…