The Geeks&Beats Facebook Live podcast broadcast was a success! Well, mostly…
Normally Michael Hainsworth and I get together online Sunday nights to record the weekly Geeks&Beats podcast. It's an audio-only thing, although we have experimented with things like Google Hangouts–which, by the way, were disastrous failures. So when Michael suggested we do a Facebook Live version of the podcast this summer, I was skeptical.
"It won't be anything complicated," he assured me. "We'll do something relaxed on my back deck. All we'll need a is a couple of iPhones."
"Fine," I said. "If you promise to take care of all the technical nonsense [which he does, anyway] I'll go along with it."
I should have known better. When it comes to gadgetry, Michael has no restraint. None.
What started as a two-iPhone shoot has turned into a full-on production: three dedicated cameras (including a steadycam), a full video switcher, a lighting rig, opening and closing credits, interstitial video breaks, special guests (Ed the Sock,  Brittlestar, celebrity chef Mike Beninger, who is in chart of catering and craft services), a video director, a floor director, a producer, sponsors (Shure mics is one), wardrobe requirements, multiple audio and video monitors–it's nuts. We even had a four-hour technical rehearsal on Friday night.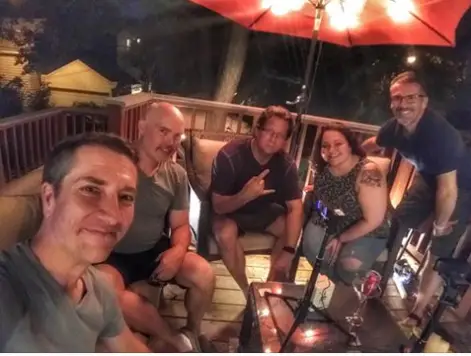 Again, this is for a FACEBOOK event. Jeezus.
Along with the two extremely rare bottles of alcohol I'm bringing (for my own use, by the way), I will display some treasured music memorabilia.
Please watch. It would break Michael's heart if no one cared. Go here.
UPDATE: After a couple of technical glitches that led to a late start, things turned out rather well. As of this morning, we've had more than 6,000 views and 525 comments.
The audio will be posted as this week's Geeks and Beats podcast. And yes, we will have the entire 90-minute video on YouTube shortly. Meanwhile, you can watch everything here.