The Glenn Gould Variations Is This Weekend. I Have a Thing to Do.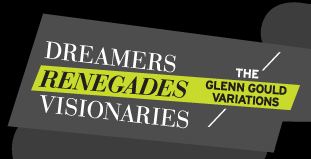 After more than a year of planning, the inaugural Glenn Gould Variations runs today and tomorrow at Convocation Hall at the University of Toronto. I shall quote from the publicity peeps:
Mixing high art with pop culture, entertainment with education, this two-day event is a new inter-disciplinary, multimedia creative summit combining performances of all types with technology and talk.
Each day as many as 25 'dreamers, renegades and visionaries' will present new work, new interpretations and unexpected collaborations – all inspired by the creative brilliance of iconic Canadian musician Glenn Gould.
Don't miss: Chilly Gonzales, Marie Chouinard, Lang Lang, Robert Wilson, Atom Egoyan, Bob Ezrin, Adrienne Clarkson, Brent Carver, Katerina Cizek, Cory Doctorow, 2Cellos, Johann Olav Koss, Francois Girard, Lombard Twins, Jayme Stone, Nora Young, Jean-Francois Zygel, Brian Brushwood, Ann Cooper Gay, Uri Caine, Alan Cross, Eve Egoyan, Brett Gaylor, Daniel Kotter, Mani Mazinani, Jordon O'Connor, Jordan B. Peterson, Damiano Pietropaolo, Mark & Tristan Surman, Canadian Children's Opera Company, Jean-Jacques Lemetre, Tod Machover, Michael Cumella, Johannes Debus, Sandy Pearlman, Sandrine Revel, Djanet Sears & more. Hosted by Rick Miller.

Schedule, pricing and tickets are available online at glenngouldvariations.ca or call TicketKing at 416 872 1212
Presented in association with The Glenn Gould Foundation.
My thing is 10am Saturday. I'm going to conduct a modern-day equivalent of a Thomas Edison "tone test" in association with some good people at Bay Bloor Radio. Put it this way: I'm bringing a stereo system that's worth somewhere north of $50,000. No, that's not a typo.
Hope to see you there. This will be fascinating!