The Global Record Industry Falls to a New Historic Low
In all the time the record industry has been keeping track of global revenues, things have never, ever fallen below $15 billion.  Until now. From Music Business Worldwide:
New statistics from the IFPI show that overall global record industry revenues dipped by just 0.4% last year – but that was enough to pull the annual tally down from $15.03bn to $14.97bn.
The biggest culprits for the fall were an 8.1% decline in revenues from physical format sales (to around $6.89bn, according to MBW calculations) and an 8.0% decline in download sales (to around $3.56bn).
Single track downloads declined by 10.9% in the year, while digital albums sales saw revenues drop by 4.2%.
'Mobile personalisation' sales – essentially ringtones – fell by 17.9% to around $206m.
Let's illustrate this in an easy-to-read chart, shall we?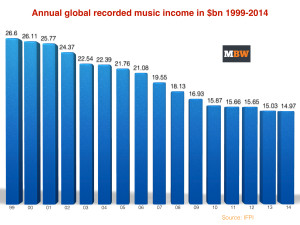 What's going on? Read more here.