The glories of record collecting: What does your vinyl collection look like? (UPDATE for July 31, 2020)
People who collect vinyl as a serious pastime know that it's essential to store and display their library in a reverential way. And us vinyl nerds are inherently show-offy. "Look at how much I love music! I have [X] linear feet of shelving in my home!"
Let's start a gallery of private collections and the stereo systems that play them. I'll go first.
Alan Cross' Library of CFNY Survivors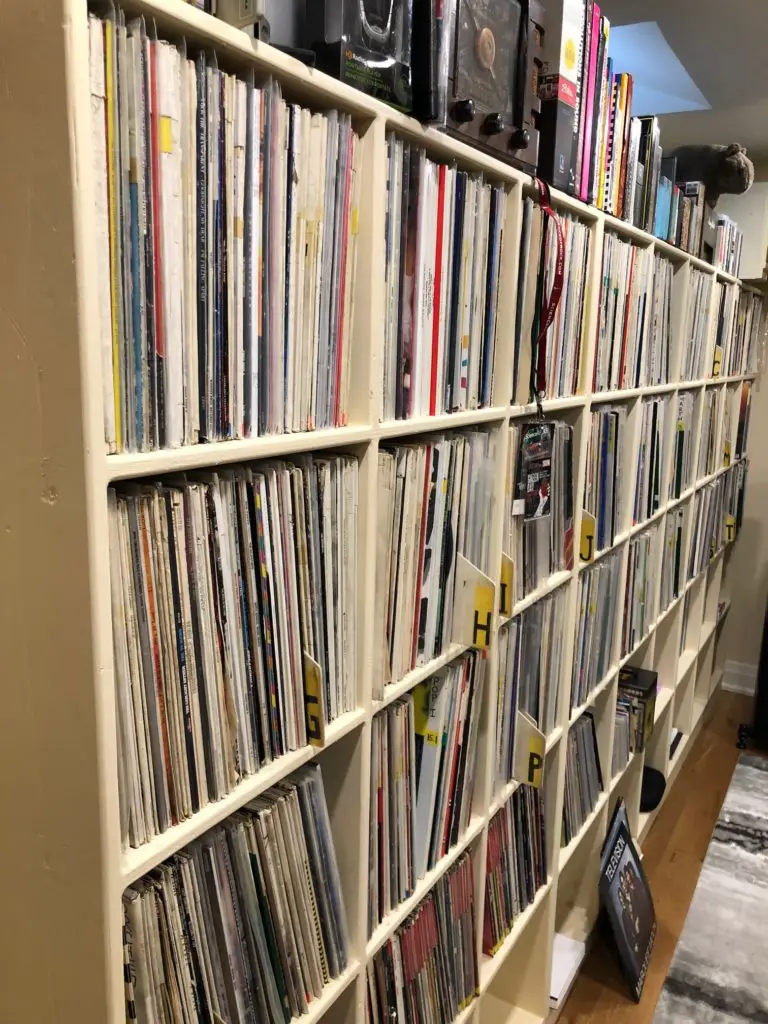 I'm not sure how many records are in the collection, but it's somewhere in the thousands. There's also a fair amount still in storage at my parents house that I've yet to repatriate. (And I'd better move fast; my nephew has been seen cherry-picking records.)
Much of what you see in this picture (including the shelving) was liberated from the old CFNY studios at 83 Kennedy Road South. When the station moved to a downtown location in the middle 90s, vinyl was definitely unwelcome. It was old, dusty, heavy, and very non-digital. We were told that (a) CDs were the future, now and forever; and (b) if we ever needed something in that vinyl library, it would inevitably be digitized and available on this new thing called the "internet."
Some on staff recoiled in horror at the idea of throwing out a vinyl collection that had stretched back to the 70s. Some came in after hours to pick out their favourite records. I returned with a Ryder Truck and loaded up whatever I could. If you were a listener to CFNY in the Spirit of Radio Days, I have many of those actual records you heard on the radio.
Here's what I used to play my records and digital files: A matched NAD system and a Pro-Ject acrylic-based turntable mated to a pair of Canadian-made PSB T3s. And that's a Bob Gruen print of Joe Strummer in New York.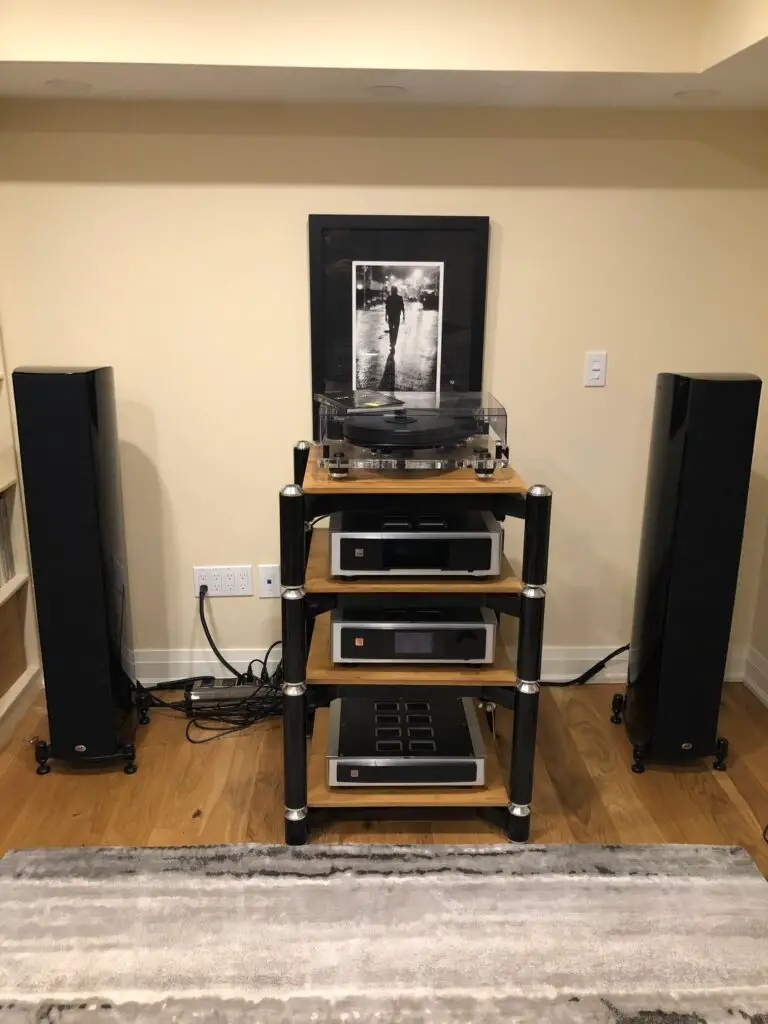 SJM's Tight Collection
SJM recently downsized from 4,000 square feet to just shy of 1300. That required a pruning of the vinyl collection. That's an IKEA shelving unit. It does the job for the right price.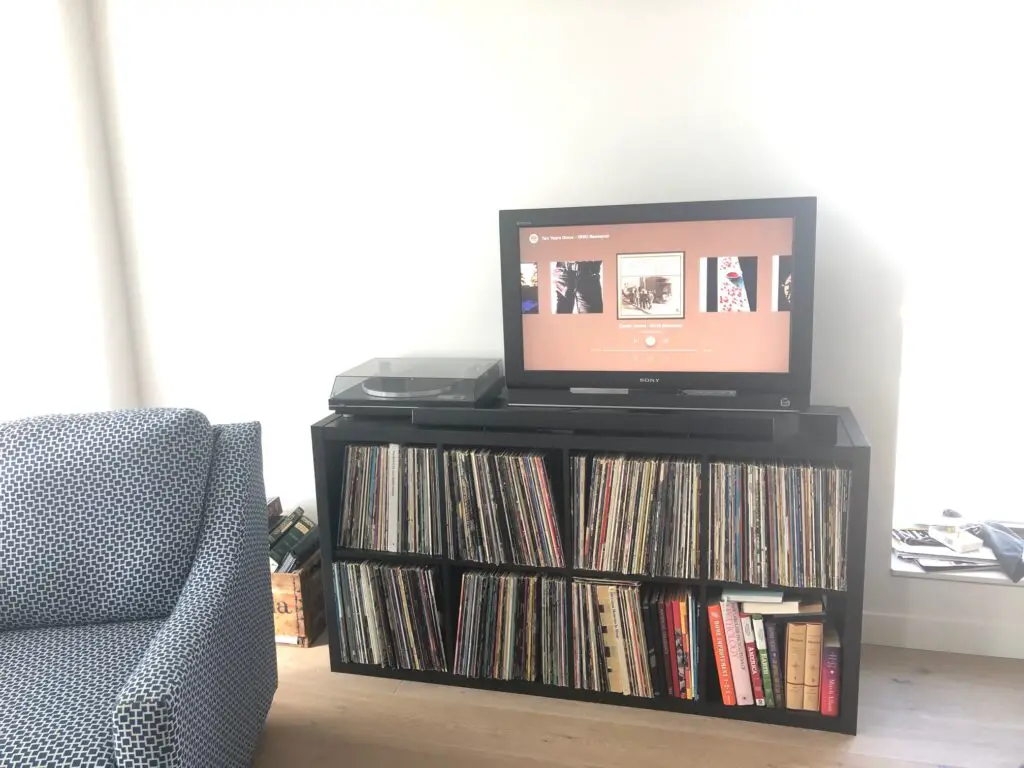 Rob's Music Room
Rob writes: "My collection started when I was a teenager when I liberated my Dad's original 60's first pressings Beatles records (which now includes a 3rd state mono Butcher cover). Unfortunately my Dad passed away just before the vinyl resurgence in 2009 but part of his collection lives on in mine and that's his stereo that I'm still using. I think there is about 1000 lps at the moment and growing weekly."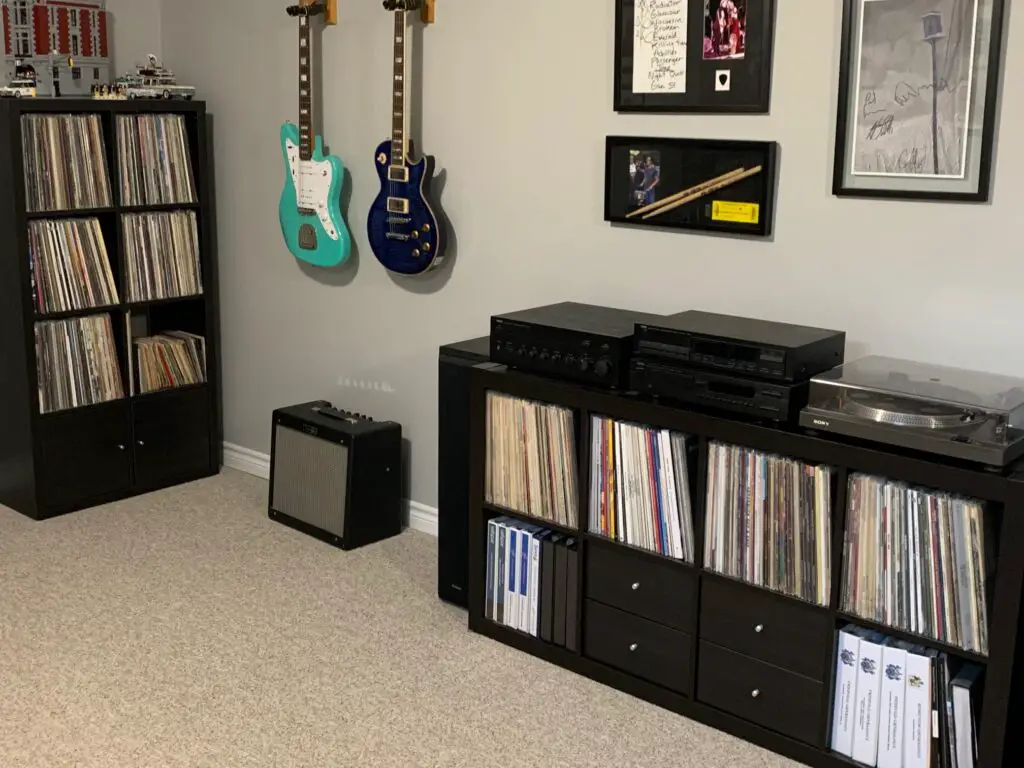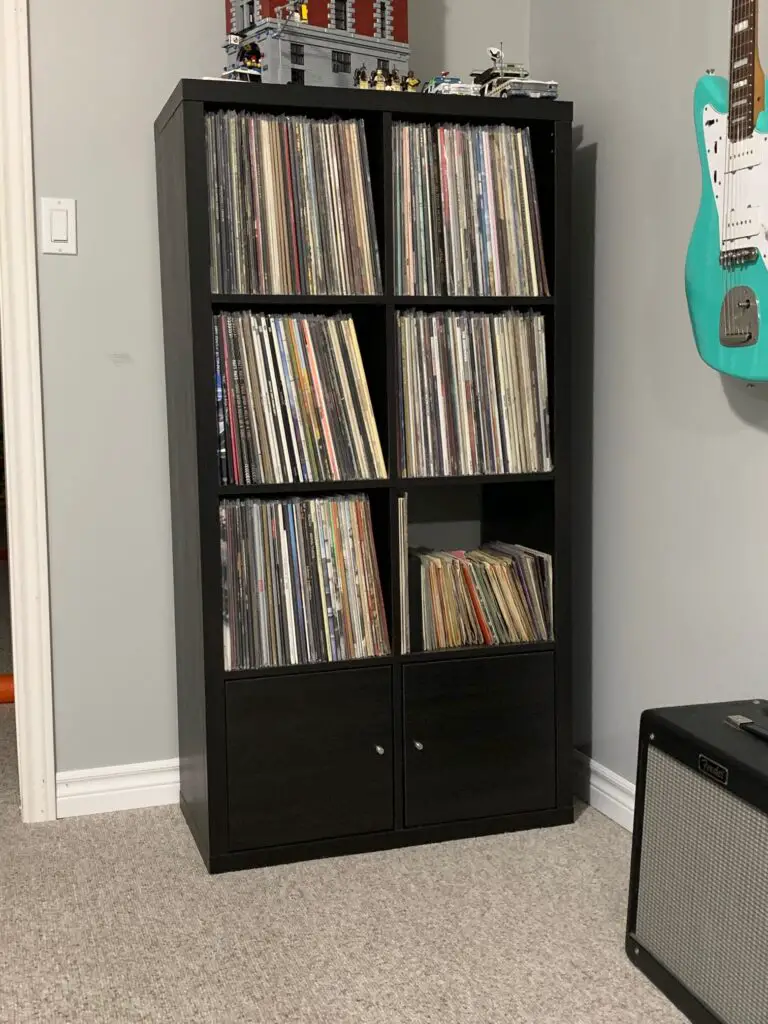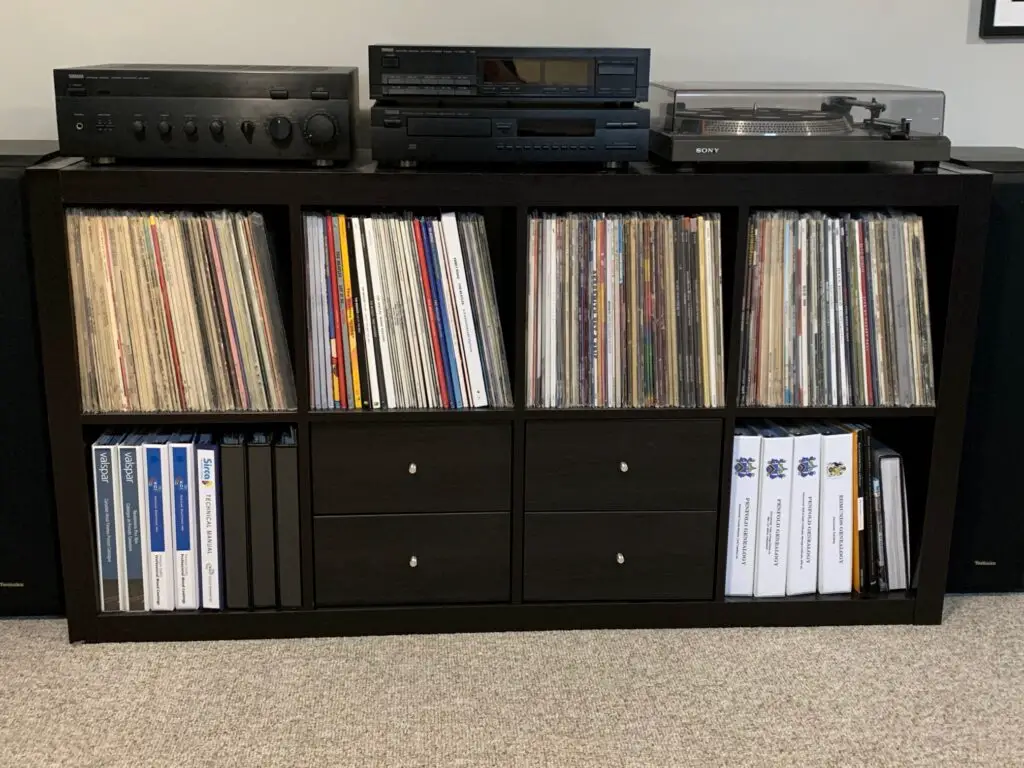 Rafal's stylish wall unit
Rafal has about 450 records drawn from a variety of eras and genres. He started collecting in his early 20s when vinyl was in danger of going extinct. He's also a fan of IKEA shelving. The audio systems consists of a Grado GR1 turntable, some Polk bookshelf speakers, a Pioneer power amp and a pre-amp of undetermined ancestry.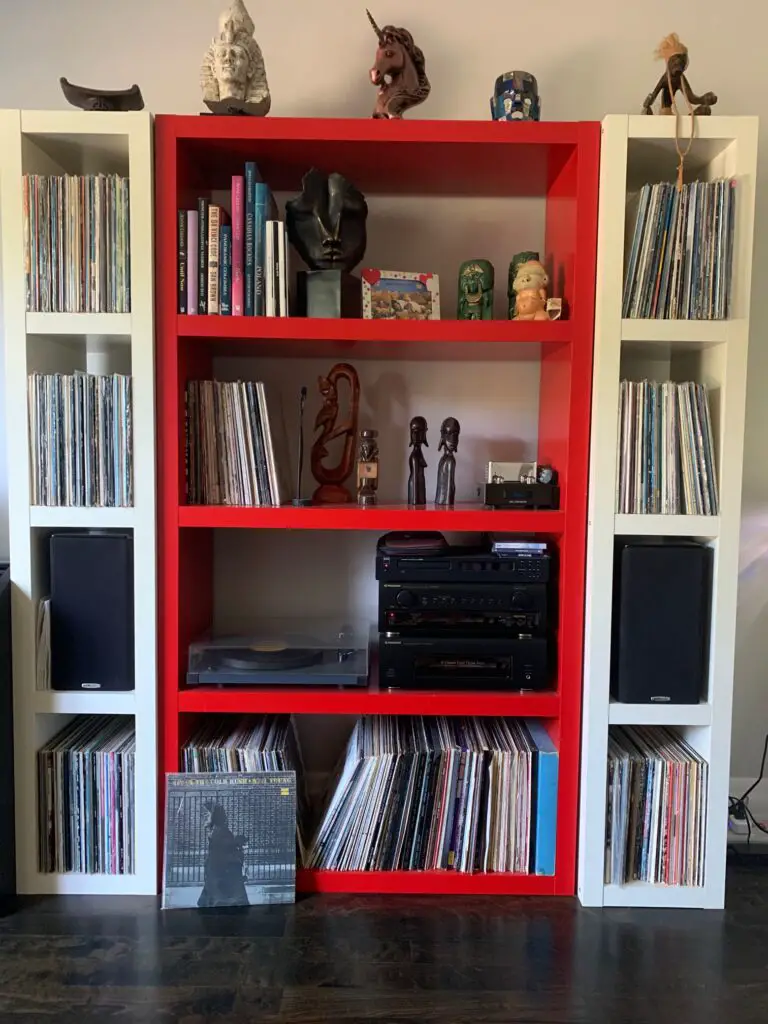 Dave's needs for shelving
Dave knows another trip to IKEA is necessary very, very soon.
Lots of punk, Pink Floyd, and, er, Irish Rovers in this collection. (No judgement here. It's just a little different from the rest of the collection.) Audio comes from a Fluance RT-81, Fluance speakers and a Yamaha R-N303 receiver.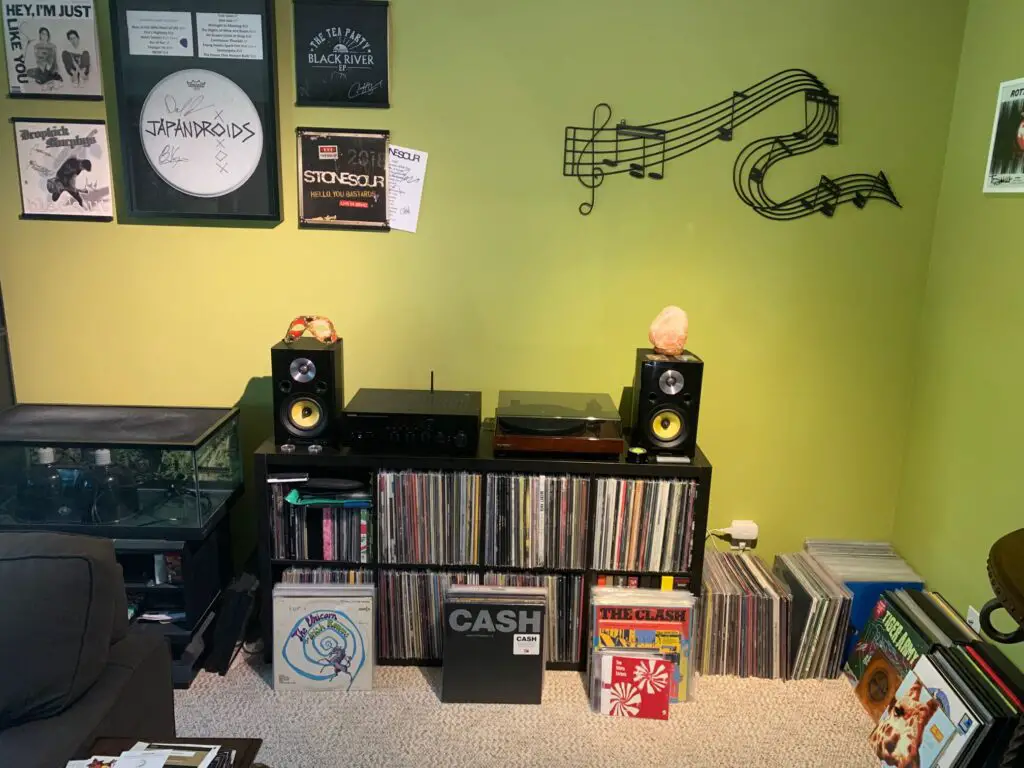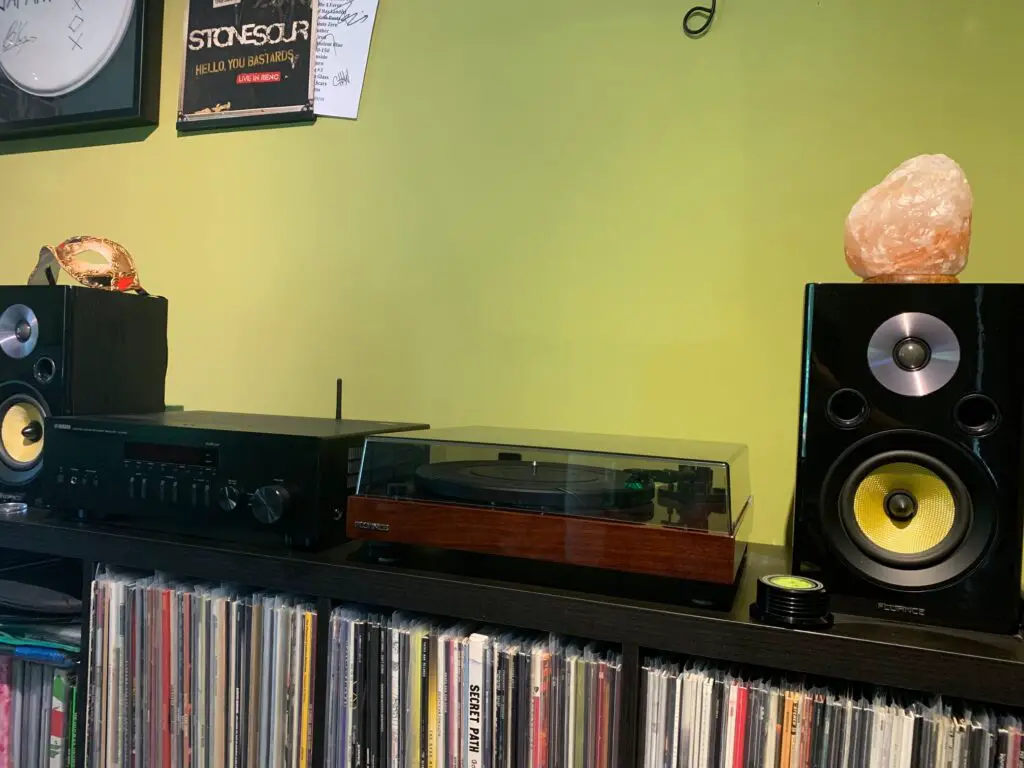 Blaine's Custom Shelf
Nice custom-made bookcase. Plus everything is catalogued using the Discogs app.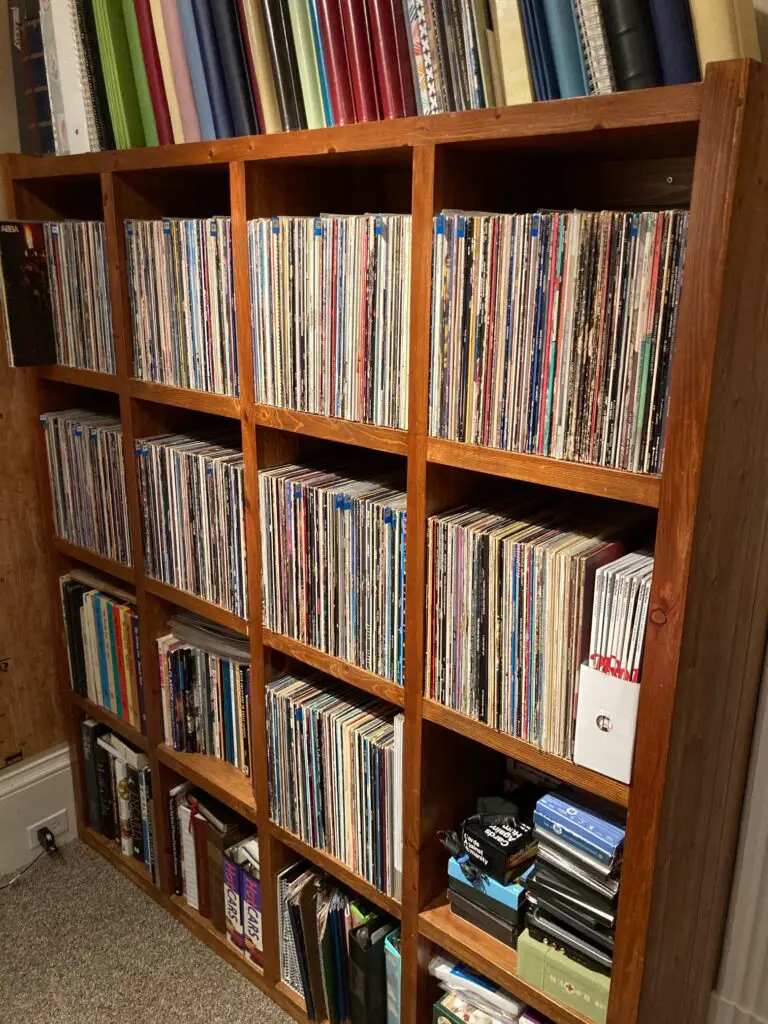 Paul's compact library
Hey, you make do with the space you got.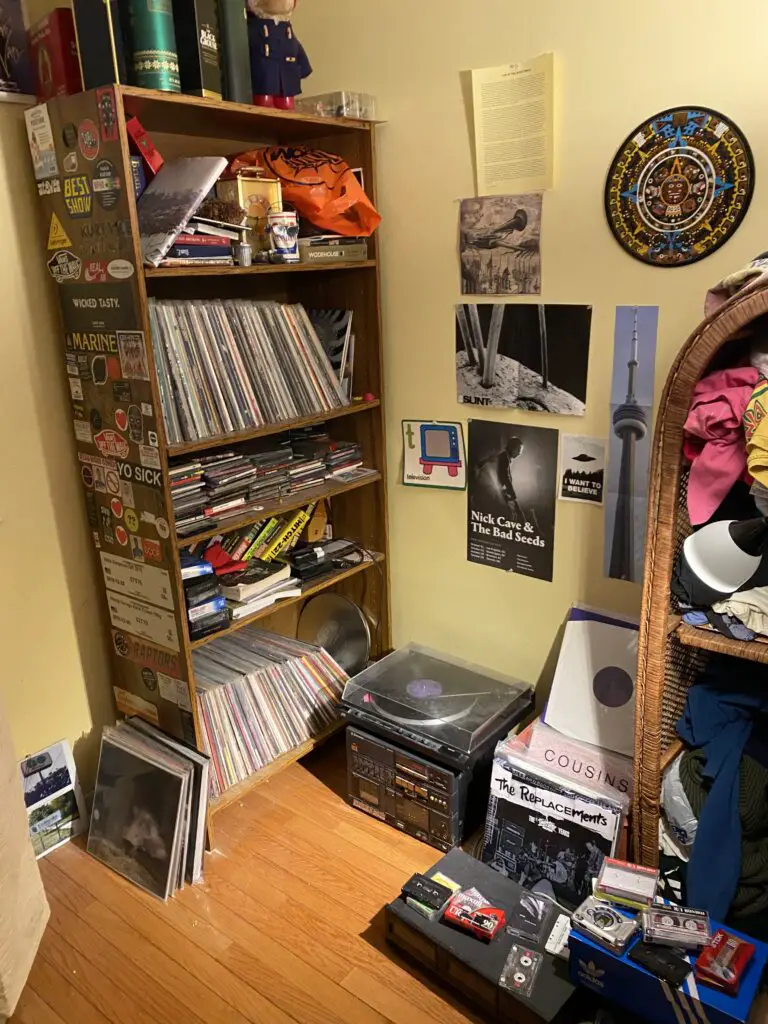 Matt's growing collection
It's new but it's growing. Gear includes a Technics SL220 turntable from the 80s, an Aurex amp and receiver and a Blue Sky 5.1 speaker system. Oh, and this is all in his record studio.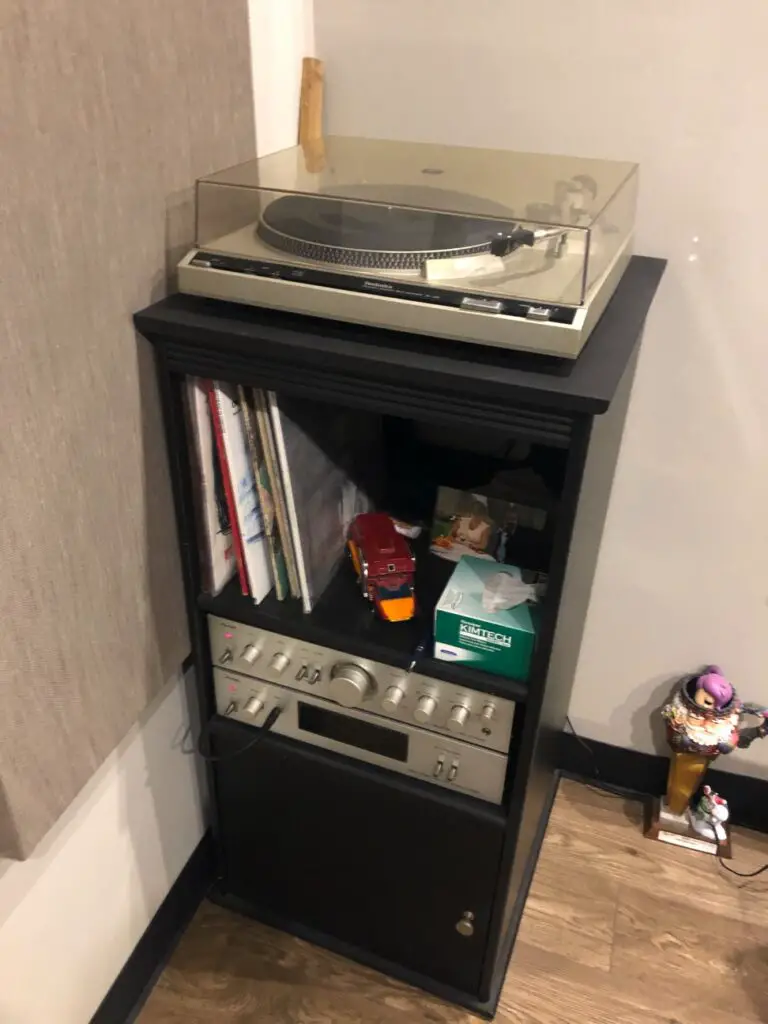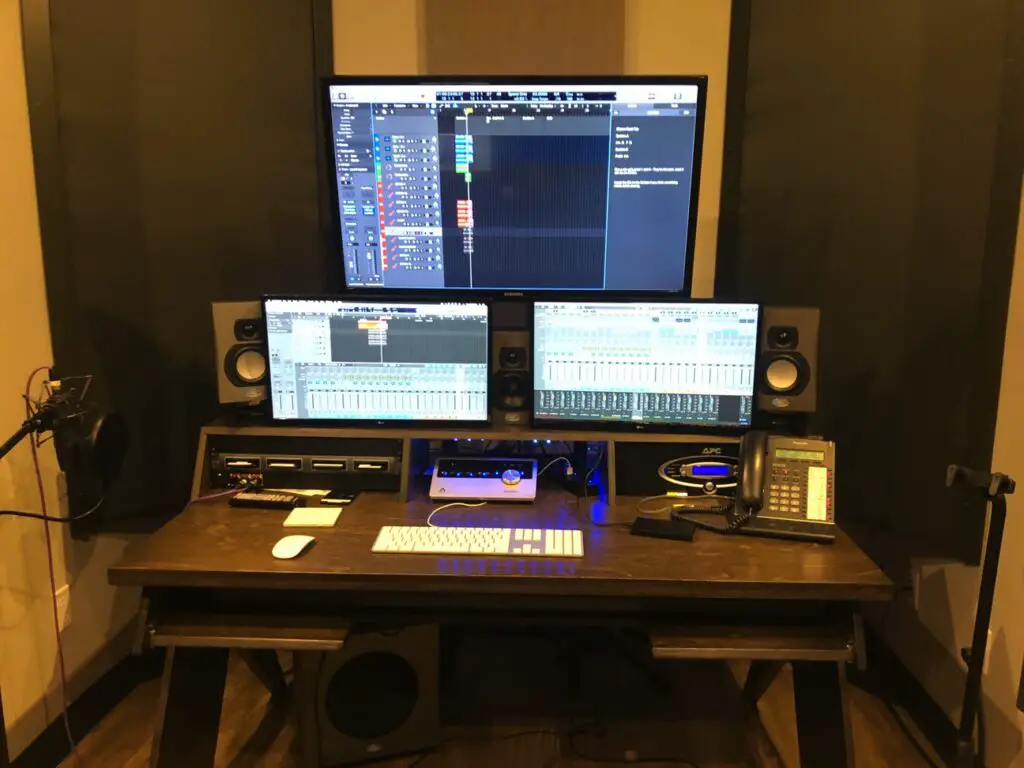 Robert's music room
Nice man cave. And because he has a collection of turntables, he cycles through units from Thorens, Dual, Technics and Pioneer.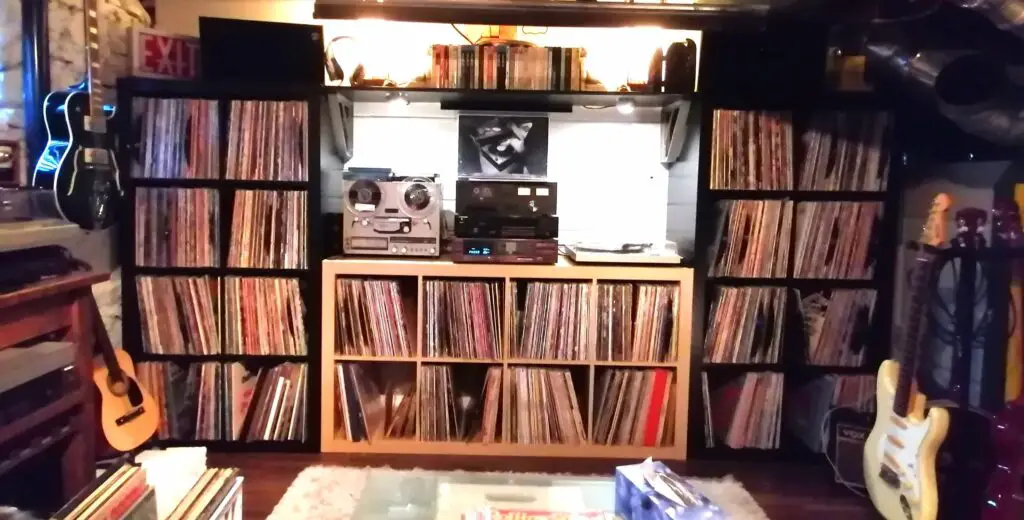 He has exactly 1,271 records. And yes, those are two SL-1200s.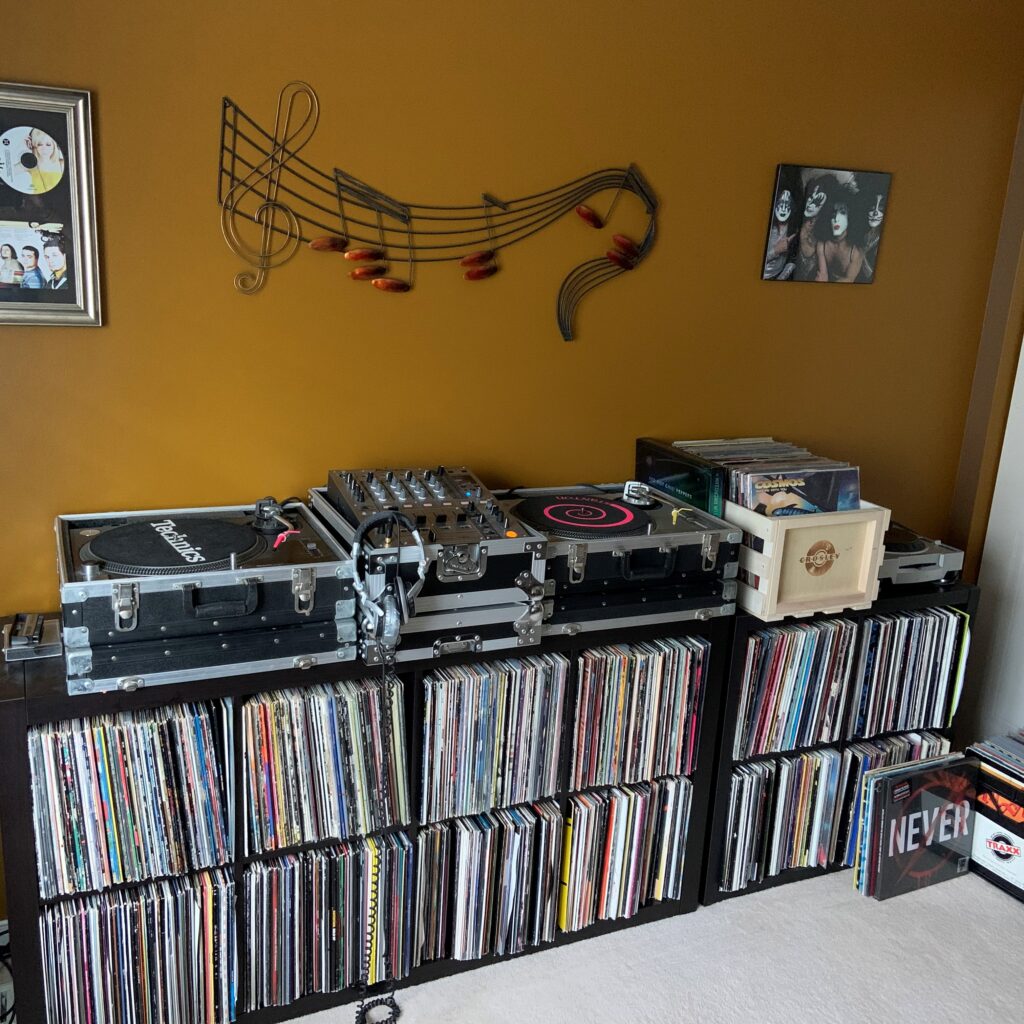 Joe's long and low collection
Here's a little over 1,000 records from all genres. Gear includes matched NAD pieces, a Pro-Ject Carbon turntable and Polk speakers.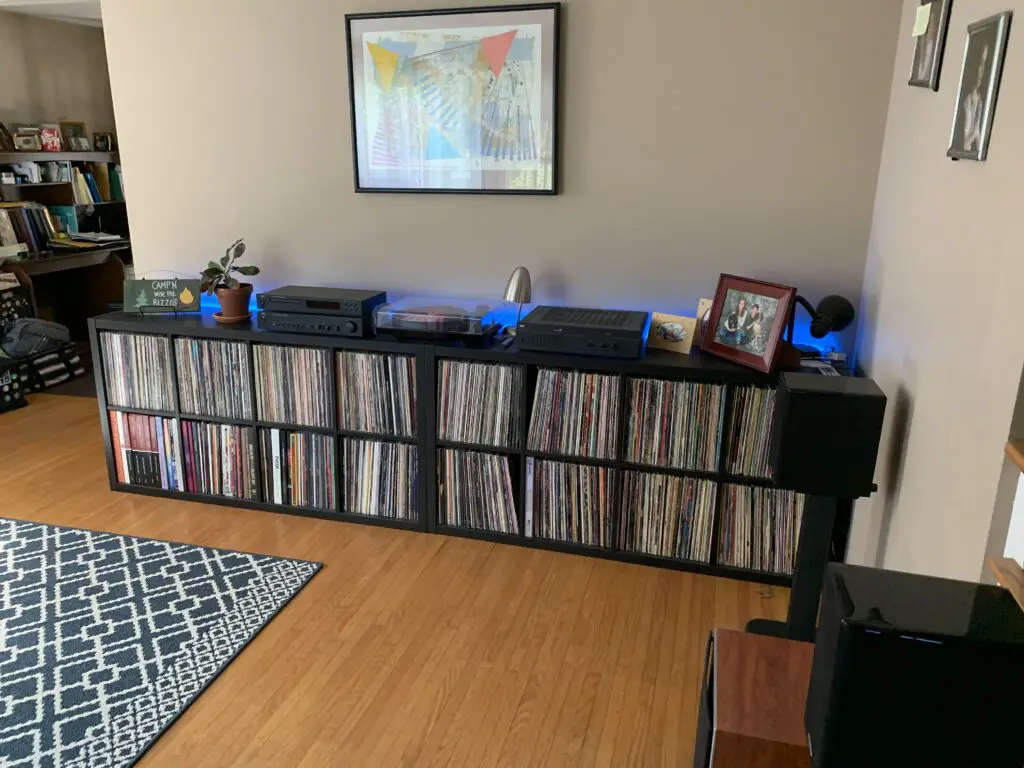 Kale's shelves
Among all these 300-ish records is a 7-inch single of "Sleeping Sickness" signed by both Dallas Green and Gord Downie.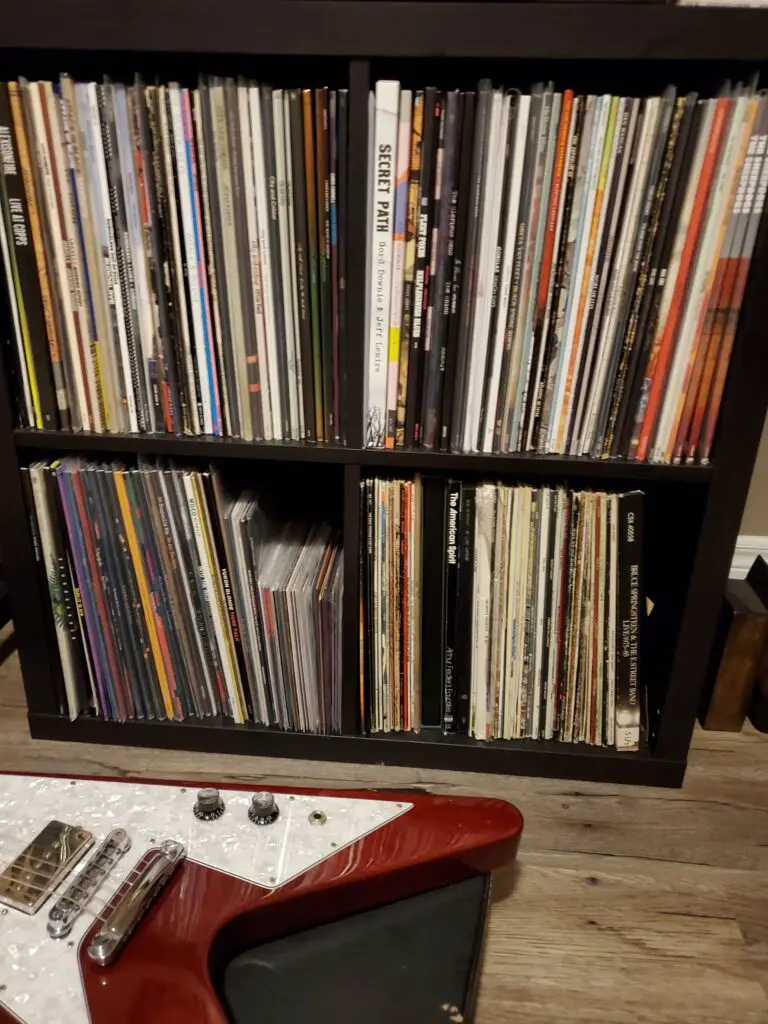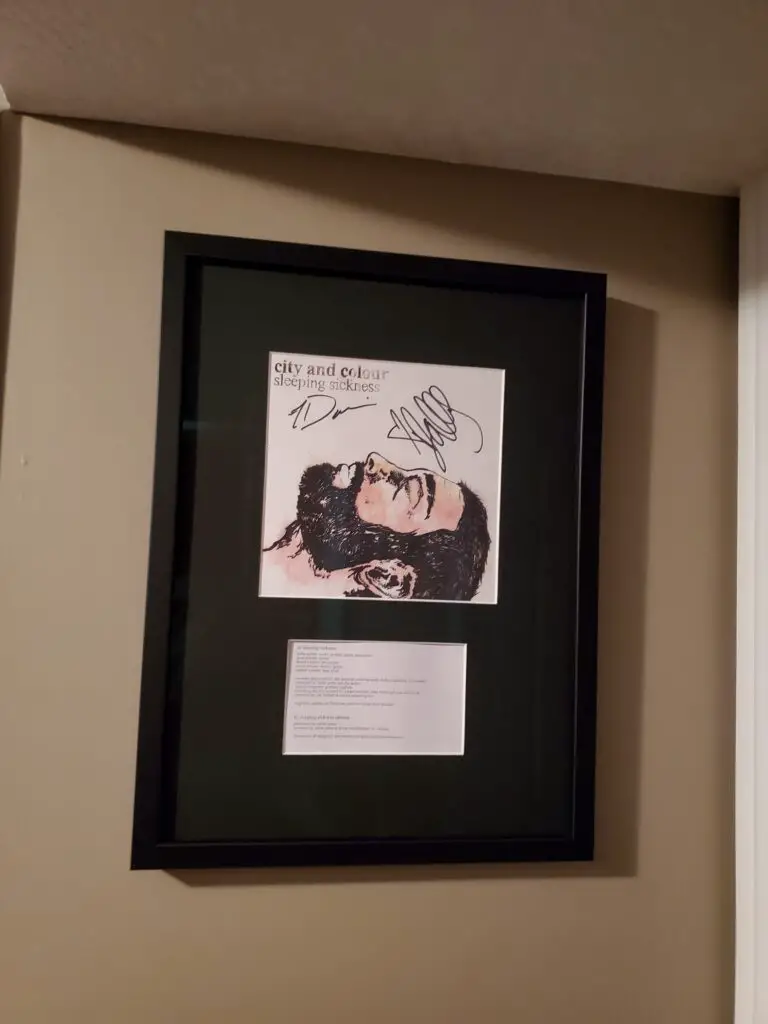 Steve's new collection
Hey, everyone goes through a start-up phase. Steve has been ordering a lot of vinyl online during the time the record stores have been closed.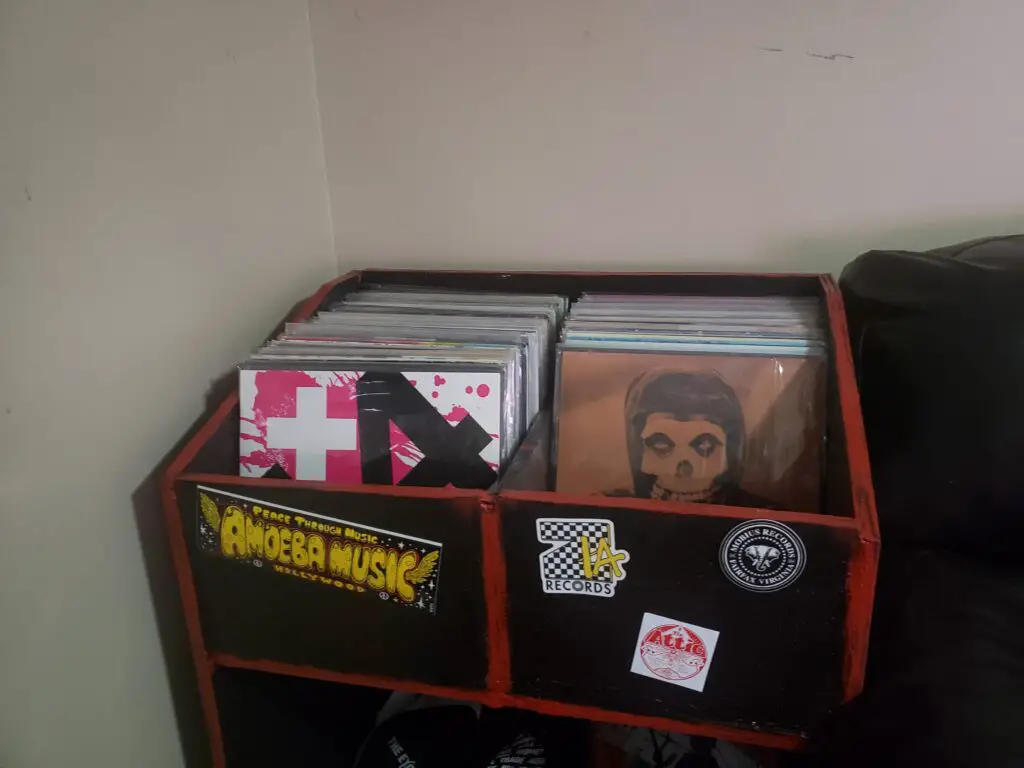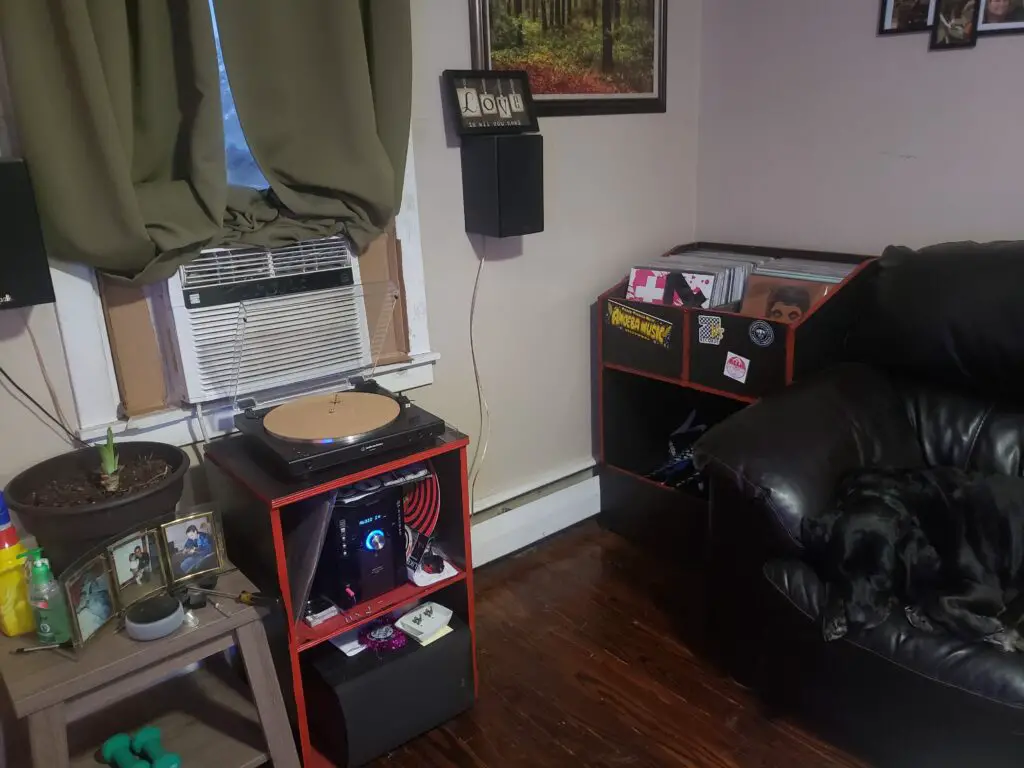 A Drummer's Dream
Back in the day, David was the drummer for Age of Mirrors under the name Michael Allen Guild. His friend Dori provides these pictures of his collection of vinyl and CDs.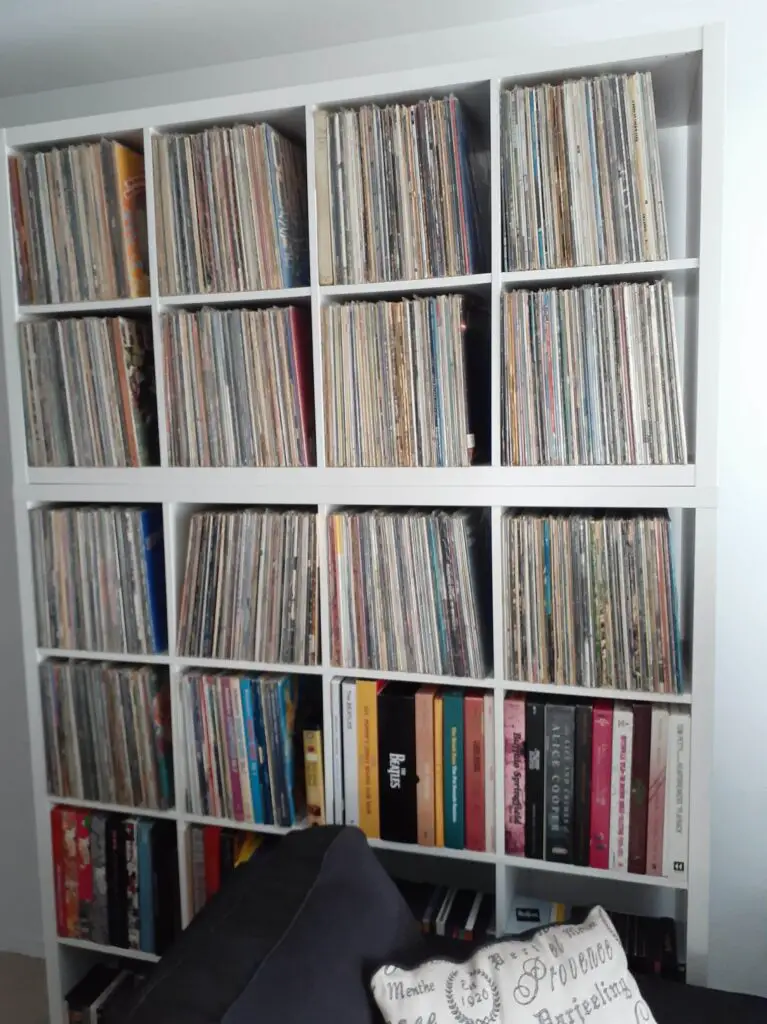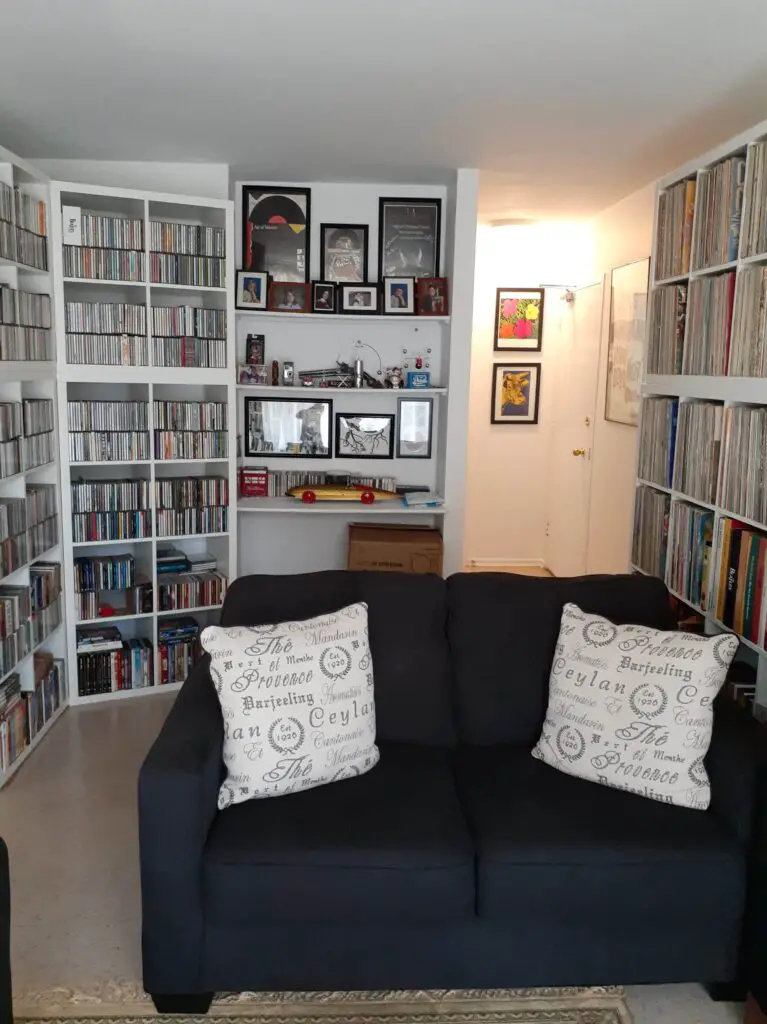 Amanda's Library
Neat and tidy. Killer audio system, too.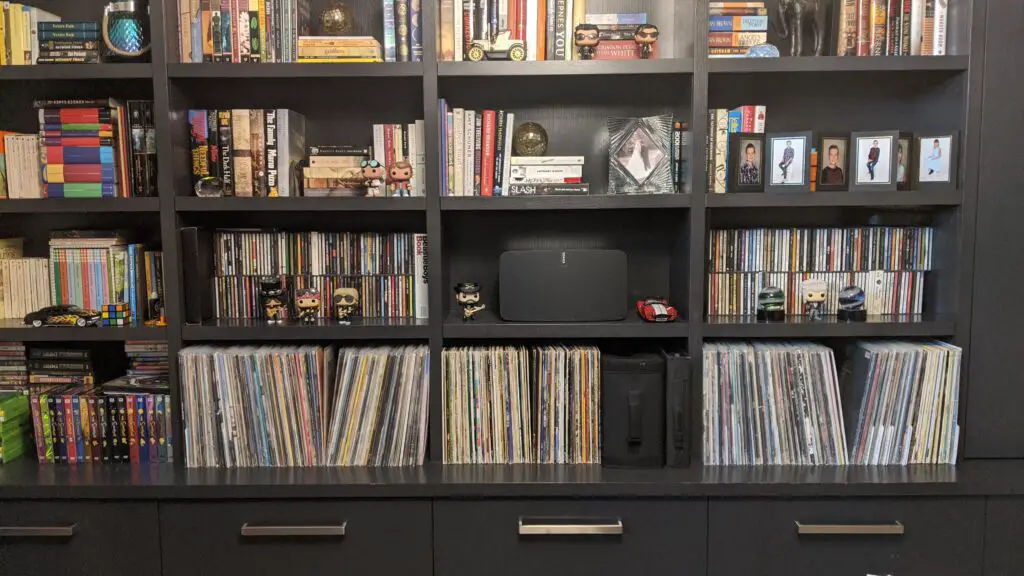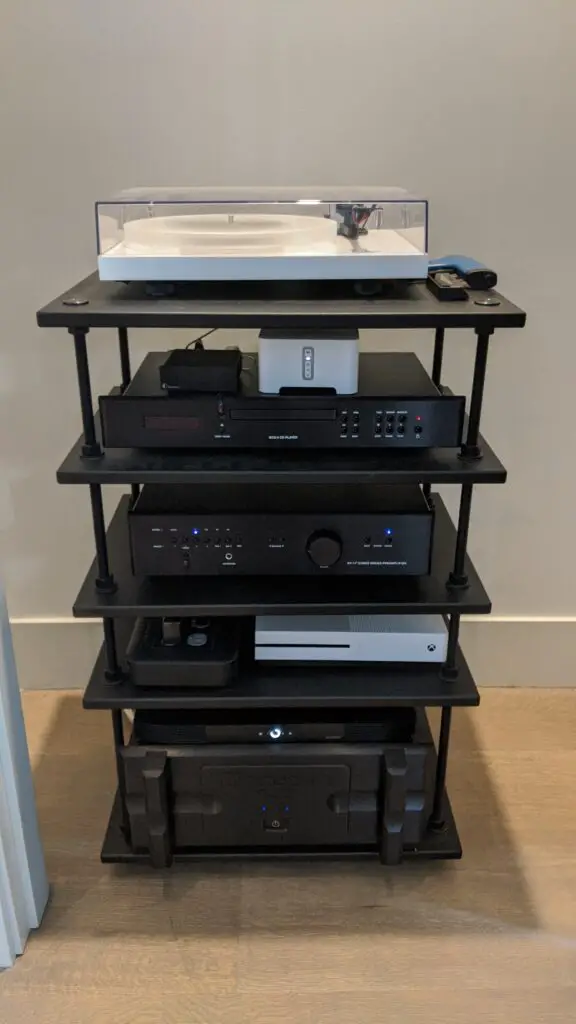 Fin's Collection
"I had to implement a rule that every album needs some form of personal importance so that I have some semblance of a savings account."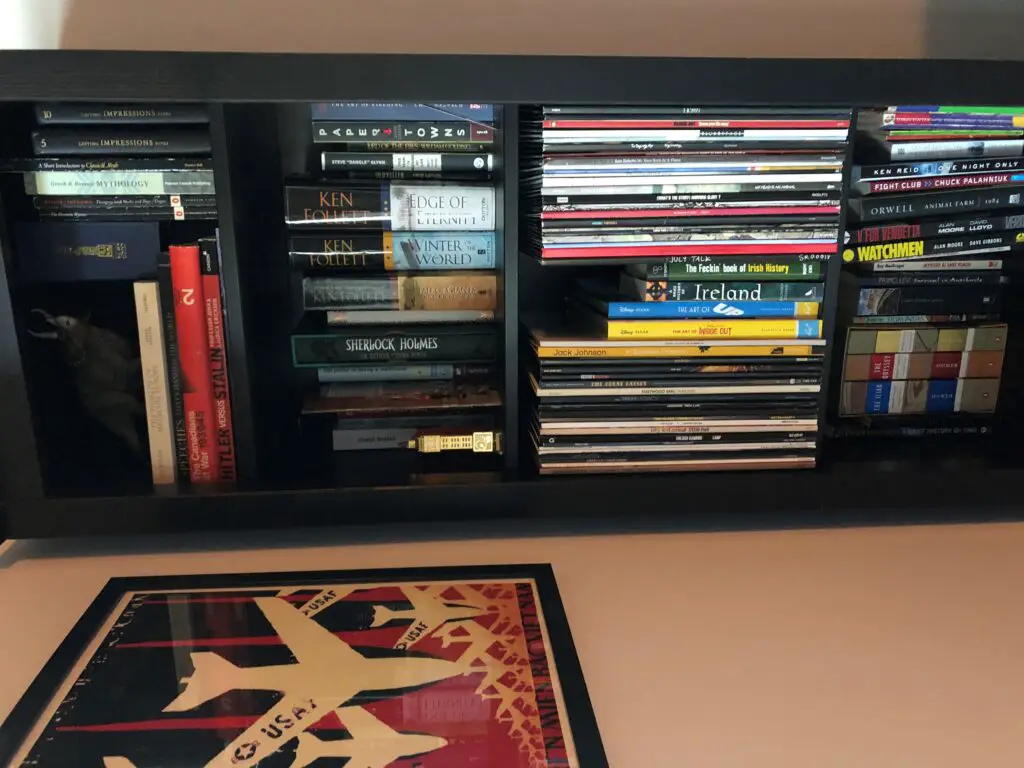 Lawrence's library
Thank goodness for IKEA Kallax shelves which work really well. Lawrence's collection is smallish but very well tended, focusing on old CFNY material purchases from Sam the Record Man, A&A, and the Record Peddler. Love the vintage CFNY sticker.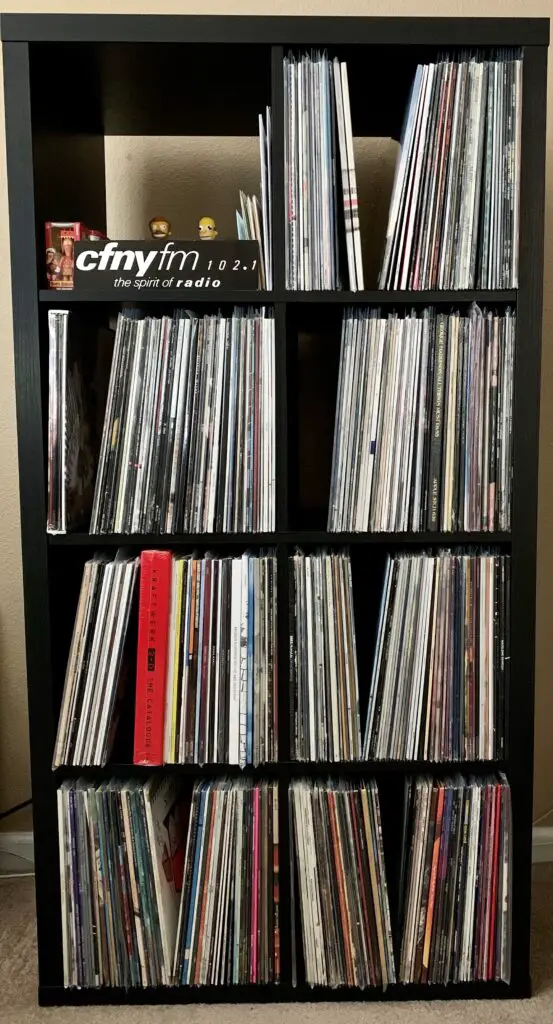 Chris' compact collection
Another vote for Fluance (RT85) from Chris when it comes to turntables.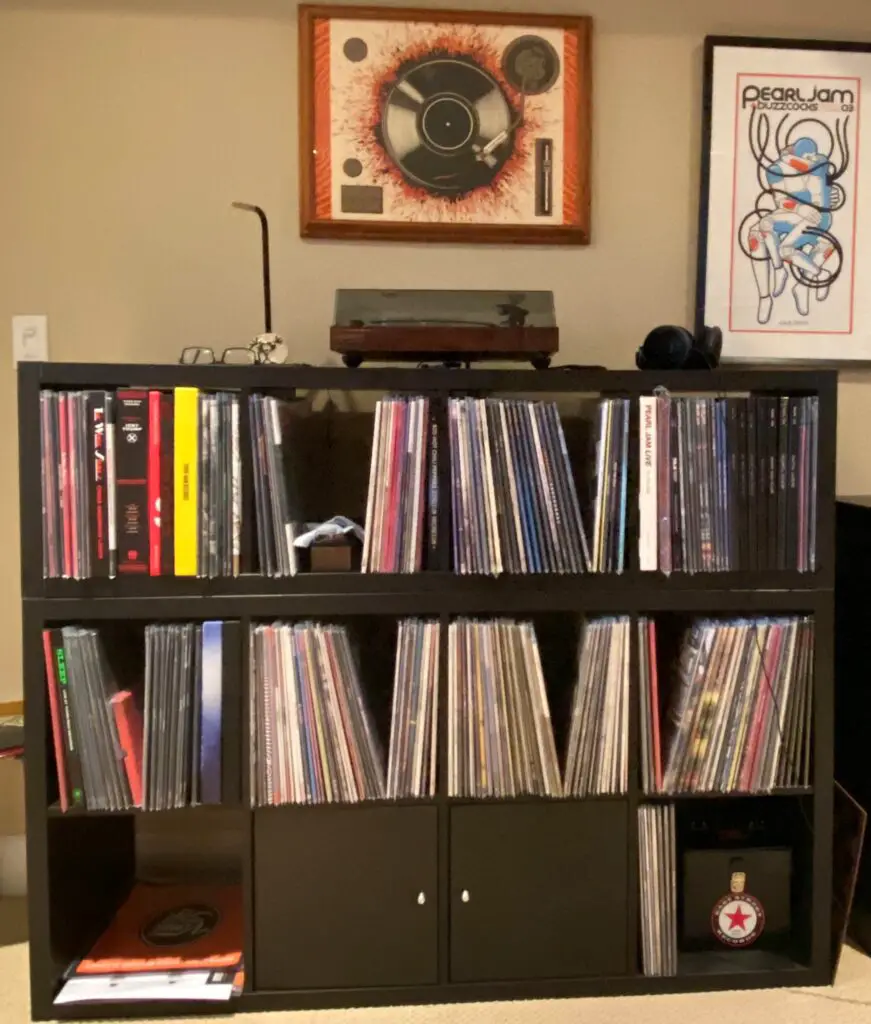 Rick's Records
"My setup is a vintage Marantz amp, preamp, tuner, and tape deck along with a TEAC A-2300S reel to reel. We have two turntables, including my original Technics SL220, which was my first purchase when I was 12 in 1978, and my Project Carbon Debut upgraded with both the acrylic platter and the Ortofon 2M Bronze cartridge. The speakers we are using are also vintage JBL 4311WX-A. I had to include a pic of my little shrine to Gord and the boys from various Hip shows we attended over the years."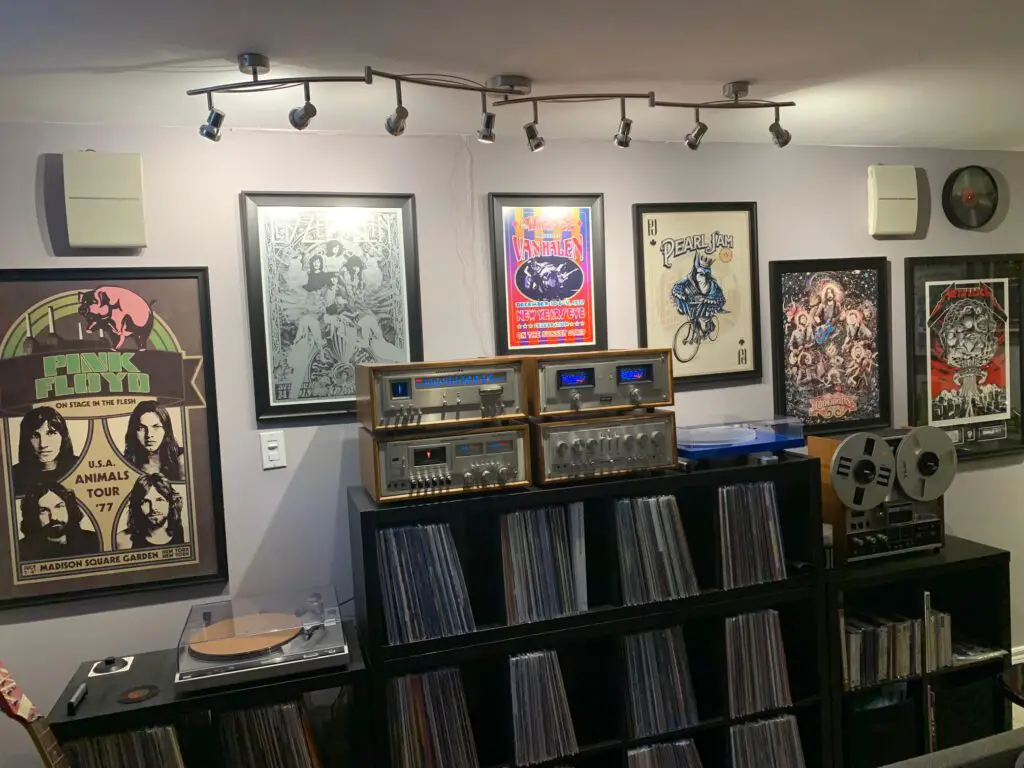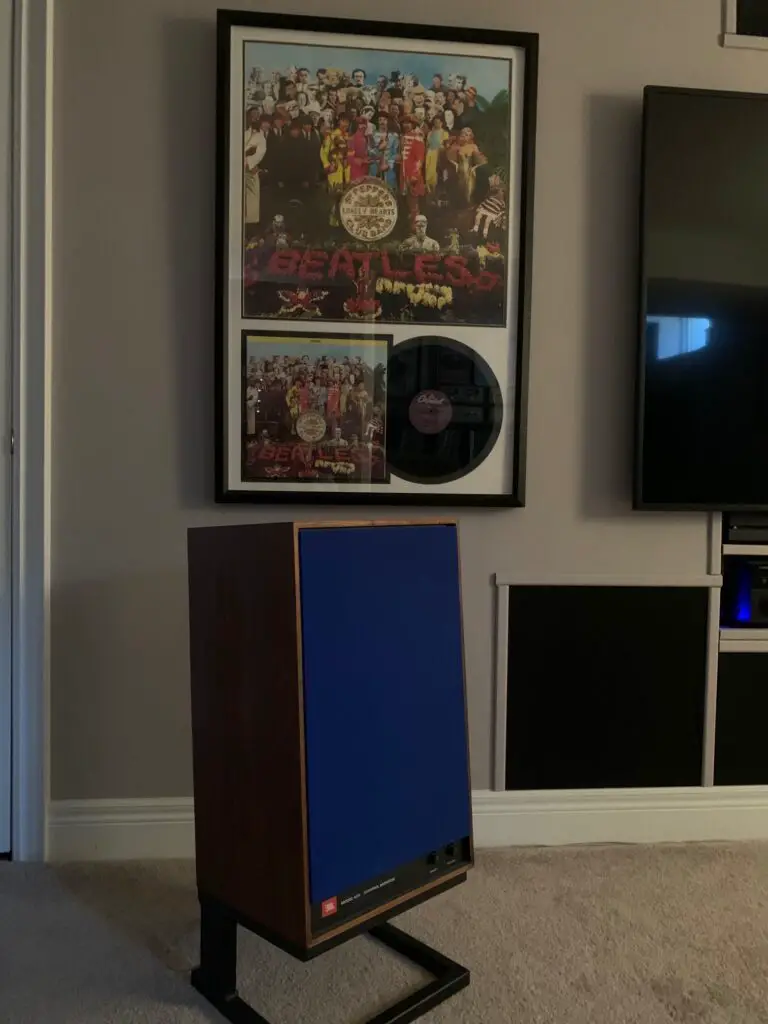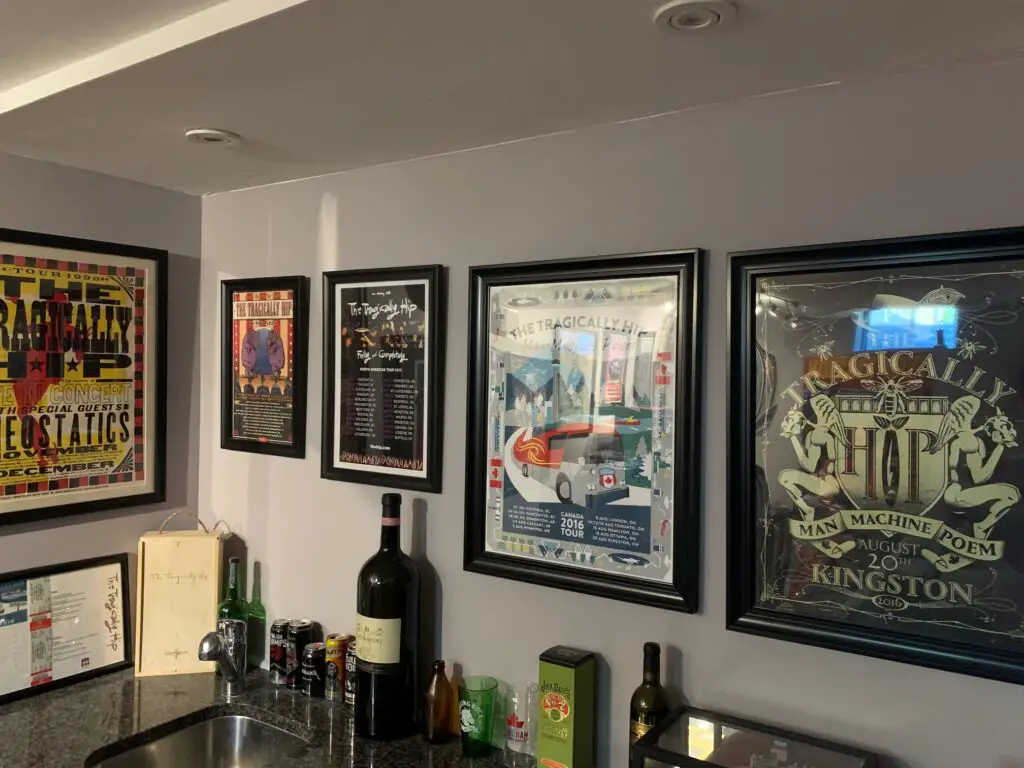 Mike's Grunge-Heavy Collection
It's small-ish (200 albums). And you can see where Mike's tastes lie.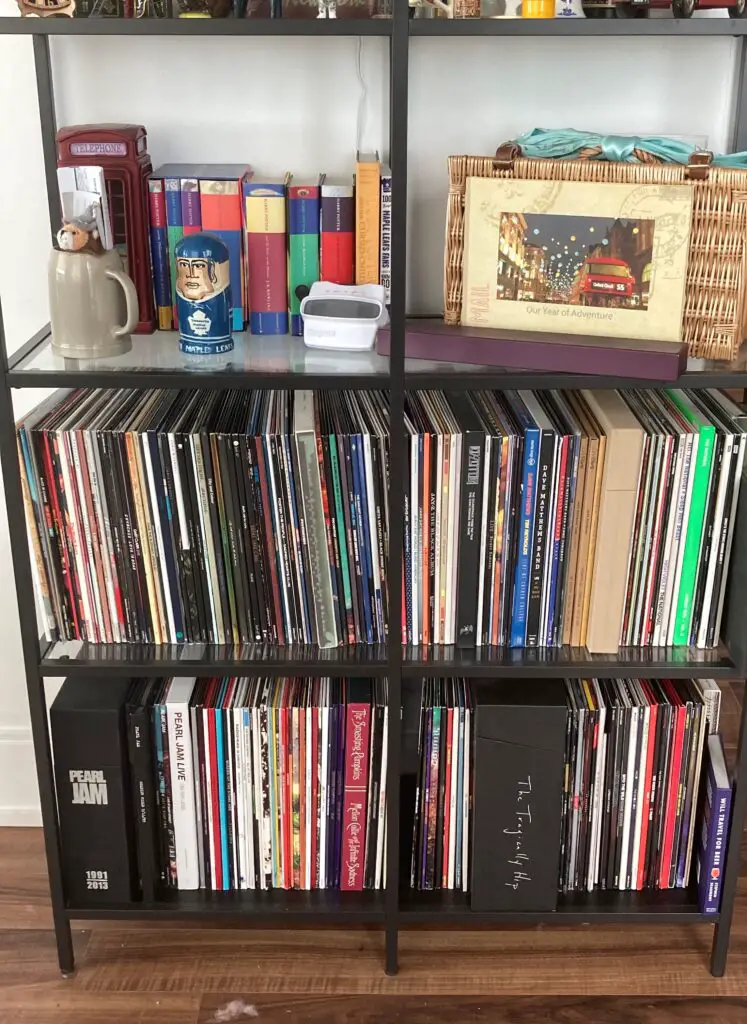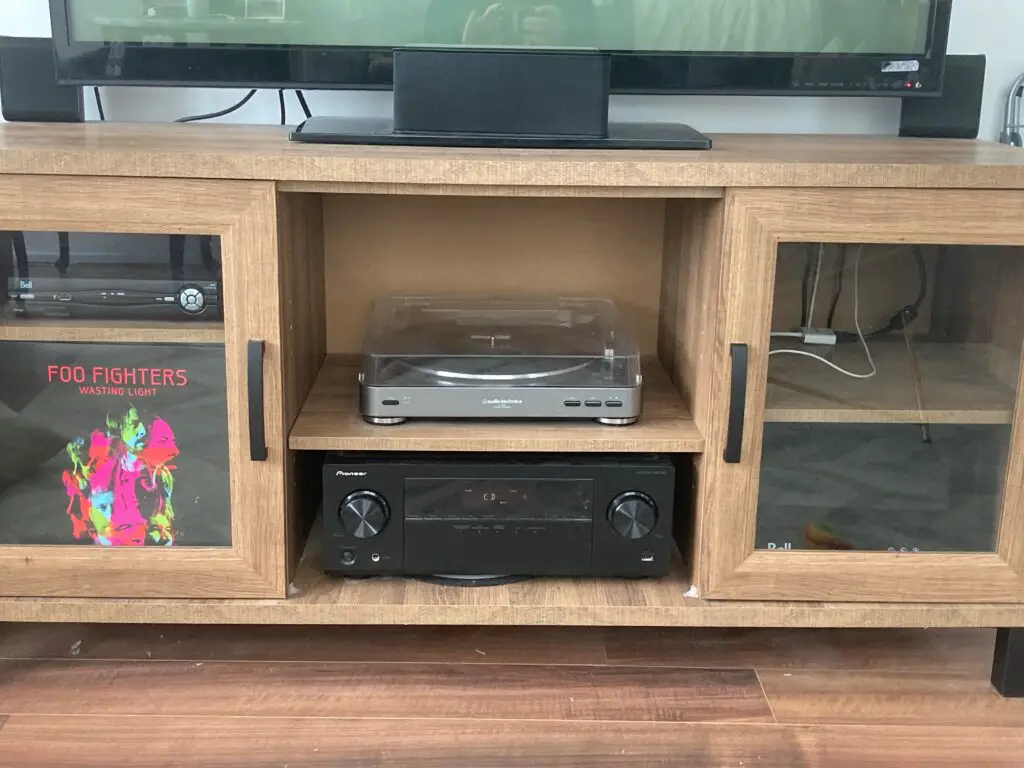 Garren's Record Drawers
It helps that the guy is a cabinet maker.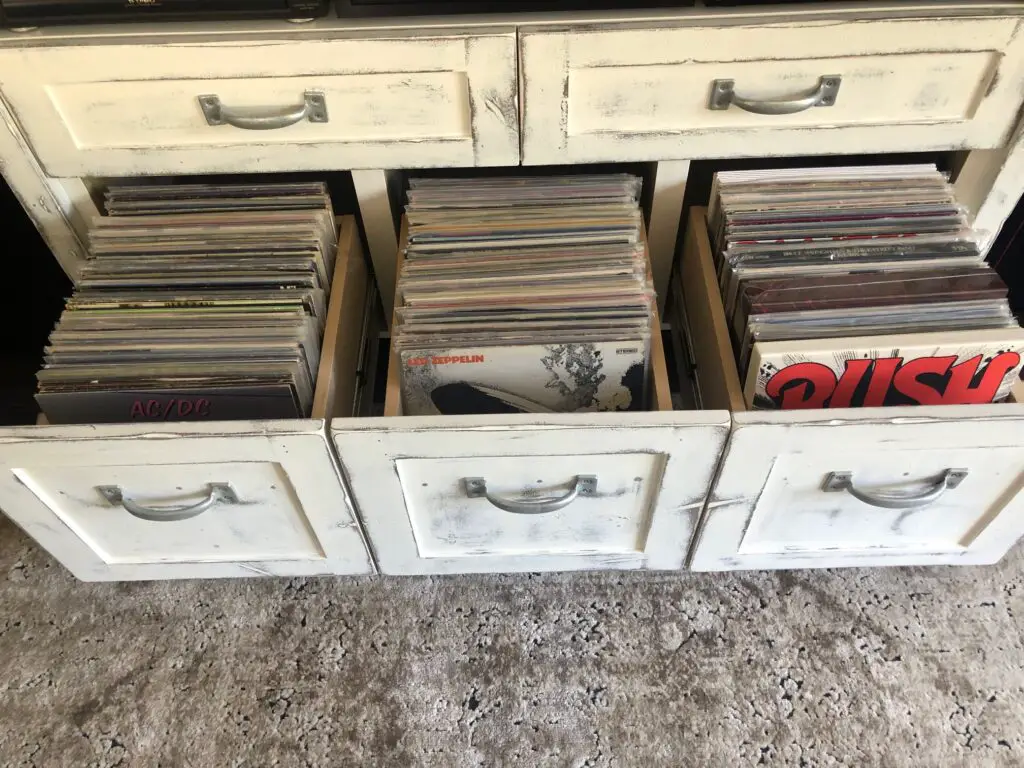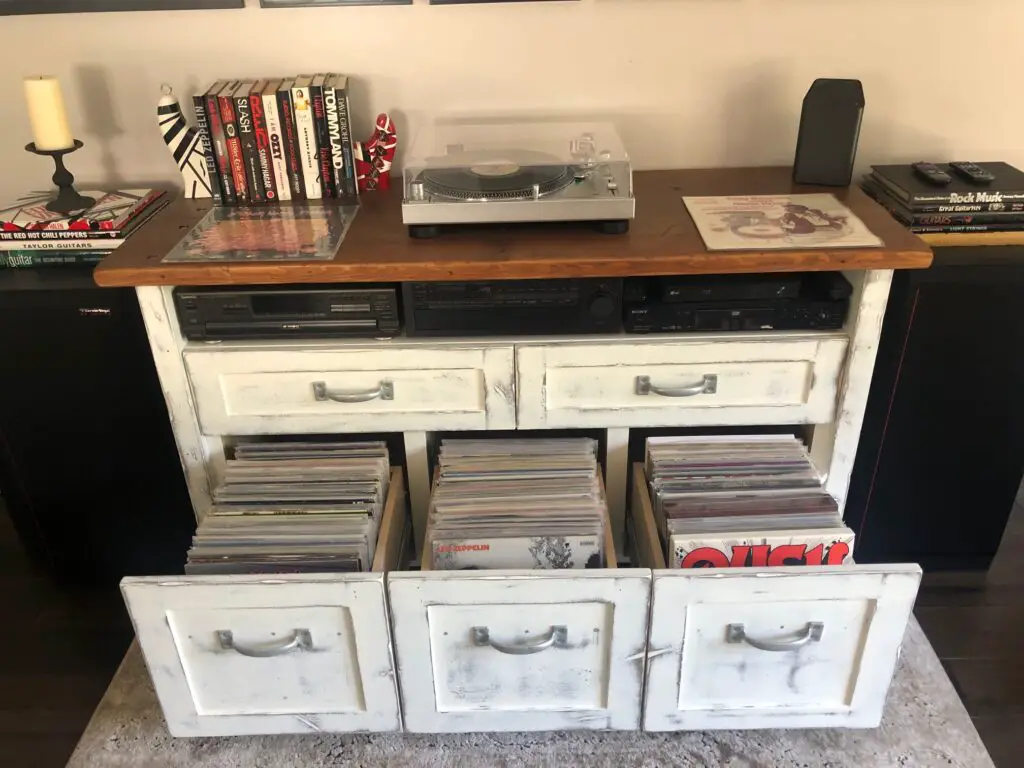 Doug's Music Room
Doug started with about 30 albums. That's, er, grown substantially. He writes "I now have 600+. System includes an pair of Wharfedale speakers, NAD amp and the old Dual 505 turntable. Yes, that is my Technics dual cassette player, as I will pick up the odd cassette at shows."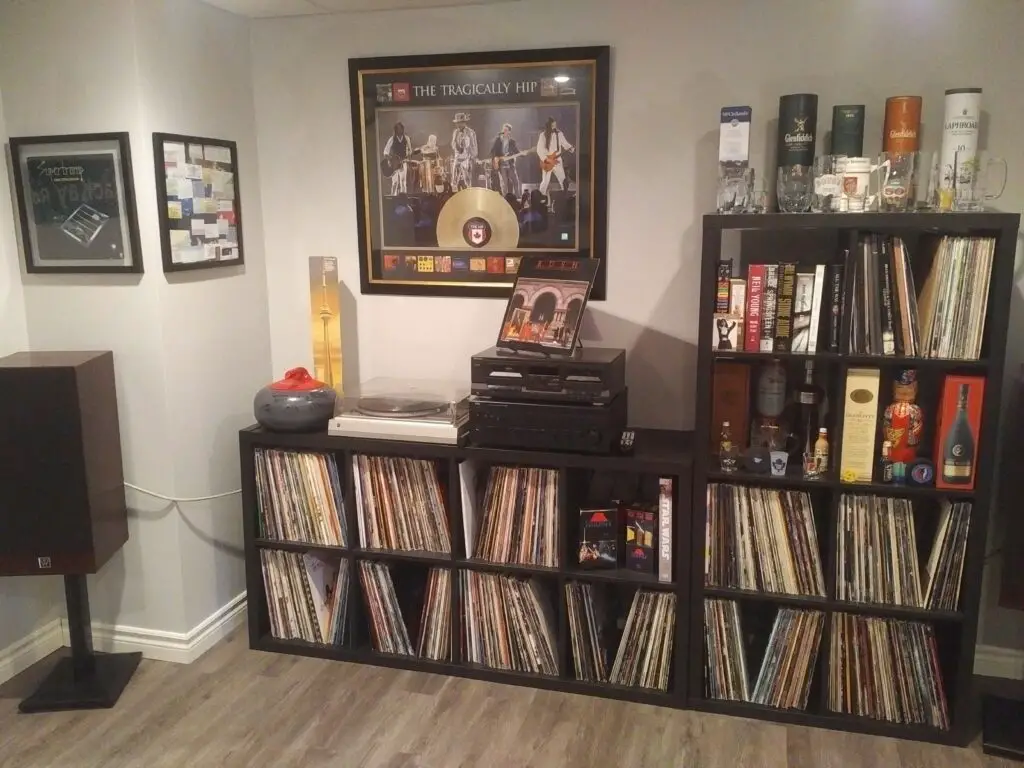 Morgan's Collection
Morgan writes: "Like a number of vinyl collectors I never gave up on the medium. I always hung onto mine and my parents' collections through the years, luckily surviving several moves. It's only been in recent years that I've been able to afford decent equipment to play it on. I have a Music Hall MMF turntable, a vintage Pioneer receiver (a very generous gift from one of my friend's Dad), and some Paradigm speakers that I bought off one of my neighbours. Some high end audiophiles may turn their nose up at my setup but to my ears it sounds fantastic.
"My collection contains mostly jazz, alt-country, psychedelic, and modern rock. I keep the essentials on the main floor. Other in my collection I store in the basement.
"I couple of years ago my wife and I decided to finish our basement. I assumed my vinyl and guitars would find a new home there. However, my wife insisted it remain on the main floor. She said, "if we move all your stuff there, we would probably never see you again!" In hindsight, she's probably right. Plus the kids find the vinyl to be pretty cool.
"This picture shows my youngest daughter Jackie sitting in front of the home stereo. Granted she's watching tv but you get the idea. I was worried about the prospect of keeping my vinyl in the common area of the house within reach of young children. But it's not been an issue so far – knock on wood.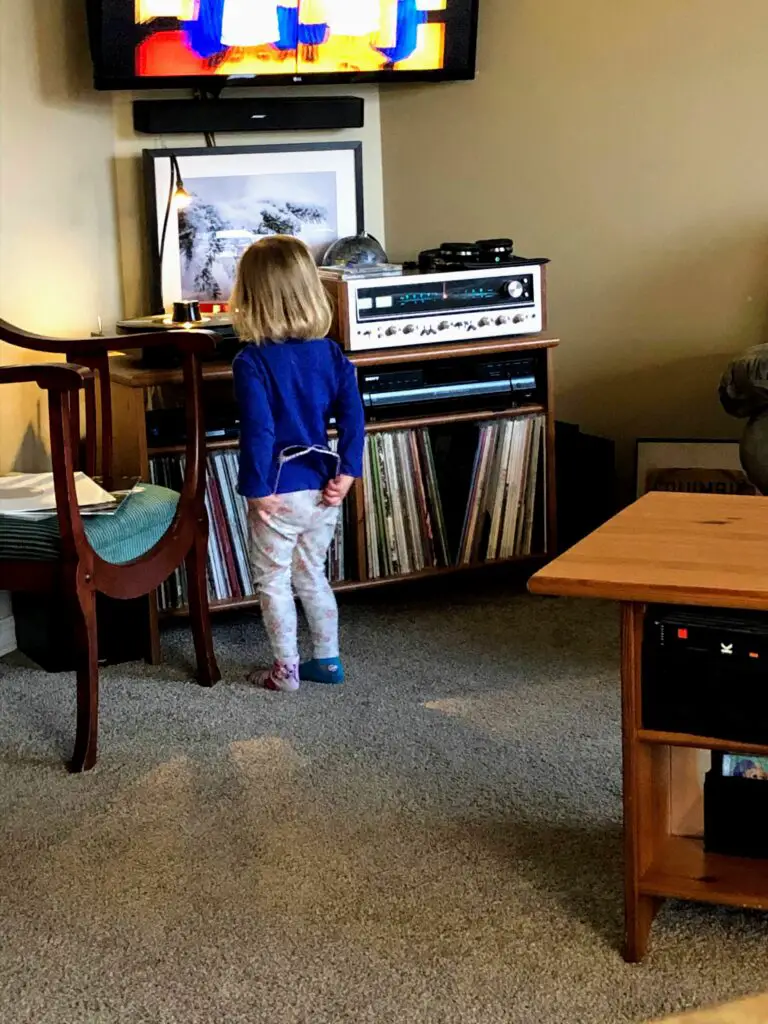 Shanaz's music wall
Shanaz says: "I don't have a large collection, as I was a teenager in the 80s and didn't have the budget to buy a lot of records.  I still try to buy them every once in a while when I see something I like, but the majority of my collection is from that time.  My photo (attached) is just part of my collection, we recently decided to finish our basement and so now I have a room to myself for music and a home theatre.  I saw a photo on Instagram of a record display on a wall and I liked it so much I thought I would try it.  It's pretty obvious from the photo who my favourite band was/is."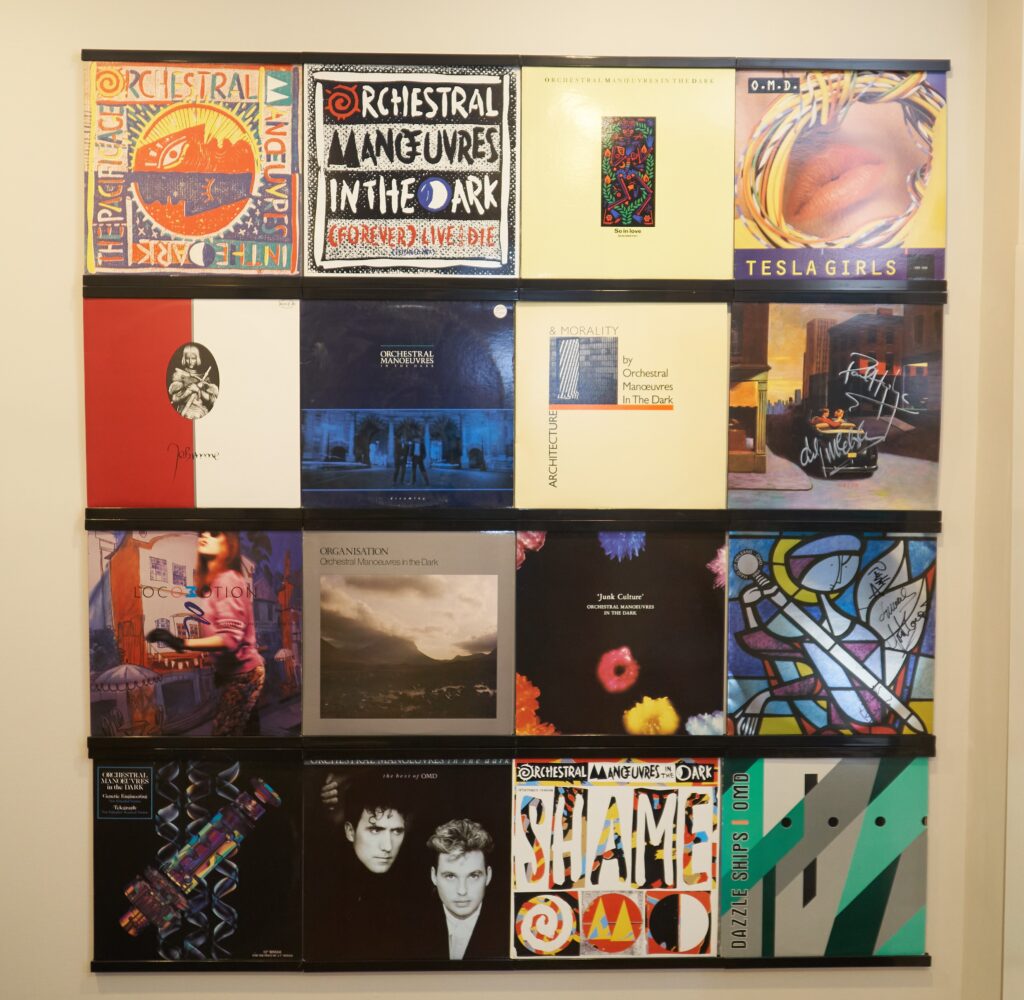 Don's MASSIVE collection
Now this looks well-tended. Good job! And this is only half of the whole collection.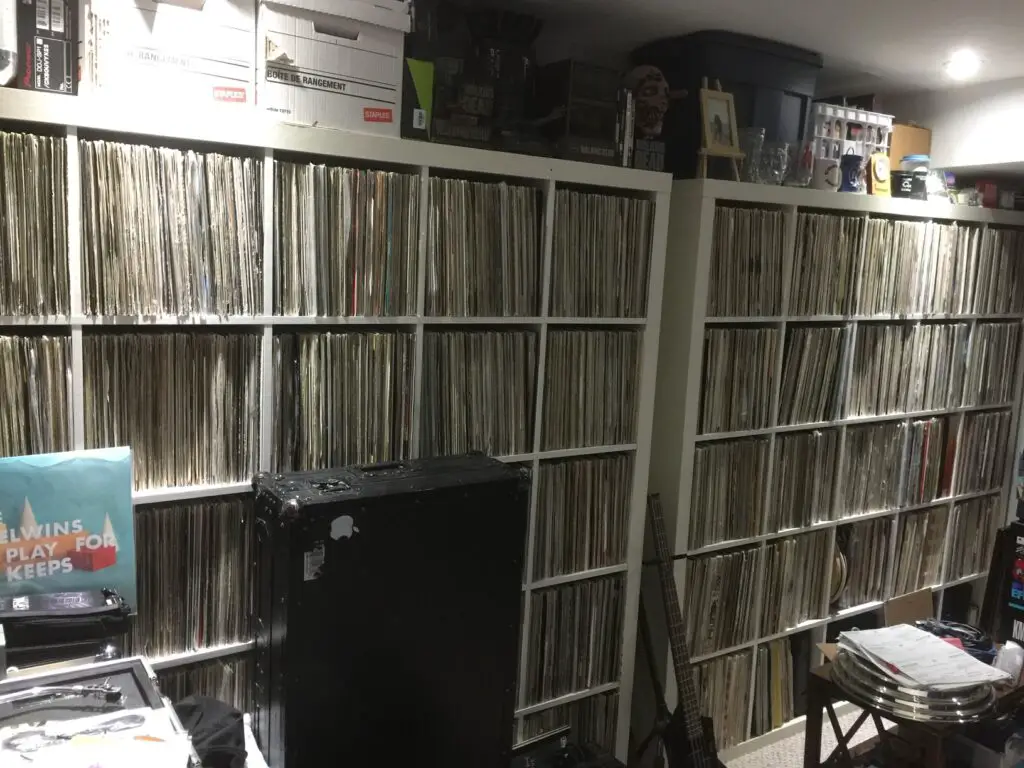 Nathaniel's Aquarium
Pretty, isn't it? Music goes from a Pro-Ject Debut turntable to a Sonos systems.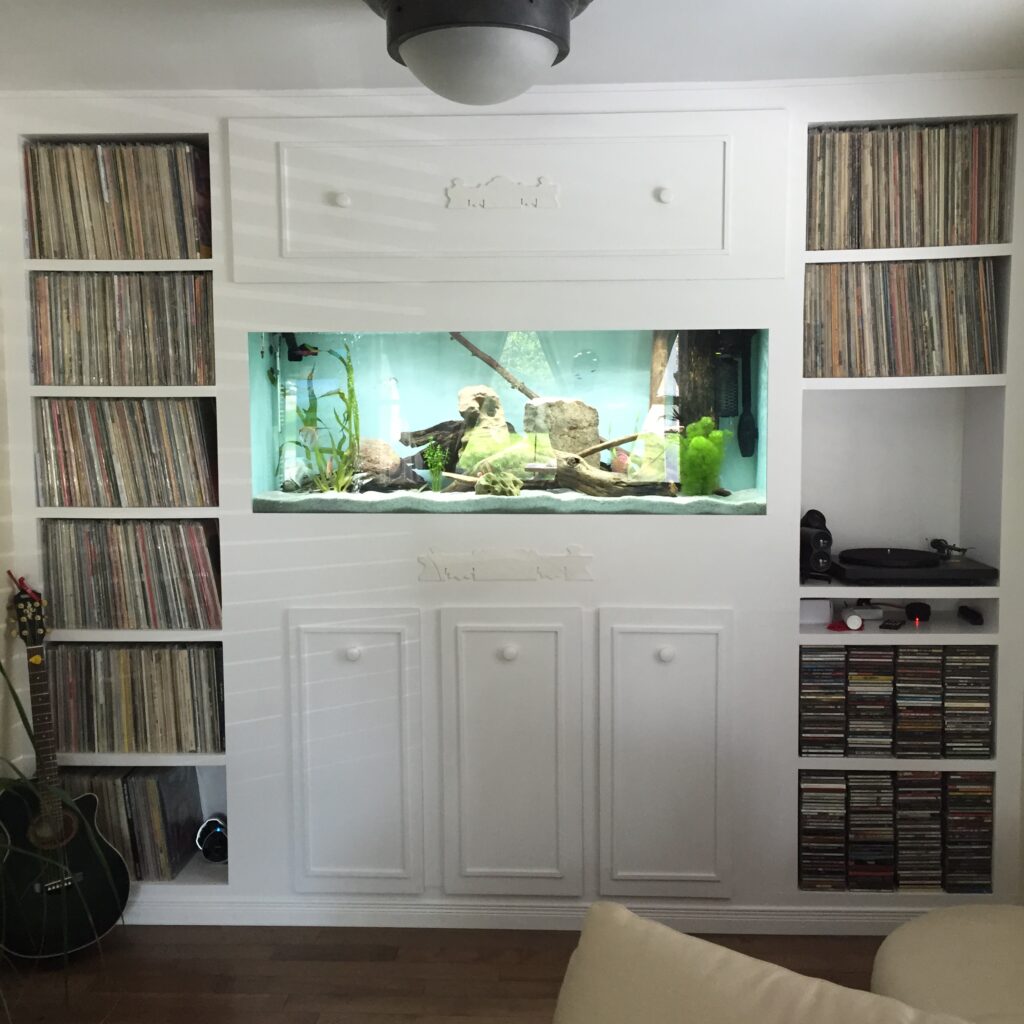 Brian's Collection
Looks like more handy IKEA shelving.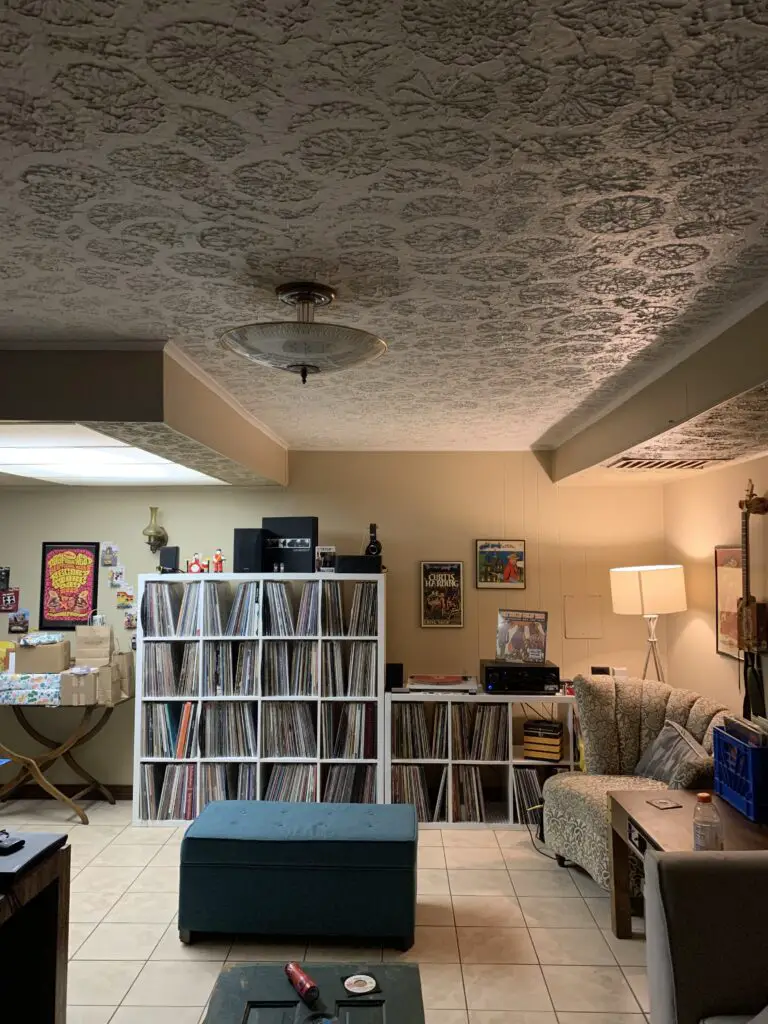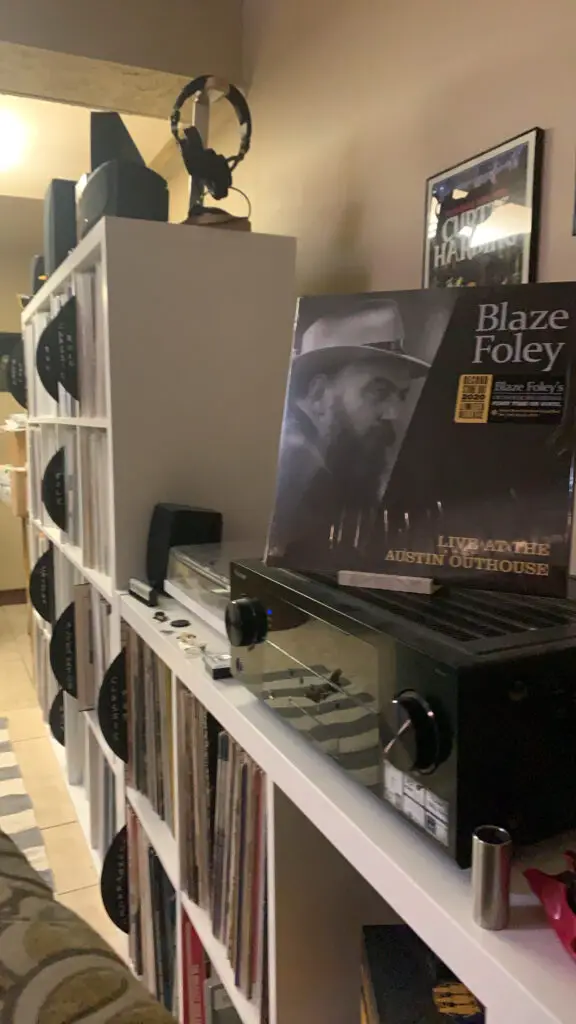 What have you got? Send some snaps to [email protected] and I'll post them here.