The Gospel According to…Bruce Springsteen?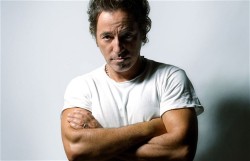 While it's true that Bruce Springsteen has many disciples and acolytes, I wonder how many of them look upon the Boss as an actual disseminator of religious tracts and theological teachings?
Rutgers University seems to think that this is worth study. They've just launched a freshman seminar on the theology of Springsteen. The semester-long course takes a look at Bruce's entire discography, parsing it for its references to the Bible (Old and New Testaments) and how he often "recasts biblical figures and stories into the American landscape."
In other words, it's become increasingly okay to worship the Boss. Read more at Time.