The Growing Status of the Opening Act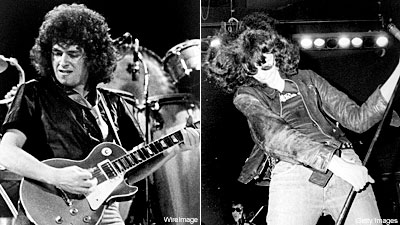 Yes, this actually happened. Toto with guests the Ramones, January 29, 1979, in Lake Charles LA.
Back in the day, the pairing of the opening act on a tour would be the decision of the promoter or the result of some kind of deal with the label, often with weird outcomes.
For example, Jimi Hendrix once warmed up the crowd for the Monkees back in 1967. I remember seeing a rockabilly band called The Shakin' Pyramids forced to stand before a Van Halen audience. The Beastie Boys pissed off many when they opened for Madonna in 1985. And what about that Ramones/Toto bill in 1979?
In each case, the opening had to deal with hostile, indifferent and sometimes non-existent audiences.
But things have changed. Increasingly, the headliner is hand-picking who will open for them on a tour and encouraging fans to get to the gig on time to see the support act. This has helped to immensely increase the status of the opener. From the Wall Street Journal:
This summer, as you debate skipping the band with the 8 p.m. set time in favor of more tailgating, consider that it's more likely than ever that the opener was handpicked by the act you paid to see. Against the backdrop of weak music sales and vanished tour funding from record labels, artists and their managers are taking control of every aspect of their concert business.
Promoters, booking agents and labels are still involved in the search for strong support acts, but there are fewer arranged marriages. That's especially true when the headliner is a strong draw that doesn't need to pick a hot opener to goose ticket sales. Plus, it almost always makes for a better show.