The Hip Weren't Always So Famous
Every band has to go through a period where they pay their dues. The Tragically Hip remembers all those times prior to 1988 where they showed up to play a gig and no one was there.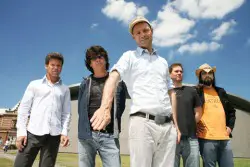 One of the most memorable shows they ever played was at a place in Bloomington, Indiana called "Jake's." Only six people were in the audience that night.
But the Hip figured that the show had to go on. So they played three full sets for the six people, who all moved down front to a single table. To make things even more strange, the Hip was called back to play a couple of encores.
After they were done, they pushed a couple of tables were pushed together and everyone and band sat down for a round of drinks. Then there was the time they were fired one set into what was supposed to be a six-night stand in at a bar in Winnipeg.
The owner of the club has never lived down the fact that he once fired the Tragically Hip.